A sneak peek into the life of young artist Giorgi Okuashvili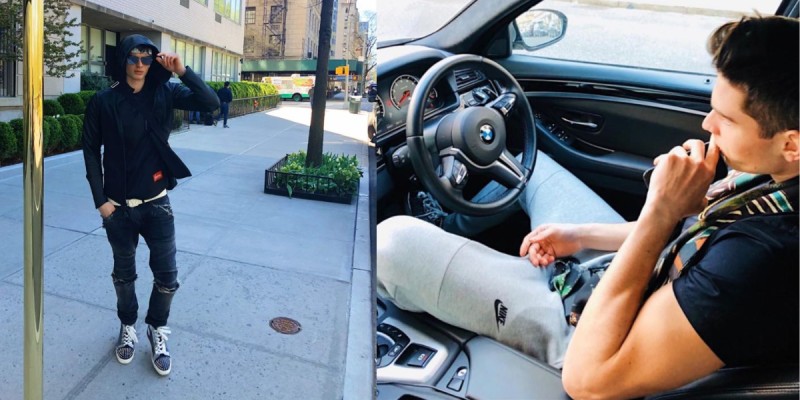 It's very rare for people to find their purpose in life early on. Usually, people spend half their lives thinking about what they want in life and what makes them excited. It is after a lot of crests and troughs, heartaches, and disappointments that they recognize their true calling. But those who realise their passion and start working on it in their early years are truly gifted.
Giorgi Okuashvili is a hip-hop artist and owner of a record label, G Squad Productions. Born in Tbilisi, Georgia, his father is a businessman from the UK while his mother is a member of the Georgia Parliament. As a kid, his mother motivated him to join piano classes as she saw the potential in his singing and wanted to hone his skills even further. He enrolled in a music school and studied there till fifth grade. He was still quite young when he moved to the UK with his father and continued his education there. He is a Regents University London graduate and studied at Mander Portman Woodward, Ashbourne, and an independent Sixth Form College.
It was actually during his time in college that he became friends with some street rappers in London. They used to get together, sing together and help with each other's lyrics. After a while, they thought of recording their own song and released their first single, Trouble Makers. The song became a hit as listeners formed a connection with the melody, lyrics and composition. It was then that Giorgi thought of establishing his studio, where he and his friends could chill as well as work on their music even further. That's how Giorgi Okuashvili's journey began.
The ambitious streak in Giorgi wouldn't let him rest. He wanted to do so much more; hence he launched his own record label by the name of G Squad Productions. The idea was to provide other aspiring musicians with a platform to launch their careers.
As for Giorgi's biggest inspiration, it comes from the music legend Michael Jackson; he started listening to him at a very young age. He believes that his music is timeless and that Michael Jackson took the music industry to a whole new level. In fact, he is an inspiration for millions of aspiring musicians who wish to be an ounce of what Michael Jackson was.
However, his music teacher, Marina, has played a significant role in shaping him as a musician. She taught him to hit the notes and master his skills on the instrument. Though his genre is way too different from his inspiration, he feels he follows the same path when it comes to conveying a message. Michael Jackson's songs are about world issues eliminating the difference in race, colour or creed, while Giorgi raps about life and its struggles. Rap is one genre in music that is a mirror to society, and Giorgi uses his skills to bring forth the true yet harsh realities of life in an entertaining manner. According to Giorgi, he chose this genre because of the rhythm of rap, its invigorating spirit and its ability to speak the truth.
The music industry, like any other, is full of challenges. There are many talented and professional singers around the world. However, they hardly come into the limelight because they don't have the financial independence of reaching out to big record labels. Being a musician in this day and age requires investment. With his G Squad Productions, Giorgi aims to help these singers find a platform and show the world what they are capable of.
Today, with so many streaming platforms, only the most talented ones are able to leave a mark in the minds and hearts of the listeners. So, if they have what it takes to survive in the industry, they will get there. All Giorgi hopes to do is to provide them with the opportunity to be heard. The rest depends upon their talent and persistence to be better in this ever-evolving and cutthroat industry.
"Never give up on your dreams" is Giorgi's motto, and he believes this is the only way to succeed in life. You may face challenges and hurdles, and life might take you down, making you consider putting everything on hold and taking a break for a while. But all of this is fine until and unless you plan to stand back up, readjust, and most importantly, never quit. Success only comes to those who are determined and persistent. It is not for fickle-hearted and pessimists.
Giorgi Okuashvili is a talented, content, hard-working and successful musician who is creating waves at the young age of 22. He is all set to release his album in the coming year and feature music talents from across the world in his album. This young boy is not just climbing the stairs to success with his musical career but is also helping others on his way up. Now, that's what we call an inspiration who doesn't pull anyone down but lifts others on his journey to stardom.