These New Features and Widgets are Available on the Latest macOS Sonoma Free Software Update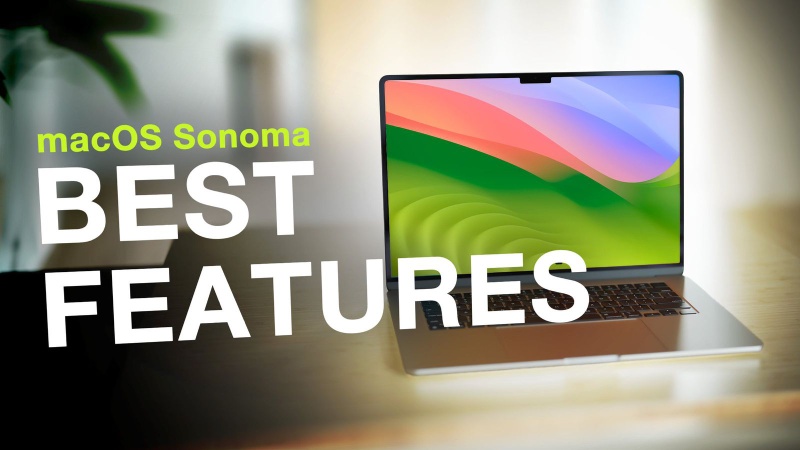 A wealth of new features that enhance both work and pleasure are now included in the free software update known as macOS Sonoma. Desktop widgets in macOS Sonoma provide you a new option to customize your Mac and get more done, and the Mac experience has never been better thanks to gorgeous new screen savers, significant enhancements to video conferencing and Safari, and gaming-optimized applications.
Stunning Screen Savers and Widgets
While other windows are active, widgets can be positioned directly on the desktop in macOS Sonoma and blend nicely with the wallpaper. Widgets also become interactive, enabling users to do tasks like finishing a reminder, pausing or playing media, accessing home controls, and more right from the widget on their desktop. Additionally, users can further personalize their Mac by adding widgets from their iPhone using the magic of Continuity.
Slow-motion clips of stunning places from all over the world are included in a new collection of screen savers in macOS Sonoma, including the expansive skyline of Hong Kong, the sandstone buttes of Monument Valley in Arizona, and the undulating hills of Sonoma in Northern California. Additionally, the screen savers easily change to the desktop background after logging in.
A Productivity Powerhouse for Video Conferencing
With the improved video conferencing functionality included in macOS Sonoma, users may present and share their work more successfully in any video conferencing program. Reactions enable users to express how they are feeling with simple hand motions that start entertaining, frame-filling 3D effects like balloons, confetti, hearts, and more. Presenter Overlay places users in front of the content they are sharing.
Enhanced Safari Browsing
So that users may rapidly move between them, Safari profiles keep browsing separate between topics like work, school, and more. When not in use, Private Browsing windows are closed and known trackers are prevented from loading, making it even safer against some of the most sophisticated methods for tracking users.
Users of Safari can now add any website to the Dock much like they would an app, replete with notifications and a streamlined toolbar for an app-like experience.
A Virtual Reality Gaming Experience
Tens of millions of Macs can run demanding games with exceptional performance, extended battery life, and stunning images thanks to the strength of Apple hardware. With Game Mode in macOS Sonoma, the gaming experience is considerably enhanced. It offers more stable frame rates and significantly lower input and audio latency when using wireless game controllers and AirPods. Any game, including recently released and future Mac titles like DEATH STRANDING DIRECTOR'S CUT, Stray, Layers of Fear, and SnowRunner, can be played in Game Mode.
Additional macOS Sonoma Updates
Users can read presentations, assignments, research papers, and more in Notes via PDFs and scans. Links can also be made between notes to connect concepts and material.
Passwords: A group can now use the same set of passwords. Since sharing is done through iCloud Keychain, it is end-to-end encrypted, and each member of a group can add and update passwords to keep them current. Additionally, Safari will now automatically fill in the one-time verification codes you receive in Mail, making it simple to securely log in without having to leave the browser.
Messages: New Live Stickers can be produced and synced across macOS, iOS, and iPadOS. Search filters and swipe to reply improve standard texting.
Reminders: By segmenting lists and arranging them horizontally using a new column view, intelligent grocery lists in Reminders expedite weekly trips to the store.
Keyboard: With a transformer language model, a cutting-edge on-device machine learning language model that increases accuracy, autocorrect receives a thorough overhaul. Corrections are now easy to make, and inline predictions swiftly complete sentences thanks to a redesigned design. Next-generation speech recognition is made possible through dictation, and typing and speaking can be switched between with ease.
Screen Sharing: The Screen Sharing software now offers a new high-performance option that provides very responsive remote access over high-bandwidth connections, allowing creative professionals to work remotely.