CELEBRITY ARTIST CHRIS FABREGAS SHUTS DOWN TIMES SQUARE WITH INSPIRATIONAL BILLBOARD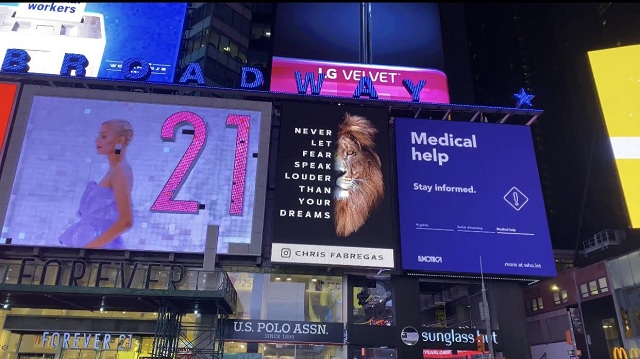 Seattle-based photographer Chris Fabregas stops New York City traffic with his motivational art plastered on Times Square billboard.
Frustrated with the negativity of the past year, the Seattle native took to creating a billboard in the city to capture and spread a positive word to Americans during these unprecedented times, In light of the presidential elections and new lockdown restrictions nationwide.
Fabregas says "I feel like 2020 put a wig on and came back as 2021!"
With COVID numbers spiking, Chris seems optimistic about the future "We're going through some tough times, it may take longer than anticipated but we'll get through this.
Fabregas's famous "Never Let Fear Speak Louder Than Your Dreams" piece, which features the quote and a lion's face symbolizes "Strength and Power", was spotted on the Forever 21 building located on Broadway on Friday evening. Next to award-winning musician and television personality, Blake Shelton in plain view for the whole city to see.
Chris is not new to hardship, his art career started off the back of his mother's cancer diagnosis. Hospitalized by heart failure, the brave mother of one, despite her diagnosis, would write positive messages for Fabregas every day when he'd visit. That's when the idea was born to combine positive messages with his art.
When speaking about the billboard, the Seattle-based artist said "It's not about the money I've spent, it's about the impact. If my art can bring joy and motivate at least one or two people, as my mother did to me, then that's a job well done."
His art is adored by celebrities such as Dancing With The Stars' James Maslow, LA Dodgers Max Muncy, and USA National soccer star Cristian Roldan.
Fabregas has also developed quite a fan base online, amassing an Instagram following of over 21,600 on his official account @chrisfabregas. Where he showcases some of his most inspirational art and photography. A page filled with the artist's artistic vision, framing Seattle's beautiful backdrop in each grid.
Instagram released the filters feature in 2020, Fabregas was quick to start incorporating his creative ideas digitally. He has designed three filters so far with top social media influencers flocking to his popular filters "CaliVBZ" and "Rudolph."
The Seattle based photographer, is currently working on some upcoming projects.
Chris Fabregas's inspiring art can be found at chrisfabregasfineartprints.com.