List of 50 Top Pizza Asia-Pacific ranking 2022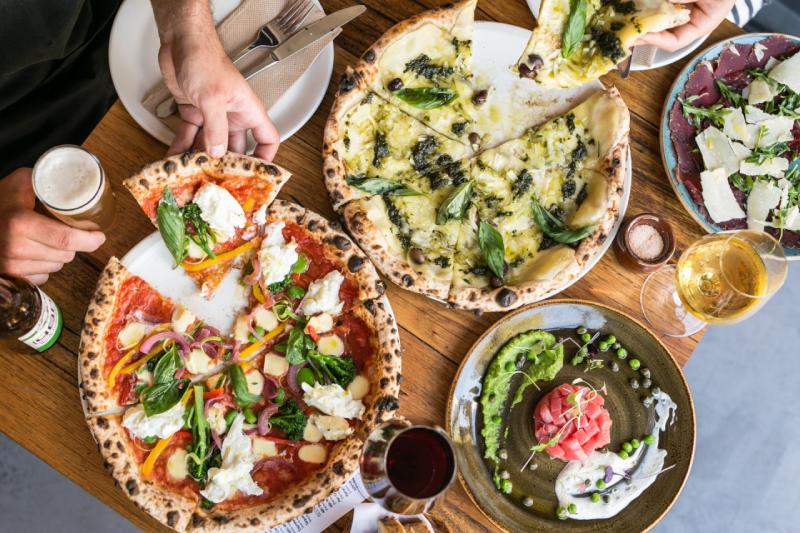 The 50 Top Pizza Asia-Pacific ranking 2022 was announced in a living awards ceremony held without precedent for Asia at the Peninsula Bangkok Hotel, Thailand. 48h Pizza e Gnocchi Bar in Melbourne brought back home the current year's title of the Best Pizzeria in the Asia-Pacific area.
Second place went to Bottega in Beijing, likewise named Best Pizzeria in China, while the third put went to The Pizza Bar on 38th in Tokyo, again the best pizza shop in its respective country.
The fourth and fifth place went to Pizzeria Peppe – Napoli sta' ca" in Tokyo and Peppina in Bangkok, likewise the best pizzeria in Thailand, respectively.
Tokyo topped the list by city with 12 entries, followed by Hong Kong with six, and Melbourne and Bangkok with five.
Awards body 50 Top Pizza, a branch of the 50 Top Italy group, started listing the best pizzas in 2017, at first launching around Italy before extending to the USA, Europe, and presently, interestingly, to Asia-Pacific. For 2022, the group held its Asia-Pacific awards ceremony at The Peninsula Bangkok. Each of the 50 pizzerias to make the list got letters of consideration before in the year however their ranking was not uncovered until the live ceremony, which occurred on August 8, 2022.
50 Top Pizza tapped voters and reviewers across Asia-Pacific to guarantee that the restaurants were appropriately reviewed all through the process. The online guide judges on a range of standards including food quality, service, wine, décor, general ambiance, and even standby time. All reviewers are urged to pass judgment on the establishment in view of the experience all in all and not exclusively center around one aspect.
This year, five Thai pizzerias made the spot, with three pizzerias being in the top 15. This implies they have a golden ticket that affirms their placement in the 50 Top Pizza World 2022 list, which is a coveted worldwide ranking to be uncovered on 7 September this year.
Various extraordinary awards were likewise unveiled at the event, which follows the release of the 50 Top Pizza US, Europe, and Italy lists. See the full list of 50 Top Pizza Asia-Pacific 2022 below.
50 Top Pizza Asia-Pacific 2022: the Full List
48h Pizza e Gnocchi Bar – Melbourne, Australia
Bottega – Beijing, China
The Pizza Bar on 38th – Tokyo, Japan
Pizzeria Peppe – Napoli sta' ca" – Tokyo, Japan
Peppina – Bangkok, Thailand
Pizza Massilia – Bangkok, Thailand
Pizza Strada – Tokyo, Japan
Fiata by Salvatore Fiata – Hong Kong, China
Dante's Pizzeria Napoletana – Auckland, New Zealand
Pizzeria Mazzie – Bangkok, Thailand
Spacca Napoli – Seoul – South Korea
Baci Pizza – Hong Kong, China
CIAK – In The Kitchen – Hong Kong, China
Al Taglio – Sydney, Australia
Pizzeria e Braceria L'Insieme – Tokyo, Japan
Pizza Studio Tamaki Roppongi – Tokyo, Japan
Pizzeria Braceria CESARI – Tokyo, Japan
Pizzeria e Trattoria Da ISA – Tokyo, Japan
Via Emilia Restaurant – Bangkok, Thailand
Seirinkan – Tokyo, Japan
La TRIPLETTA – Tokyo, Japan
La Bottega Enoteca – Singapore, Singapore
SAVOY Azabujuban – Tokyo, Japan
Little Napoli – Hong Kong, China
Bella Brutta – Sydney, Australia
Andrea Style – Taipei, Taiwan
Gigi Pizzeria – Sydney, Australia
Zoca Pizzeria Caffetteria – Taipei, Taiwan
Casa Don Alfonso – Macau, China
Cicheti – Singapore, Singapore
L'OLIVA Bangkok – Bangkok, Thailand
Crosta Pizzeria – Manila, Philippines
Pizzeria GG – Tokyo, Japan
TARANTELLA da Luigi – Tokyo, Japan
A25 Pizzeria – Melbourne, Australia
Vera Pizza Napoli – Seoul, South Korea
SPQR Pizzeria – Melbourne, Australia
Wild Flour Italian – Manila, Philippines
Mozzarella Bar – Melbourne, Australia
La Svolta Hampton – Melbourne, Australia
Gustaci Pizza Lounge – Hong Kong, China
Etica Pizza – Adelaide, Australia
Lucio Pizzeria – Sydney, Australia
Luce Osteria Contemporanea – Kuala Lumpur, Malaysia
The Pizza Project – Hong Kong, China
Proof Pizza + Wine – Kuala Lumpur, Malaysia
La Baracca – Bali, Indonesia
A Mano – Makati, Philippines
Via Napoli Pizzeria – Sydney, Australia
Mammamia Pizzeria – Shanghai, China
Special Awards at 50 Top Pizza Asia-Pacific 2022
Best Fried Food 2022 – Olitalia Award
Bottega – Beijing, China
Performance of the Year 2022 – Robo Award
Pizza Massilia – Bangkok, Thailand
Pizza of the Year 2022 – Latteria Sorrentina Award
Smoked mozzarella, pecorino, cherry tomatoes, basil – Pizza Strada – Tokyo, Japan
Innovation and Sustainability 2022 – Ferrarelle Award
Dante's Pizzeria Napoletana – Auckland, New Zealand
Best Beer Service 2022 – Birrificio Fratelli Perrella Award
Pizzeria Mazzie – Bangkok, Thailand
Made in Italy 2022 – Pastificio Di Martino Award
Baci Pizza – Hong Kong, China
Best Service 2022 – Goeldlin Award
Via Emilia Restaurant – Bangkok, Thailand
Best Wine List 2022 – Prosecco DOC Award
La Bottega Enoteca – Singapore, Singapore
Pizza Maker of the Year 2022 – Peroni Award
Daniele Cason – The Pizza Bar on 38th – Tokyo, Japan
One to Watch 2022 – Solania Award
A Mano – Makati, Philippines