Michelle Obama launches online children's book reading series "Mondays with Michelle Obama"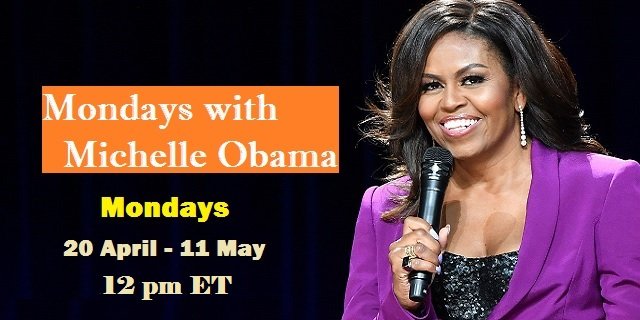 Michelle Obama is hosting weekly story-time sessions online for children while they stay at home in COVID-19 lockdown. The former First Lady intends to give truly necessary education help during the coronavirus pandemic with the launch of a new online children's book reading series called "Mondays with Michelle Obama."
The Obama administration may have finished in 2017, yet Michelle Obama keeps on serving her nation at a high level right up 'til the present time.
As a feature of a collaboration with PBS Kids and Penguin Random House, the former US first woman will participate in a four-week series of videos that will see her read from loved children's books.
The "Mondays with Michelle Obama" videos will be streamed live on the PBS Kids Facebook and YouTube accounts and the Penguin Random House Facebook page, beginning at 12 pm ET (5 pm) every Monday from 20 April until 11 May.
Mondays with Michelle Obama series will be a part of PBS Kids' "Read-Along" and Penguin Random House's "Read Together, Be Together" literacy activities.
The first book Michelle Obama has decided to read is The Gruffalo, which was composed by Julia Donaldson and first published in 1999.
Michelle Obama will at that point read There's a Dragon in your Book and Miss Maple's Seeds, before completion with The Very Hungry Caterpillar by Eric Carle.
"As a little kid, I loved to read aloud," the 56-year-old said.
"And when I became a parent, I found such joy in sharing the. magic of storytelling with my own children — and then later, as First Lady, with kids everywhere."
Michelle Obama expressed that in the present climate with "so many families" being "under so much stress", Michelle Obama is anticipating partaking in the virtual read-along.
"I'm excited to give kids a chance to practice their reading and hear some wonderful stories (and to give parents and caretakers a much-needed break)," Michelle Obama said.
Following the live-streamed "Mondays with Michelle Obama" story-time sessions, the videos will stay on Facebook and YouTube for individuals to see at their leisure.
PBS Kids included that "a suite of activities, tips and resources" for every book being read by the former first lady will be accessible at readtogetherbetogether.com, while "companion literary resources" will be accessible at pbskidsforparents.org.
A few Instagram clients communicated their excitement over the up and coming read-along, with one individual commenting: "What a great idea! Thank you. Truly."
Here's the schedule for "Mondays with Michelle Obama":
April 20: "The Gruffalo" by Julia Donaldson, showed by Axel Scheffler
April 27: "There's a Dragon in Your Book" by Tom Fletcher, showed by Greg Abbott
May 4: "Miss Maple's Seeds" by Eliza Wheeler
May 11: "The Very Hungry Caterpillar" by Eric Carle