Blakout! A spectacular night of fashion talks, and music curated by First Nations Fashion and Design in Sydney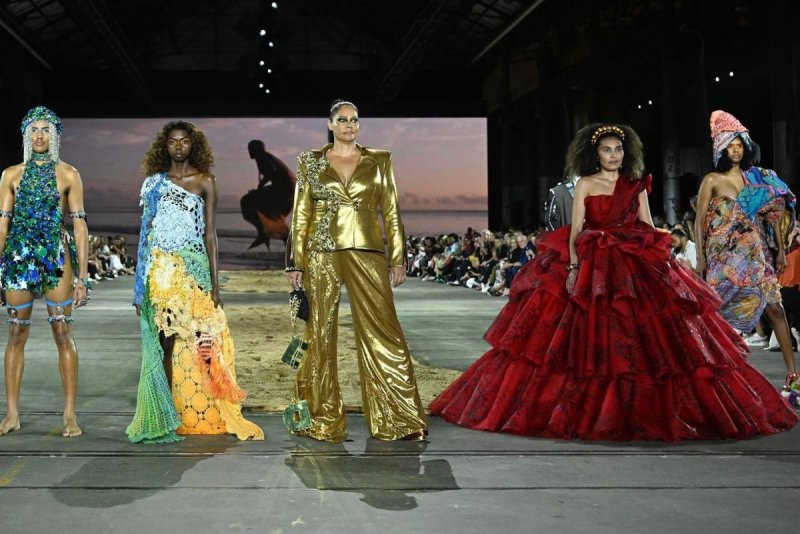 The current year's NAIDOC Week is running from July 3 to 10, and its theme – Get Up! Stand Up! Show Up! – is a source of inspiration, requesting the enduring significant change and empowering we who are not First Nations to be more dynamic in our allyship.
Fashion Journal is proud to proceed with a continuous partnership with First Nations Fashion and Design aimed at highlighting and intensifying First Nations voices, abilities, culture, and stories across the industry. Fashion Journal recognizes the Aboriginal and Torres Strait Islander people groups as the primary Australians and conventional caretakers of the lands on which we live, learn and work. We pay our regards to their Elders past, present, and arising.
As a proud Gunditjmara woman and Fashion Journal's Partnerships and Campaign Manager, Ella Taverner, wrote in her manual for being a partner this NAIDOC Week, "A great place to start is connecting with traditional custodian groups in your local area, and finding First Nations-led events and cultural workshops to show your support".
On the off chance that you're Sydney-based, the event to bookmark this week is Blackout!, a spectacular evening of fashion, talks, and music curated by First Nations Fashion and Design (FNFD) at Powerhouse Museum. Occurring on Thursday, July 7 from 5 to 9 pm, the event is for all ages and will begin with a Welcome to Country.
A Welcome to Country is constantly delivered by Traditional Owners, or Aboriginal and Torres Strait Islander people groups who have been given consent from Traditional Owners, and its motivation is to invite visitors to their Country.
Following the Welcome to Country, there will be a Smoking Ceremony, which helps with purifying the area and individuals of bad spirits, as well as advance the well-being and protection of visitors.
Next up is a healing workshop followed by a series of talks. The discussions feature First Nations creatives who have been causing waves in the Australian fashion industry, similar to model Perry Mooney who will be in discussion with Coby Edgar about her involvement in FNFD's Runways in 2021 and 2022.
Lomos Amini will converse with quite possibly the earliest First Nation male supermodel, Jake Gordon, as well as Luke Currie-Richardson and Jarron Andy, about the representation of First Nations men in the Australian fashion industry.
Afterward, iconic model Elaine George, who at 17 turned into the principal First Nations model to grace the cover of Vogue Australia, will be speaking to FNFD's co-directors, Grace Lillian Lee and Teagan Cowlishaw, about her journey in the industry.
After the discussions, a Blak + Deadly Walk Off hosted by Ian RT Colless will be occurring, finished with a set from musical guest Nooky and a work of art by Shaun Daniel Allen. Sometime thereafter, proud Butchella man and rapper, Birdz, will perform live to finish off the evening. Blackout! is a free event as a part of Powerhouse Late, and no bookings are necessary.