Eni of Italy concludes an $8 billion gas agreement with Libya in the midst of an energy shortage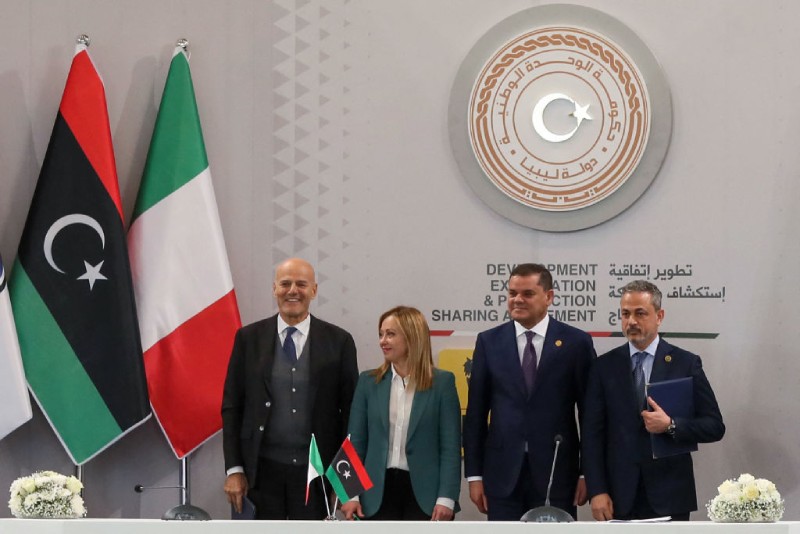 In spite of Libya's political unrest and insecurity, Italian energy company Eni and Libya's National Oil Corporation (NOC) signed an $8 billion gas production agreement to boost energy supplies to Europe.
The Italian Prime Minister Giorgia Meloni visited Tripoli on Saturday and signed the agreement, which aimed to develop two offshore gas fields to increase gas output for the Libyan domestic market and exports.
Eni said in a statement that production will begin in 2026 and reach a plateau of 21 million cubic meters (750 million cubic feet) per day.
"This agreement will enable important investments in Libya's energy sector, contributing to local development and job creation while strengthening Eni's role as a leading operator in the country," said its Chief Executive Claudio Descalzi.
Meloni met with Libya's Prime Minister Abdulhamid Dbeibah in Tripoli, where they talked about migration across the Mediterranean. Dbeibah is the leader of the internationally renowned Government of National Unity (GNU).
Taking the lead
Due to the conflict in Ukraine, European nations have sought to replace Russian gas with energy supplies from North Africa and elsewhere over the past year.
Italy has already taken the initiative to source gas from Algeria, establishing a new strategic partnership there and investing in the state energy company Sonatrach to help it reverse years of declining output.
Farhat Bengdara, the head of the National Oil Corporation, referred to the 25-year agreement as the most significant new investment in Libya's energy sector in a quarter of a century.
However, the internal conflict that has divided Libya into rival factions that vie for control of the government and dispute each other's claims to political legitimacy may jeopardize the agreements made in Tripoli.
In a video posted on the ministry's website, Oil Minister Mohamed Oun of Dbeibah said that any deal that NOC might make with Italy should be made by the ministry, highlighting the uncertainty.
Meloni reiterated her remarks from Algeria at a round table with Dbeibah, stating that Italy does not seek a "predatory" role in the region but rather wants to assist African nations in "growing and becoming richer."
According to Matteo Villa of the ISPI think tank in Milan, Libya's gas deliveries abroad have been hindered by instability, increased domestic demand, and inadequate investment. Villa stated that new deals "are important in terms of image."
Uncertainty
Bengdara was appointed by Dbeibah last year. Dbeibah's own interim government was put in place in 2021 through a process supported by the United Nations.
Early last year, the eastern-based parliament and its supporting factions declared that the government was no longer legitimate, rejecting both Bengdara's appointment and Tripoli's agreements with other nations.
Since the NATO-backed uprising in 2011 that toppled Muammar Gaddafi as a leader left much of the country in the hands of armed groups, Libya has been in chaos. For a number of years, a small Italian military mission has been stationed in Libya.
Meloni and Dbeibah said they also talked about the problem of people migrating illegally from Libya to Italy. Dbeibah stated that Rome will support Libya by providing new search and rescue ships.
Libya has become a major but risky route for refugees attempting to reach Europe, frequently via the Italian island of Lampedusa, as a result of insecurity and lawlessness. Every year, hundreds of refugees fail to make the journey.
Meloni has made stopping illegal migration a big part of what she wants to do as governor, and she has talked about it on recent trips to Algeria and Egypt.
According to Jalel Harchaoui, an associate fellow at the Royal United Services Institute who is an expert on Libya and needs to demonstrate "some kind of a step up compared to her predecessor in terms of migration and energy policy in Libya," Italy's prime minister needs to do so.
"[But] it will be difficult to improve upon Rome's existing western Libya tactics, which have been chugging along," Harchaoui said.