Interesting and Fun Facts about Chen Jin, Google Doodle celebrates Taiwanese painter Chen Chin's 115th birthday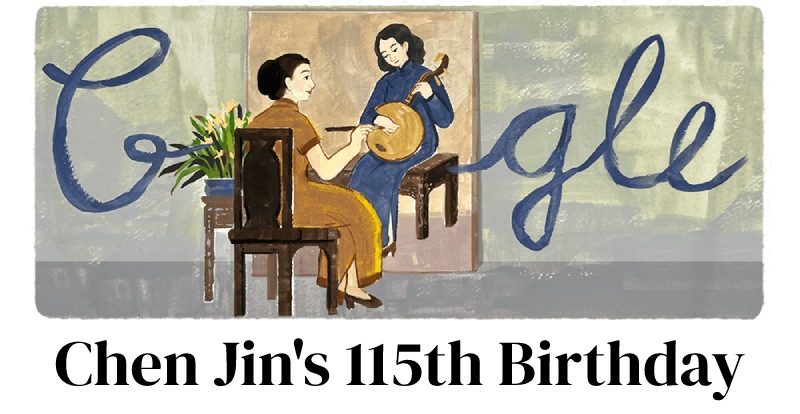 Google Doodle celebrates the 115th birthday of the Taiwanese painter Chen Jin or Chen Chin (陳進), who is said to be the first Taiwanese woman painter to earn national recognition, on November 2, 2022. Here are some interesting and fun facts about Chen Chin (陳進).
Here is a look at the life and work of Chen Jin or Chen Chin (陳進).
Who was Chen Jin?
Personal
Birth date: 2 November 1907
Birthplace: Kōzan, Shinchiku-Cho, Japanese Taiwan (modern-day Xiangshan District, Hsinchu, Taiwan)
Died on: 27 March 1998 (aged 90)
Nationality: Taiwanese
Education: Taipei Third Girl's High School
Alma mater: Tokyo Women's Academy of Fine Arts
Famous as: Painter
Notable work: The Bridal Chamber (化粧) (painting)
Style: Gouache painting
Awards: Ensemble was selected for Teiten in 1934.
30 Interesting and Fun Facts about Chen Chin (陳進)
Chen Jin, also written as Chen Chin, was born on 2 November 1907 into a rich family in Kōzan, Shinchiku, during the Japanese rule of Taiwan.
Under the recognition and support of her teacher, Gohara Koto, she traveled to another country to study painting in Japan.
At 18, Chen Jin boarded a boat that set sail for Japan. She had procured a spot at the Tokyo Women's Academy of Fine Arts, making her the first Taiwanese woman to study art abroad.
Chen learned at the Taihoku Prefectural Taihoku Third Young Girls' High School, where she painted for the first time.
By 1925, she was accepted into the Normal Education Division in Japanese Painting at Tokyo Women's Academy of Fine Arts, becoming the first Taiwanese female artist to study in Japan.
In 1928, Chen Jin became acquainted with the Taiwan Art Exhibition juror, Matsubayashi Keigetsu.
In 1927, the Taiwanese government sponsored the inaugural Taiten, the Taiwan Art Exhibition.
Chen Jin was one of three Taiwanese artists out of 92 members. The exhibition offered Chen Jin the chance to exhibit her work to a more extensive audience as she became an acclaimed artist across Taiwan and Japan.
Chen Jin's works were regularly selected for subsequent taiten exhibitions, where she won various awards. She later served as a juror at the exhibition.
From 1934 to 1938, Chen taught art at Heitō Girls' High School in Taiwan, becoming the country's first woman high school teacher.
During this time, she submitted her artwork to the Teiten (the Japanese Imperial Art Exhibition), and her piece Ensemble (Japanese and Chinese: 合奏) was acknowledged in 1934, with The Bridal Chamber (Japanese: 化粧, Chinese: 化妝; lit. 'makeup') accepted the next year.
Chen Jin's favored strategy for painting was gouache, an opaque watercolor. She kept on sharpening her art with figure paintings that depicted the daily lives of upper-class Taiwanese women.
In 1934, Tokyo's Imperial Fine Arts Academy Exhibition accepted Chen Jin's piece, "Ensemble," making her the first Taiwanese woman to earn a selection.
The famous painting features two Taiwanese women playing a yueqin (Chinese banjo) and dizi (bamboo flute).
Chen Jin got back that year and became Taiwan's first female secondary school teacher at Pingtung Young Girls High School. She served as a juror for the Taiwan Fine Arts Exhibition while making pieces like "Infant" and "Familial Portrait" in her free time.
6 Google Doodles Including Cars Drivers Vehicles Automobiles
Chen married in 1946, at 39 years old. She had one son; her husband likewise had six children from a past marriage.
In 1946, Chen Jin served as a juror for the Taiwan Provincial Art Exhibition while proceeding to create her own work.
Making a thematic shift, she created the works Infant, Little Boy, Children's World, and Familial Portrait to show the family through the eyes of loving mothers and elderly people. However, she would in general focus on figure painting, Chen Jin likewise accepted a commission from Taipei's Fa-Kuang Temple which prompted the production of her series of The Buddha's Work (1965-1967).
In 1958, Chen Jin held her first solo exhibition that exhibited 62 of her paintings at Chung-Shan Hall in Taipei.
In 1986, the Taipei Fine Arts Museum held a retrospective exhibition of her work to celebrate her 80th birthday; the National Museum of History held a retrospective exhibition a decade after the fact.
In her later years, she traveled back and forth between Taiwan and the US. These experiences prompted a thematic extension in her work, which started to incorporate landscape paintings.
Chen kept on painting until her death in 1998.
Chen Jin's attention was basically on gouache painting, with a special emphasis on figure paintings.
From 1927 ahead, she was selected various times for the Taiwan Art Exhibition (Taiten); her work Ensemble was selected for the Imperial Art Exhibition (Teiten) in 1934.
Chen Chin's most renowned works representing her style include: Wearing Makeup, Pandanus, Another Day, and Quiet Contemplation.
Chen Jin's paintings are on display in the Taipei Fine Arts Museum's permanent collection.
Chen is perceived as Taiwan's first noticeable woman painter. In 2003, the National Museum of History held an exhibition named "The Beauty of Chen Chin's Ladies," displaying 32 of her works dating from 1932 through 1998.
In 2006, in celebration of the 100th anniversary of her birth, the Taipei Fine Arts Museum introduced an exhibition named "Centennial Celebration of Chen Chin" at three Japanese museums: the Shoto Museum of Art, the Hyogo Prefectural Museum of Art, and the Fukuoka Art Museum. It was the biggest exhibition of her attempts to date and the first time a Taiwanese artist's works toured Japan in a significant solo exhibition.
Some of Chen Chin's works are held in the Taipei Fine Arts Museum's permanent collection.
On November 2, 2022, Google featured a Google Doodle on its homepage for celebrating Chen Jin's 115th Birthday. Google Doodle recognizes the birthday of Chen Jin, additionally written as Chen Chin, one of the first female painters to earn recognition in Taiwan. With sensitive brush strokes and radiant colors, she painted the way for generations of female artists to come.