Interesting Facts about Abdul Rahman Munif, a Saudi Arabian Novelist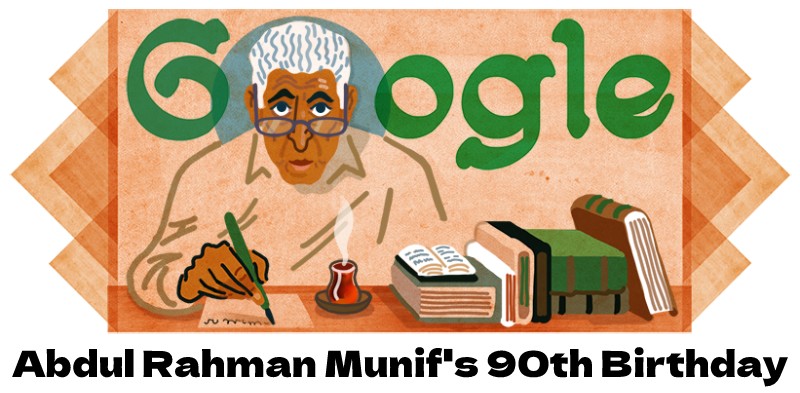 Search engine giant Google released a Google Doodle on May 29, 2023, to celebrate Abdul Rahman bin Ibrahim al-Munif (عَبْد الرَّحْمٰن بِن إِبْرَاهِيم المُنِيف), also known as Abdelrahman Munif, who is considered as one of the most significant modern Saudi authors and one of the best Arabic writers of the 20th century. Here are some interesting and fun facts about Abdul Rahman Munif (عبد الرحمن منيف).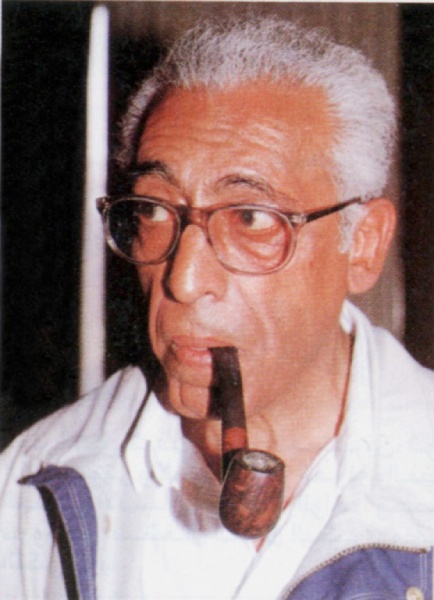 Here is a look at the life and work of Abdul Rahman Munif (عبد الرحمن منيف).
Who was Abdul Rahman Munif (عبد الرحمن منيف)?
Quick Look
Birth name: Abdul Rahman bin Ibrahim al-Munif
Birth date: May 29, 1933
Birthplace: Amman, Jordan
Died on: January 24, 2004 (aged 70)
Death place: Damascus, Syria
Resting place: Dahdah cemetery
Famous as: Writer, journalist, politician, economist
Language: Arabic
Nationality: Saudi Arabian
Alma mater:

University of Belgrade
University of Paris

Genre: Novel, short story, critic, biography
Literary movement: Literary realism
Notable works:

Cities of Salt (1984–1989)
Sharq al-Mutawassit (1975)

Notable awards: Owais Cultural Award (1989).
20 Interesting Facts about Abdul Rahman Munif (عبد الرحمن منيف)
Abdelrahman Munif, also abbreviated as Abdul Rahman bin Ibrahim al-Munif, was a Saudi Arabian novelist, short story writer, memoirist, journalist, thinker, and cultural critic.
In 1933, Munif was born in Amman, Jordan to Saudi parents. His grandma was Iraqi. His Story of a City: A Childhood in Amman describes his upbringing there.
Abdul Rahman Munif moved to Baghdad in 1952 to study law, and then he moved to Cairo. He earned his law degree from the Sorbonne and his Ph.D. in oil economics from the Faculty of Economics at the University of Belgrade in 1961.
He joined the Ba'ath Party after returning to Iraq to work in the oil ministry. During this time he edited an industry journal called al-Naft wa al-Tanmiya "Petroleum and Development". He worked as an economist in the oil industry in Baghdad and later for OPEC and the Syrian Oil Ministry. Munif edited the monthly periodical Al-Naft wa al-Tanmiyya (Oil and Development) while he was a resident of Iraq.
In the 1970s, he quit his job with the Iraqi ministry, left the Ba'ath party, and moved to Damascus, Syria, to escape a regime he opposed. He then began writing.
Abdul Rahman Munif became well-known for his scathing parodies of Middle Eastern elites, particularly Saudi Arabian ones, which banned many of his books and took away his Saudi citizenship.
He used his knowledge of the oil industry to full impact, scrutinizing the businessmen who ran it and the politicians they served.
As a child, Abdul Rahman Munif was interested in writing and believed that "the mission of literature is to increase awareness." Before tackling his first book, which was in the process of production while he was working as an editor, he published several short stories.
Munif was the author of fifteen novels. Cities of Salt, a quartet of novels about how the discovery of oil changed a traditional Bedouin culture, is his most well-known work. Cities of Salt was described by Edward Said as the "only serious work of fiction that tries to show the effect of oil, Americans, and the local oligarchy on a Gulf country."
Al Ashjar wa-ightiyal Marzuq (Trees and the Assassination of Marzooq), Abdul Rahman Munif's first novel, was published in 1973. People were inspired to consider a society that was more fair and free by this work.
Abdul Rahman Munif's first novel to show up in English was Endings. The novel's innovative portrayal of rural life and environmental challenges in an Arabic genre that had previously primarily focused on urban, middle-class experiences was praised by the translator, who claimed that it was the first Saudi novel to be translated into English.
While Munif's works were never particularly popular in the West, they are highly regarded and widely read in the Middle East.
Abdul Rahman Munif was one of the fiercest critics of Saddam Hussein and his regime, but he was also completely against the American invasion of Iraq. He spent the last two years of his life working on non-fiction projects to oppose what he thought was a new imperialism.
He received the Al-Owais Cultural Award, which is the Arab equivalent of the Nobel Prize for Literature, in 1989 and the Award of Cairo Gathering for Arab Creativity in Novel Writing in 1998 for his writing.
In the same year that Naguib Mahfouz won the Nobel Prize, it was rumored that he was on the shortlist.
Abdul Rahman Munif died in Damascus at the age of 71 from heart and kidney failure.
Abdul Rahman Munif's work annoyed the leaders of Saudi Arabia, which prompted the banning of a significant number of his books and the revocation of his Saudi Arabian citizenship.
The quintet Mudun al-Milh (Cities of Salt, 1984-1989), which tells the story of how the Arab world changed during the oil era, is his most famous work. Other stupendous books of his incorporate Al-Nihayat (Endings, 1978), Sharq al-Mutawassit (East Of The Mediterranean), and the three-volume historical novel Ard Al-Sawad (Land of Darkness Trilogy, 1999).
Some of Abdul Rahman Munif's 15 novels and 9 non-fiction books have been translated into over 10 languages.
In honor of Abdul Rahman Munif's 90th birthday, Google featured a Google Doodle on its homepage on May 29, 2023.