These are places to look at this weekend as you celebrate National Burger Day 2023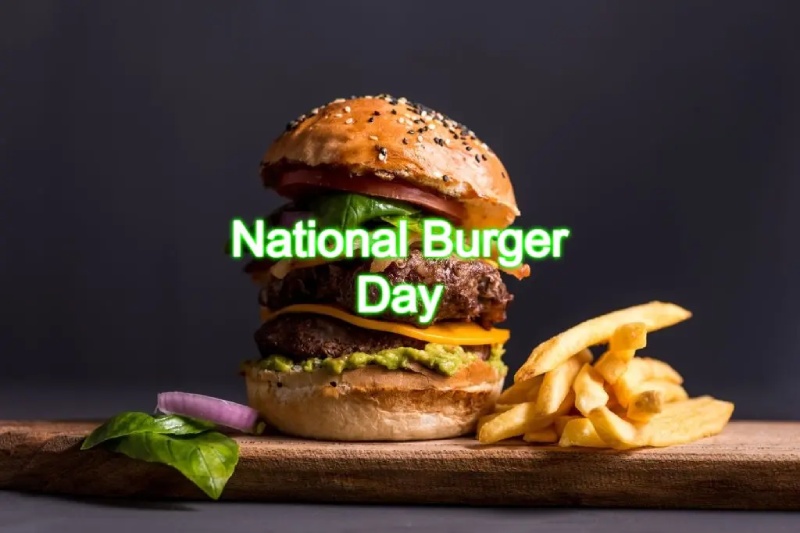 On the SouthCoast, there are some fantastic burgers for National Burger Day. The most popular dish in almost every restaurant is the focus of the holiday on May 28.
When you don't know what to order, don't want to try something new, or have a picky eater, a burger is always the answer. It is the ideal combination of all food groups into a single amazing handheld package.
It should come as no surprise that there are restaurants serving up this traditional dish with their own unique takes on it all over the New Bedford area. Here are a few places to look at this weekend as you celebrate National Burger Day.
Double Pickle Back Burger
A burger and fried pickles?! Sixes & Sevens is a tasty combination of two fan favorites. You get two seasoned smashy patties topped with melted Swiss, fried pickle chips, house slaw, and a scratch-made apple whiskey glaze on a soft pillowy potato roll. The Hulk Smash, which features two beef smashy patties topped with house guac, melted cheddar, avocado poblano ranch, and c-angered jalapeños on a soft potato roll, was one of the other smash burgers that caught our attention. Gets yours at 7 South 6th St., New Bedford.
Mushroom and Swiss Burger
This mushroom and Swiss burger at Cork Wine and Tapas makes certain to stir things up around town for any burger lover. You get 8 oz. patty. roasted garlic aioli, sauteed button mushrooms, Swiss cheese, mixed greens, and done to perfection. The other burger on their menu is the Tommy Oliver Burger, an 8 oz. patty, jalapeno cream cheese, pepper jack, crispy bacon, sliced avocado, red onion, and mixed greens on a grilled brioche bun. Either of these is worth the drive to 90 Front St., New Bedford.
The Buttonwood Burger
Back Door Burgers & More honors New Bedford by offering burgers with names like "The Buttonwood," "Z," "Brooklawn," "The Amaral," or "Union Street." Try the Buttonwood which is an all-beef patty topped with cheddar cheese, bacon, beer-battered onion rings, and bbq sauce; or on the other hand the Amaral which is an all-beef patty, cheddar, Amaral's linguica patty, and a fried egg. At 36 Homer's Wharf in New Bedford, they also have a burger of the month that you should look out for.
Southern Belle
Any burger list wouldn't be finished without DNB Craft Kitchen, since burgers are somewhat their thing. On the menu, you can choose from eight different burgers or build your own. On a grilled potato bun, the Southern Belle features a beef patty, micro greens, American, jalapeno sweet corn aioli, chives, tomato jam, and house bacon; or on the other hand the New Guy, a beef patty, greens, gruyere, french onion mustard, egg yolk jam, mushroom relish. You can find the deck at 768 Purchase St., New Bedford.
Cabin Burger
If you don't serve good food, you won't stay in business for more than 75 years. The Cabin Restaurant, at 114 East Grove St., Middleboro is proof of that. Make sure to add applewood smoked bacon to their classic Cabin Burger, which is a charbroiled half-pound burger with lettuce, tomato, and your choice of cheese on a toasted bulkie roll. The Greek Burger, a charbroiled 1/2 pound burger with feta cheese, spinach, and tomato served on a garlic butter-grilled bun, is a unique take on the burger.
California Burger
Try not to need to leave your little guy at home? You can have your burger outside at the Walrus & Captain with your furry friend. With any of the burgers, you can get a beef, chicken, or a black bean patty. Taste test the California Burger with avocado, mesclun, cheddar, and Baja ranch; or the Blue Cheese, Caramelized Onion, and Bacon Great Hill Burger. At 33 County Road, Mattapoisett, you can get a table.
Southwest Veggie Burger
The Southwest Veggie Burger at Fireside Classic American Grille is a great option for vegetarians looking for a tasty burger. quinoa, sauteed vegetables, and a house-made veggie burger make up this burger. cheddar, romaine, tomato, onion, avocado, and chipotle crema atop a sweet potato. For the meat lovers at the table, they additionally have an 8 oz USDA Prime burger topped with arugula, tomato, onion, and American cheese. Everybody will leave happy when they feast at 30 Bedford St., Middleboro.
C&P Burger
At Cask & Pig Kitchen and Alehouse, you can get the C&P Burger if you want to splurge on a burger. A hand-ground burger patty with American cheese, crumbled chouriço, pimenta moida aioli, and, of course, the runny fried egg is the star of this show. Along with bacon jam, smoked gouda, fried pickles, red onion, greens, and smoked mustard aioli, the fancy burger is also available. Good Eats starts at 780 State Street, North Dartmouth.
Island Island Burger
When you order a burger at the Quahog Republic Whaler's Tavern, you won't be hungry when you get home. On a bulky roll that has been toasted in butter, a certified Angus patty is topped with applewood bacon, caramelized onions, BBQ sauce, cheddar cheese, grilled pineapple, and skewered shrimp with lettuce and tomato. Additionally, they are plating a veggie burger on a toasted roll with lettuce and tomato. At 24 N Water St., New Bedford, order a burger and an inspiring cocktail.