New "real cheeseburger" from Burger King in Thailand features just 20 cheese slices and no meat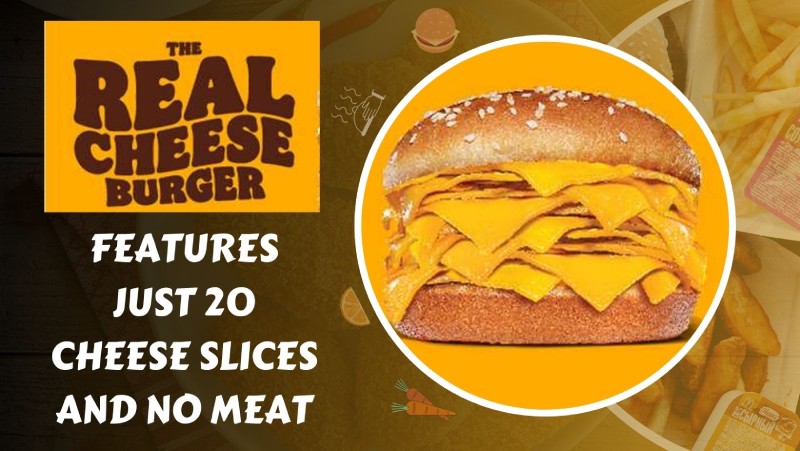 With the introduction of their brand-new "real" cheeseburger, Burger King Thailand is taking over the internet. Pay attention, cheese lovers—this one's for you. Burger King's latest offering, a burger with no meat and jaw-dropping amounts of cheese is making waves in Thailand.
The "real cheeseburger," a bun stuffed with as many as 20 slices of American cheese, was unveiled this week by the fast food chain's Thai operator.
The dish debuted on Thai menus on Sunday for a discounted price of 109 Thai baht ($3.1), down from its usual cost of 380 baht ($10.9). As soon as people started recording videos of themselves enjoying the new sandwich on TikTok, it swiftly became popular on social media in Thailand.
Simple yet daring, Burger King's newest item in Thailand. It is comparable to a Whopper but does not include meat, tomatoes, lettuce, pickles, sauces, or onions. It does, however, contain cheese—a great deal of extra cheese.
The fantasy of a vegetarian cheese enthusiast (and the horror of a person with lactose intolerance) consists of two buns stacked with 20 layers of American cheese slices.
The fast food restaurant chain gave the dish the title "Super Cheeseburger."
In a Sunday online post, Burger King declared, "This is no joke. This is for real.
On Tuesday, a Burger King shift manager was overheard explaining that the location had to cease accepting delivery orders so that there would be enough food for walk-in guests.
One client who placed an order for the cheesy treat said she had eaten it for the first time after seeing it on social media.
The 25-year-old IT engineer Im Jeepetch said that while she enjoyed cheese, "this was a bit too much."
She wiped her lips with a tissue and replied, "I could only finish half of it. This is an insane amount of cheese added to one burger. Food is good when things are in the right combination."
Im added that other burgers are already nice and that she probably wouldn't have the gooey food again the next time: "Other burgers are already good. I think I will go back to my double cheese angus as usual."
Another consumer agreed, describing the cheeseburger as "too intense."
Alisa Chuengviroj, a 26-year-old entrepreneur who sells skincare products online, said, "I may not try it again. I like a few slices of cheese in my burger, but not this much."
She confirmed that, like Im, she had visited the shop after seeing numerous internet posts about burgers.
The new menu item is an example of how fast franchises all around the world are attempting to acquire traction by introducing zany or eye-catching menu options that they hope will go viral on social media.
Burger King has increased its focus on the Whopper in the US, a flame-grilled signature beef burger that has gained popularity on apps like TikTok thanks to a catchy commercial jingle that was released late last year.
Additionally, restaurants constantly modify their menus to accommodate regional preferences in various countries. In Thailand, young clients are particularly fond of cheese, and dairy product is frequently sprinkled on a variety of foods.
Salmon katsu burgers are also available on Burger King's menu throughout the nation, maybe in response to customers' preference for chicken over beef.
Minor International, a local hospitality group that operates some of Asia's biggest restaurant chains, is the chain's owner in Thailand.