Full List of the Top 50 Best Pizzerias in the US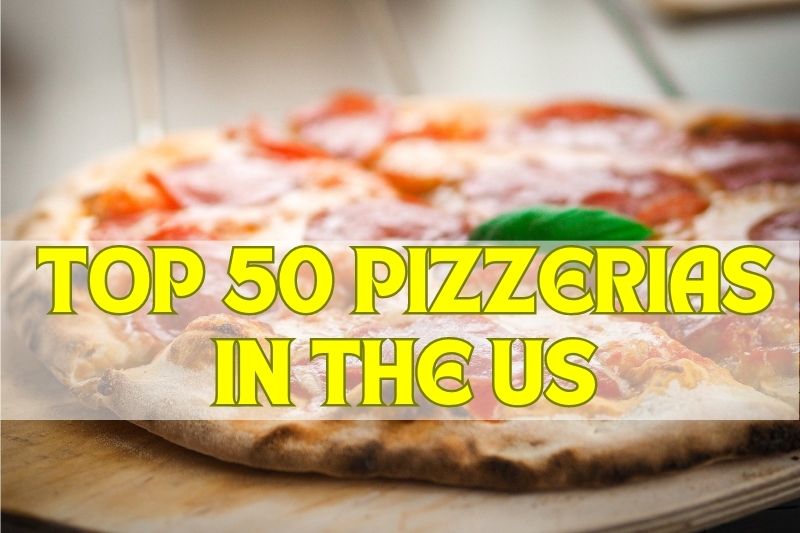 The American pizza scene is still dominated by Anthony Mangieri. The 50 Top Pizza organization named Una Pizza Napoletana, the chef's New York City restaurant, the country's best pizzeria. Mangieri's restaurant obtained a similar honor last year, and its Neapolitan-style pies keep on intriguing the judges.
During the ceremony declaring the rankings, Mangieri stated, "I think [pizza is] probably universal because it's a product that can be kind of personalized by anybody. I think as the world is getting more open and connected, I think people from around the world have been to Naples, experienced the beauty there, then they take it back to where they're from, and they kind of add their own love to it."
There were some minor shifts in the overall top five: Jersey City's Razza Pizza Artigianale came in second, while Portland's Ken's Artisan Pizza ranked third (moving up from No 11 last year). In fourth was San Francisco's Tony's Pizza Napoletana, which was last year's No 2, and fifth was Phoenix's Pizzeria Bianco, which bounced from No 12 last year. Altogether, New York topped the list with 10 pizzerias cutting, while Portland, Miami, and San Francisco all followed with three.
"New York has been deemed one of the greatest cities in the world for pizza," the project's curators, Barbara Guerra, Luciano Pignataro, and Albert Sapere, said in a statement. "The American pizza movement is very active right now, with a new generation of artisans who are ever more careful with the quality of their product and their ingredients. It is a trend that has been particularly noticeable over the last year."
Outstandingly, close to half of the list is comprised of new spots or those that didn't rank by any means last year, with the highest being New York's Pizza Secret at No. 17. Furthermore, some of last year's winners experienced enormous forward swings, with Pasquale's Pizzeria Napoletana in South Kingstown climbing to No. 12 from No. 33 and Fabrica Pizza in Tampa jumping up to No. 15 from No. 49 Unfortunately, some spots fared worse. Last year's No. 9, Pizzana, along with 16 other spots, were eliminated completely.
Tuesday night, the ranking was made public at West Edge in Chelsea Market, New York. 50 Top Pizza's list of the world's 100 best pizza restaurants, which will be revealed at a ceremony on September 13 in Naples, will automatically include the top 15 spots. That gives pizza fans less than three months to try the best pizza in the United States before they have to move on to the best slices in the world.
Look at the full list of the top 50 pizzerias in the US below.
Una Pizza Napoletana – New York
Razza Pizza Artigianale – Jersey City
Ken's Artisan Pizza – Portland
Tony's Pizza Napoletana – San Francisco
Pizzeria Bianco – Phoenix
Ribalta – New York
0′ Munaciello – Miami
Jay's Artisan Pizzeria – Kenmore
Song' E Napule – New York
Kesté – New York
La Leggenda Pizzeria – Miami
Pasquale's Pizzeria Napoletana – South Kingstown
Ops – Brooklyn
Spacca Napoli Pizzeria – Chicago
Fabrica Pizza – Tampa
Partenope Ristorante – Dallas
Pizza Secret – New York
Pizza Rock – Las Vegas
Pizzeria Sei – Los Angeles
Apizza Scholls – Portland
Flour House – San Luis Obispo
Mission Pizza Napoletana – Winston – Salem
Inferno Pizzeria Napoletana – Darnestown
Il Forno – San Antonio
Coals Artisan Pizza – Louisville
Nardò Italian Restaurant – Huntington Beach
Robert's Pizza and Dough Company – Chicago
Bricco Coal Fired Pizza – Haddon Township
Nostrana – Portland
Craft 64 – Scottsdale
Spark Pizza – Redmond
San Matteo – Pizzeria e Cucina – New York
A 16 – San Francisco
Salsa – New York
Antico Pizza Napoletana – Atlanta
Tribute Pizza – San Diego
Don Antonio – New York
Zeneli – New Haven
Pizza Delicious – New Orleans
PizzElla – Miami Beach
Slice & Pie – Washington
Pasquale Jones – New York
Basil & Barley Pizzeria Napoletana – Colorado Springs
Pomo – Scottsdale
Oven & Tap – Bentonville
Angelina's Pizzeria Napoletana – Irvine
Posto – Somerville
A Modo Mio – Arlington
Yellow Moto Pizzeria – San Francisco
786 Degrees – Los Angeles