Kohbee A Digital Tool to Empower Creator Educators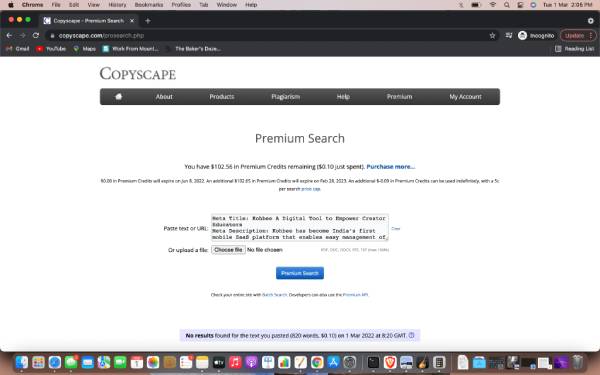 COVID-19 has transformed the way education is conducted in India. The number of YouTube lessons has grown exponentially as in-person classes gave way to online learning and blended learning. The nation has a vast pool of teachers who are skilled in developing lessons and materials for various courses that students can use to expand their knowledge and skills. However, some teachers lack the resources to transform their content on a digital platform and enable it to be accessible to a large section of people to earn a good income. For several such creator educators, the main source of income is YouTube videos and one-to-one classes. The Kohbee app has thus been developed to empower creator educators to develop their own brands and become successful in their careers.
With this mobile app, creator educators can create websites for their courses within 60 seconds. Once they download and install the app, they can conduct live classes, take advantage of the inbuilt Learning Management System (LMS), and make use of the international payment support. Kohbee empowers creator educators with the latest online learning tools and monetises their assets on an ongoing basis. It breaks geographical and language barriers to enable creator educators to benefit from the versatile mobile SaaS platform.
The popularity of the Kohbee app can be gauged from the 100,000 or more downloads done in the first five months of the inception of the brand. "60 percent of these creator-educators do not have access to a laptop. We wanted to solve this problem for the education industry which is why Kohbee is the first mobile based SAAS platform for this market providing everything in one place. Other platforms are providing the same services for 3 times the amount and the user requires a laptop/PC .The way we have built Kohbee can be considered as a 'Done for You' solution as opposed to other 'Do It Yourself' solutions out there which allows aspiring creator-educators to dream big."- Rohan Sinha, Co-founder

The co-founders of Kohbee, decided to develop the mobile app when they faced problems running their own online classes. Kohbee allows creator educators from a wide range of disciplines to offer courses online. They can range from English, Social Studies, Art, Dance, Music Photography, Video Editing, Instagram Marketing, Yoga, and wellness, among others. There is no limit to the type of courses that can be created by creator educators to get a wider reach and monetise the learning assets.
Kohbee addresses several problems of educators in India, such as lack of access to laptops, a digital platform to offer courses and monetise it by building a personal brand by reaching out to a wider audience. "At Kohbee, we value your individuality as a creator-educator and we want to provide you with the tools of success in your professional journey," according to Siddharth Chauhan, co-founder of Kohbee. Kohbee stands out from the rest of the edtech conferencing space as it is on a mission to help creator educators develop their own personal brands and achieve success as entrepreneurs. When other edtech conferencing tools just provide a space to conduct classes, Kohbee provides the complete solution to help in the professional growth of the creator educators.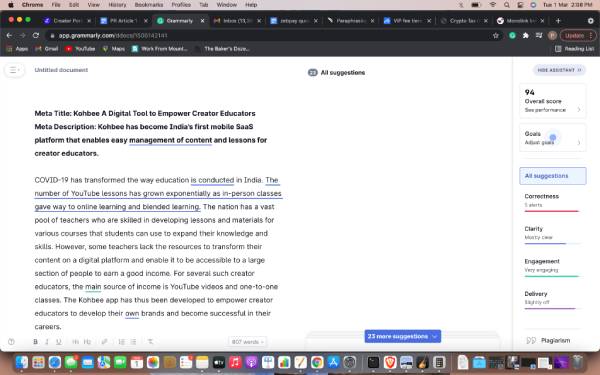 The Indian economy is on a growth path after the crisis created by the COVID-19 pandemic and lockdowns. The manufacturing, agriculture, and services sectors are witnessing impressive growth. This, in turn, is creating job opportunities for several skilled people. The creator educators are empowering the students of different age groups with their unique content. Kohbee's mission is to empower the creators to perform better so that they become engaging partners in creating millions of skilled people for various jobs.
Recent surveys have shown that the edtech industry is poised for further growth as more parents would like to adopt e-learning on a continuing basis. They believe that e-learning has amplified the academic progress of their children. Online learning is not just about delivering content online but accompanying the learner in the entire learning process. Interactivity, gamified learning, and the use of modern software have become essential for the success of online learning. Moreover, the concept of lifelong learning has become accepted in the industry. This presents a great opportunity for creator educators to develop more lessons for aspiring learners.
Kohbee is greatly encouraged by the pre-seed funding and tremendous initial response received from the creator educators to further improvise the platform by adding new features and functionalities.
"With this round of funding, Kohbee aims to build a strong core team and attack the biggest problems that educators face today. Indian educators are doing well. All they lack is technical expertise to accelerate their growth just like any other Edtech start-up. In the next few months, we will build a product that educators and creators will love," said Shashwat Aditya – Co-founder. It empowers the creator educators with inexpensive tools while other edtech players in the country are charging three times the amount charged by Kohbee for similar services. Yes, Kohbee nurtures hope for millions of creator educators to build their personal brands to success. Download the Kohbee app now and empower yourself!