Ladi Kwali: Google animated Doodle celebrates Nigerian potter's work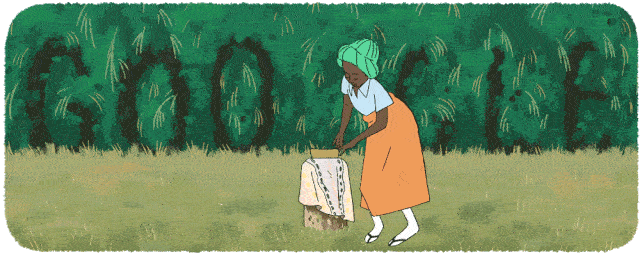 Google animated Doodle celebrates Nigerian potter Ladi Kwali, who acquainted the international community with the beauty of Nigerian art through complicatedly decorated earthenware designs, on March 16, 2022. On this day in 2017, an exhibition of Ladi Kwali's work at the Skoto Gallery in New York opened.
Who was Ladi Kwali?
Ladi Kwali was born around 1925 in the town of Kwali in the Gwari region of Northern Nigeria, where pottery was an indigenous occupation among women. She was a teacher, ceramicist, glassworker, and potter.
Ladi Kwali figured out how to make pottery as a kid by her auntie using the traditional technique for coiling. She made enormous pots for use as water jars, cooking pots, bowls, and flasks from coils of clay, beaten from within with a flat wooden paddle.
During Ladi Kwali's first professional years, the traditional cultural environment moved her to create pottery pieces that were affected by the Gbagyi tradition and highlighted with personal idioms. Her way to deal with the earth was reverberated by mathematical undertones, made noticeable by the continuous display of symmetry.
Ladi Kwali would impress patterns on top of the figures by moving small roulettes of twisted string or notched wood over the surface of the clay, some of the time as horizontal banding and sometimes in vertical panels.
Her pots were noted for their beauty of form and decoration, and she was perceived regionally as a gifted and renowned potter. Several were obtained by the Emir of Abuja, Alhaji Suleiman Barau, in whose home they were seen by Michael Cardew in 1950.
In 1954, Ladi Kwali joined the Abuja Pottery as its first female potter. There, she learned wheel throwing, glazing, kiln firing, production of saggars, and the use of slip, eventually assuming the role of instructor.
From her cultural tradition, where females were fundamentally liable for pottery, Ladi Kwali's ceramics became "art objects". Ladi Kwali's pots were highlighted in international exhibitions of Abuja pottery in 1958, 1959, and 1962, organized via Cardew.
In 1961, Ladi Kwali gave exhibitions at the Royal College, Farnham, and Wenford Bridge in Great Britain. She additionally gave demonstrations in France and Germany over this period. In 1972, she visited America with Cardew. Her work was displayed to extraordinary approval in London at the Berkeley Galleries. The Abuja Pottery was renamed the Ladi Kwali Pottery in the mid-1980s.
In 1954, Ladi Kwali's pots were highlighted in the International exhibition of Abuja pottery organized by Michael Cardew. Kwali was awarded an MBE (Member of the Order of the British Empire) in 1963.
She earned international acclaim in the 60s following exhibitions across Europe and the Americas. Kwali became the first Nigerian woman to train in advanced pottery techniques, melding her traditional style with creative strategies to make a hybrid collection of pottery.
In 1977, she was awarded an honorary doctoral degree from Ahmadu Bello University in Zaria. She additionally got the national honor of the Officer of the Order of the Niger (OON) in 1981.
In 1980, the Nigerian Government (from the Cabinet Office of the Federal Republic of Nigeria) contributed to Ladi Kwali with the insignia of the Nigerian National Order of Merit Award (NNOM), the highest national honor for academic success.
The Sheraton Hotel houses the Ladi Kwali Convention Center, which is one of the biggest conference facilities in Abuja, comprising of ten meeting rooms and four ballrooms.
Ladi Kwali's works are held in collections all around the world, like Smithsonian National Museum of African Art, USA, Victoria and Albert Museum, and Aberystwyth University Ceramics Gallery, UK.
The 2022 exhibition at Two Temple Place Body Vessel Clay, Black Women, Ceramics & Contemporary Art included Kwali as the beginning point for charting 70 years of ceramics by black women artists.
On March 16, 2022, Google featured an animated Doodle on its homepage for celebrating Ladi Kwali.