Mazisi Kunene: Google Doodle celebrates South African poet laureate's 92nd birthday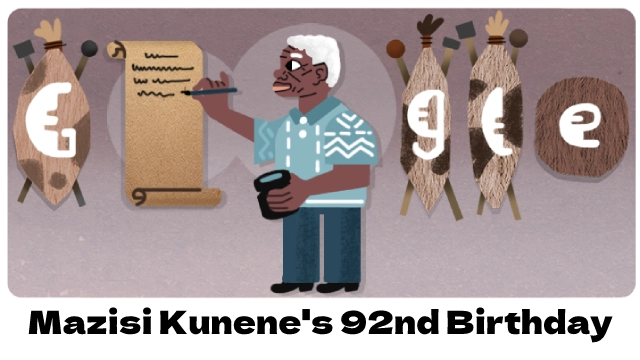 Google Doodle celebrates the 92nd birthday of South African poet laureate Mazisi (Raymond) Kunene whose work recorded the history of the Zulu people on May 12, 2022.
Who was Mazisi Kunene?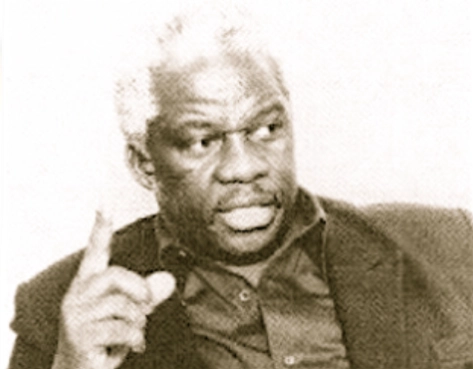 Mazisi kaMdabuli Kunene was born on 12 May 1930 in Durban, in the modern province of KwaZulu-Natal, South Africa. Mazisi (Raymond) Kunene was a South African anti-apartheid activist and poet most popular for his poem Emperor Shaka the Great.
While far away, banished for good from South Africa's apartheid regime, Kunene was an active ally and organizer of the anti-apartheid movement in Europe and Africa. He would later educate at the University of California, Los Angeles (UCLA), and become Africa's and South Africa's poet laureate.
From very early in his life as a youngster Mazisi Kunene started writing poetry and short stories in Zulu, and by the age of 11, he was being published in local papers. He proceeded to procure a Bachelor of Arts degree from the University of Natal in Zulu and history, and later a Master of Arts in Zulu Poetry.
His Master's thesis was named An Analytical Survey of Zulu Poetry, Both Traditional and Modern. In it, Kunene reprimanded the changing nature of Zulu literature and its imitating of the Western tradition. He won a Bantu Literary Competition in 1956 and left for London, England, to learn at the School of Oriental and African Studies, University of London, in 1959.
After earning an M.A. in 1959, Mazisi Kunene went to the University of London to finish his doctorate, however, he before long found himself engaged with politics and never completed his studies. He was an official representative of the African National Congress.
He was educated at the University of Iowa, Stanford University, and the University of California, Los Angeles. In 1966 the South African government banned Kunene, and he didn't get back to the country until 1993. That year he joined the faculty at the University of Natal.
Mazisi Kunene wrote and published poetry from very early in his life. His works were composed initially in Zulu and afterward translated into English. In 1966, his works were restricted by the Apartheid government of South Africa. In 1969, he composed an introduction to the translation by John Berger and Anna Bostock of Aimé Césaire's Return to My Native Land.
In 1970, Mazisi Kunene published Zulu Poems, an anthology of poems ranging from "moral reflection to political commentary."
Mazisi Kunene's Zulu Poems (1970), a collection of his poetry interpreted Zulu into English, was honored by pundits for the freshness of the English translations, with patterns and imagery effectively extended from Zulu vernacular customs.
Again translating his work from the original Zulu into English, Kunene published two epic poems — Emperor Shaka the Great (1979), a history of the Zulu leader, and Anthem of the Decades (1981), a work managing Zulu religion and cosmology.
In Emperor Shaka the Great, published in English in 1979, Mazisi Kunene tells the tale of the ascent of the Zulu nation under Shaka. World Literature Today contributor Christopher Larson depicted it as "a monumental undertaking and achievement by any standards." This incredibly nationalistic work charted the development of the Zulu country under Shaka, as he changes the military and the country and overcomes a significant number of the tribes around Zululand.
Anthem of the Decades: A Zulu Epic published in English in 1981 tells the Zulu legend of how death came to humanity. In 1982, Kunene published a second collection of poems named The Ancestors and the Sacred Mountain: Poems containing 100 of his poems. This collection had a specific emphasis on socio-political topics.
Mazisi Kunene returned to South Africa in 1992, where he taught at the University of Natal until his retirement. His later books incorporate Isibusiso sikamhawu (1994) and Umzwilili wama-Afrika (1996). The beneficiary of various honors, Kunene was named writer laureate of Africa by UNESCO in 1993 and the first poet laureate of South Africa in 2005.
Mazisi Kunene died on 11 August 2006 in Durban, after a lengthy bout of cancer.
In 2006 the Mazisi Kunene Foundation was established to promote Kunene's work and other indigenous African literature.
Unodumehlezi Kamenzi was published in 2017 on the 10th anniversary of his death. This book is the isiZulu edition of Emperor Shaka the Great and embraces Kunene's original dream to have his poem published as planned in the first isiZulu form.
Mazisi Kunene's legacy lives on in his poetry, as well as the Mazisi Kunene Foundation Trust, which is dedicated to supporting Africa's next generation of literary talent.
On May 12th, 2022, Google featured a Doodle on its homepage for celebrating Mazisi Kunene's 92nd birthday.
Interesting Facts about Mazisi Kunene
Birth name: Mazisi kaMdabuli Kunene
Birth date: 12 May 1930
Birthplace: Durban, South Africa
Died on: 11 August 2006 (matured 76)
Death place: Durban, South Africa
Nationality: South African
Education: University of Natal
Father name: Mdabuli Albert Kunene, a labourer
Mother name: Eva Kunene (nee Ngcobo), a teacher
Spouse(s): Mathabo Kunene
Known as: Poet, national historian, diplomat
Notable work: Emperor Shaka the Great