Meet Mr. Saviour of thousands in need, Advocate Sunny Aaron Waskar, a famous criminal defence advocate, A name raising high day by day as a professional saviour for people in need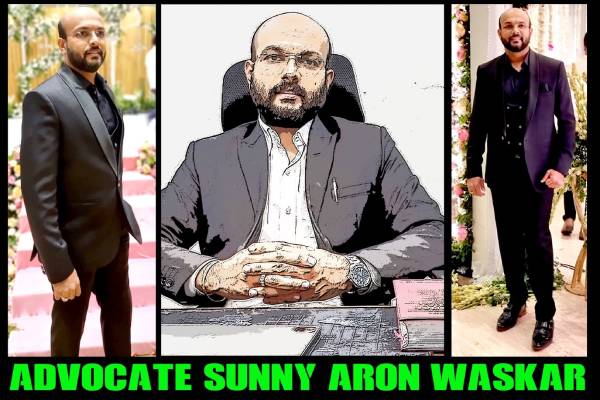 Advocate Sunny Waskar's cabin in his Malad office is nothing less than a library. On the one hand, is the cabinet stuffed with the client's cases, and on the other end are the voluminous books on almost every legal, criminal topic out there. So we go with the tiny piece of information that Adv. Sunny Waskar is one of the most well-read lawyers. We are already beginning to believe it.
He strides in and politely informs that he has only 30 spare minutes before he is absorbed into another spiral of meetings. Adv. Sunny Aron Walker's life was always on the move right from his early years. Having lived in the USA for a short period of two years, he learned quite a bit about different cultures and how any purported crime is seen in societies. We begin with his observation about the judiciary, and he jumps right in, "It shouldn't be this difficult to achieve an equilibrium between personal liberty and basic rights. In the face of accusations of an alleged crime committed by a citizen, personal liberty should always be weighed more because the person is yet not convicted. Keeping him behind bars over the mere beliefs of the prosecution should be unacceptable. Moreover, when an accused is arrested and kept behind bars without trial, you are infringing upon his basic rights and liberty in the name of justice. No definition of justice allows us to incarcerate an accused based on mere accusations without a trial."
Adv. Waskar strongly supports democracy and liberty, "Sadly even today our citizens do not understand the real meaning of being free," he says, "many fail to enjoy the freedom in its real sense, we still live like we are being ruled by the administration and the government. It isn't that complicated. We need to remind ourselves that as citizens, no one is doing us a favour. Also, a citizen in this country merely gets treated as a civilian rather than a citizen. How many people know the difference between these two? A citizen in a democratic country is no less than a King in its literal sense. The difference is that this king is in coexistence and harmony with all the other kings who are also citizens of this nation, and for coexisting peacefully an entirely democratic process is formulated."
For many of Adv. Sunny Waskar's clients are no less than emerging saviour who always goes the extra mile for their release—at the same time, appearing in High Court for a matter, Adv. Sunny Waskar put forth a crisp argument pointing out some significant lapses in the prosecution's investigation, bailing out the accused. He affirms, "We have all the machinery to investigate a matter and successfully incriminate an accused if they are really guilty, right? Of course, we do. Every time an accused is convicted, society rejoices, and State adds a feather to its cap. Then why shouldn't any significant lapses not benefit the accused? It should rightly be understood that there isn't much evidence to incriminate. After all, it's the prosecution that bears the burden of proving that the accused is guilty beyond any reasonable doubt, so doesn't their failure to put up significant evidence against the accused say something about his alleged crime?"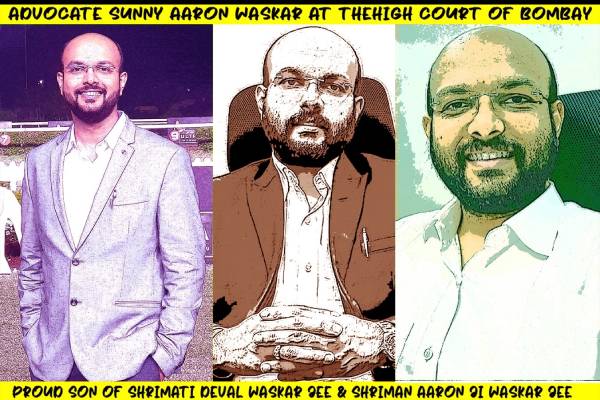 Adv. Sunny Aaron Walker's clients generally sit back after handing over the case to him, and that confidence in him as a lawyer comes due to his clarity of thought and speech. When we question him about his direct responses to his clients, he smiles, "Sometimes I feel I am sitting in a market selling some product. Clients come to me asking for the guarantee in terms of result and time. I am not the right lawyer for them. I can't say what they want to hear. They come to me because I am a professional, and they trust my knowledge and practice. I have to do justice to their trust and my practice both." Ultimately this same clarity helped Adv. Waskar achieves the name of 'the youngest and best anticipatory bail expert in Mumbai'. For the clients who have lost their peace of mind knocking on numerous doors of various advocates, consistently receiving false 'guarantees', Adv. Sunny Waskar indeed is a relief for sore eyes.
Being the 'go-to' lawyer in his peer network, Adv. Waskar shares some wise words about his practice, "Being an advocate is one of the most prestigious professions. It comes with its own set of responsibilities towards your society. Budding advocates need to absorb this fact. While we are dealing with law, you never win or lose a case, and it's always about justice." 
Adv. Sunny Aaron Waskar is a criminal defense advocate practicing in Sessions Court, Dindoshi, High Court, Bombay, and Supreme Court of India.