New Italian Restaurant in Chiswick London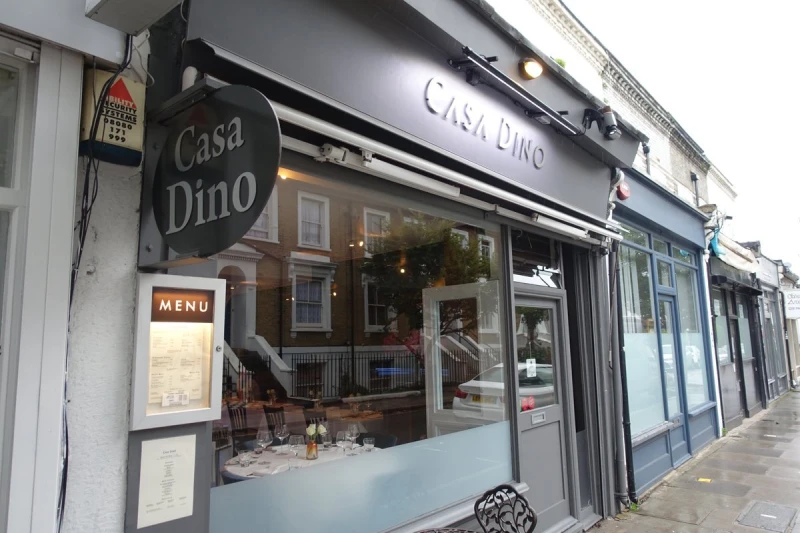 A New Italian Restaurant in Chiswick London, Casa Dino opened in October 2018 just off the busy Chiswick High Road, and almost opposite the long-established La Trompette. They have as a consulting executive chef Carmelo Carnevale, who is from Sicily but has a long history cooking in London. Mr. Carnevale was formerly at Onima, and before that was head chef at Novikov Italian for three years. Prior to that, he worked at Michelin-stareed but now closed Semplice. The head chef at Casa Dino is Andrea Besano, assisted by sous chef Christian Matei. There was a £35 menu for three courses or an a la carte selection.
The wine list ranged from £22 to £285 in price, with a median price of £41 and an average markup to retail price of 2.4, which is very fair indeed by London standards. There were 49 bottles on the list, with 53% from Italy, 37% from France and a few odds and ends from elsewhere. There were labels such as Colterenzio Corral Weisser Burgunder Pinot Bianco 2017 at £27 for a bottle that you can find in the high street for £12, Pouilly-Fuisse La Roche Domaine Manciat-Poncet 2016 at £49 compared to its retail price of £25, and Amarone Classico Acinatico at £79 for a wine that will set you back £35 in a shop. For those with the means, there were grander offerings such as Chateau Lynch Bages 2010 at £230 compared to its retail price of £228, and Dom Perignon 2009 at £285 for a wine whose current market value is £166. Alternatively, corkage was £25.
Rosemary bread was made from scratch in the kitchen and was very pleasant, served with good olive oil (13/20). Arancini had a filling of risotto rice, peas and mozzarella and were excellent, with a crisp coating and rice with good texture (14/20). Caccio e peppe was made with tonnarelli pasta, a Roman name for an Abruzzo egg pasta spaghetti alla chitarra. This is a classic dish, just with cheese and pepper, and the version here was excellent. The pasta was made fresh here in the kitchen, as are all the pastas at the restaurant, and this had lovely texture. The cheese and pepper was in very good proportion, though perhaps a little more pepper would have been ever better, but overall this was a classy dish (14/20).
Less inspiring was sea bass on a bed of quinoa and courgette, with a Sicilian lemon dressing. This was perfectly pleasant and the fish was nicely cooked, but it was quite a small bass with limited flavour, and I am not sure whether the quinoa was such an inspired idea. However the acidity of the dressing worked nicely (12/20). I had tagliatelle with hand-cut beef ragu. The pasta again had excellent texture and the ragu had quite good intensity of flavour (13/20)
Semifreddo had reasonable texture but the hazelnuts within the frozen mousse were a little stale, which was a shame (12/20). Better was home-made tiramisu, which had nice texture and a decent kick of coffee, though perhaps a little more coffee flavour, or using a higher quality coffee than this one, would have made it even better (14/20). Coffee was Illy, which is the best of the industrial Italian brands, but does not compare in quality to speciality coffees.
The service was friendly and the bill came to £68 a head including corkage at £25 and a Campari and soda. I quite enjoyed the food at Casa Dino, with some very good dishes that were better than I was expecting at an unassuming neighborhood restaurant. I will certainly be back given that I live locally.