Rise of Secret Raves in the UK & Underground Rave Clothing Trends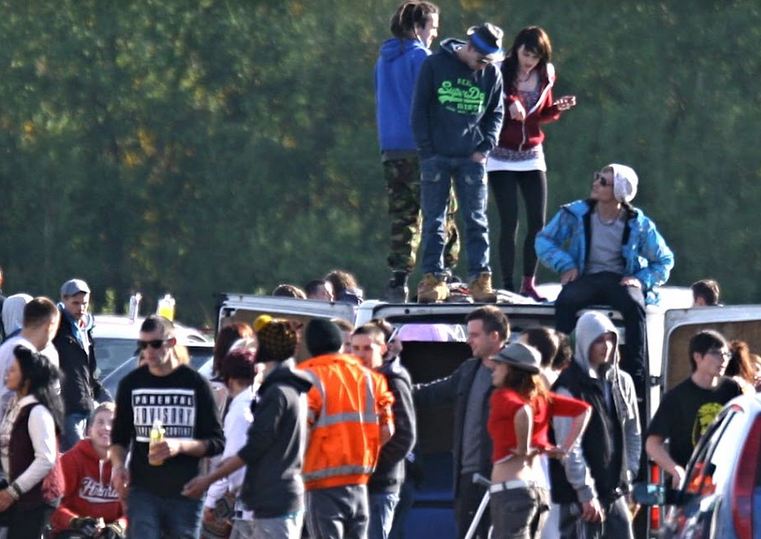 Are underground raves becoming a problem in rural England? Residents of local villages think so.
In only 14 days, two illegal raves with over 600+ people were broken up by law enforcement. And these private events weren't held in cities like London, Manchester, or Birmingham. They were in quiet, rural areas with less than 5,000 people.
One rave, held on the 26th of October, attracted over 700 people to the small Rutland village of 'Whissendine'. Although nobody was arrested, local residents were furious with the noise levels which lasted late into Sunday afternoon. Another party, held at an industrial unit in Eaton Socon on November 2nd, lasted over 17 hours. 35 police officers were called to the scene. Of the 600 people in attendance, three were arrested.
UK ravers have always loved music, partying, and keeping up with the latest rave clothing trends – but what is driving them to do it in secret?
The UK's illegal underground rave scene
Underground raves are super secretive. For a typical event, specific details are kept quiet until the last minute. Organizers will then send out the time and location using exclusive Facebook and WhatsApp groups, which are usually deleted after the party starts. Once inside, it feels like a normal nightclub or music festival – except it's much cheaper and easier to buy drugs and alcohol.
Impact on the local community
While underground raves are like heaven for some people, they are a pain for the local residents. The loud music, fireworks, and people can disrupt those who are sleeping. And the noise pollution is traumatic for pets and other animals.
One local resident in Rutland said after the most recent incident, "normally you can hear the leaves falling off the trees it's so quiet. It woke us up at 02:00 and hasn't stopped since."
Another local complained about the unwanted visitors, saying, "now our car park is full of cars with people passed out in them and there's sick and beer bottles all over the road. We called the police but nothing has happened."
The police were indeed at the scene in both cases and cleared the areas. However, it is a time–consuming process.
Once the area is cleared, the community is left to pick up the pieces. The event in Eaton Socon was particularly horrific. Space was totally trashed with graffiti, garbage, and debris; costing the local community thousands in public resources.
Why go underground? Politics and High Prices
Some people blame the increasing attendance at illegal parties on the political situation. With a conservative government in power, a looming Brexit, and skyrocketing rent prices, some people may use rave culture as a means to escape from reality. While there is some truth to this, there are other causes of the problem.
For example, hundreds of nightclubs have had to close due to the implementation of stricter licensing laws. Once the area in London also imposed a new rule on all new venues, declaring that they must close at midnight. These new rules have caused hundreds of nightclubs to close in recent years.
Another problem is that drinks and entrance fees keep getting more expensive. People can no longer afford to buy drinks all night, especially at raves that can last over 12 hours.
Speaking with The Face Magazine, one critic of the London nightclub scene said, "Big clubs in London have done to nightlife what Amazon has done to the high street. Tickets are expensive and clubs care about returns so they book big names and don't care who they get through the door. They put on these ​'all-day parties' but who can afford to buy drinks all day?"
The combination of these issues has forced party-goers to create their own fun in unconventional ways. It has also ushered in a perfect storm for underground organizers to make money from this captive audience. Traveling out into rural areas for an event will actually save people money – especially those from big cities. And most likely, they'll have way more fun.
Rave clothing trends for underground parties
Even though it's 'illegal', the inside of an underground party is similar to standard music festivals: full of dancing, drinking, and of course all the rave clothing trends. Guests should definitely feel free to wear what they feel comfortable in. Here are a few additional tips for attending an underground rave.
Firstly, those attending the rave for the full night (over 12+ hours) should make sure they have a plan for hydration. Because these underground events are unlicensed, there may not be adequate water options inside for the number of guests. A simple hydration pack can be a lifesaver. And, they also make them in cute, festival-friendly styles as well.
Guests should also bring a smaller handbag, fanny pack, or bumbag. Because the underground locations can be in sketchy areas, it is important to be able to have a phone available to ring a taxi and leave. It's also wise to keep some cash on hand in order to purchase drinks provided by the organizers. As always, you can never go wrong with comfortable shoes for dancing – and at underground raves, perhaps they'd come in handy for running away from police.