Optoma's new 4K projector produces a convincing defense to finally redesign your home theatre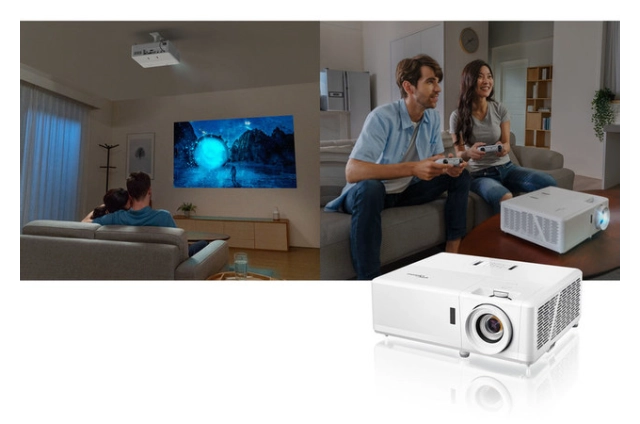 If you factor in the cost of the tickets for every one of the movies you find in theatres (in addition to the over-priced popcorn and snacks), then, at that point, the cost of upgrading your home theatre with a projector doesn't feel as budget-breaking as it in any case would. Especially when organizations like Optoma are releasing full 4K options for under two grand.
Last November, we slobbered over the Optoma UHZ50 4K projector that offered features like color compensation while involving a painted wall as a screen and a laser light source that pumps out 3,000 lumens of illumination. Less engaging was the projector's $US2,799 (switched over completely to around $3,886) price tag, which was $US1,000 (around $1,388) more costly than other 4K options currently available on the market.
The new Optoma UHD55 figures out how to hit a more reasonable $US1,799 (around $2,497) price tag while really beating the laser-based Optoma UHZ50 in specific specs, yet it does as such with a few compromises in different regions. For example, it offers 3,600 lumens of brightness, and that implies that it ought to give an entirely viewable image even around mid-afternoon, expecting the screen or wall it's projecting on isn't bathed in direct sunlight or artificial lighting.
Yet, rather than lasers or LEDs, it involves a more traditional incandescent bulb as its light source, and that implies that it should be supplanted following 15,000 hours of use (or when 4,000 hours if generally used at full brightness). While running, it will likewise create more intensity, requiring a more extreme and stronger fan to keep the unit cool.
Optoma guarantees a contrast ratio of 1,200,000:1, yet accomplishing that will extraordinarily rely upon the environment the projector is being used in: a darkened theatre with a high-quality reflective screen would be great. Assuming you've actually got some 3D Blu-Ray discs kicking around, the UHD55 will in any case allow you to appreciate them, and gamers can activate a special 4K mode that vows to decrease input lag to under 16 milliseconds.
Notwithstanding including two HDMI ports, neither one of the ones supports HDMI 2.1, so 4K content won't run at 60Hz. Yet, when associated with a PC, the projector can be dropped to 1080P resolutions to hit a 240Hz refresh rate, so your PowerPoint slide changes will play as smooth as butter.
The UHD55 incorporates a built-in 10W speaker, yet given Optoma doesn't carefully describe it on its website, don't expect that it should supplant a soundbar or a dedicated surround sound system. The equivalent goes for the built-in media player, which can play content from an attached USB storage device. Not at all like a considerable lot of the more affordable all-in-one projectors we're seeing today, the UHD55 doesn't run Google TV. To access all your favorite streaming services, you'll have to match them with a dedicated streaming dongle or box.
The manual focus wheel is likewise somewhat of a bummer here, as having the option to make minor focus adjustments from a wireless remote is always preferred. Be that as it may, generally speaking, for $US1,799 (around $2,497), Optoma has assembled a strong option here for those at long last prepared to change to a genuinely big screen home theatre experience.