Pollution Pods, a display at St. John's College meant to raise environmental awareness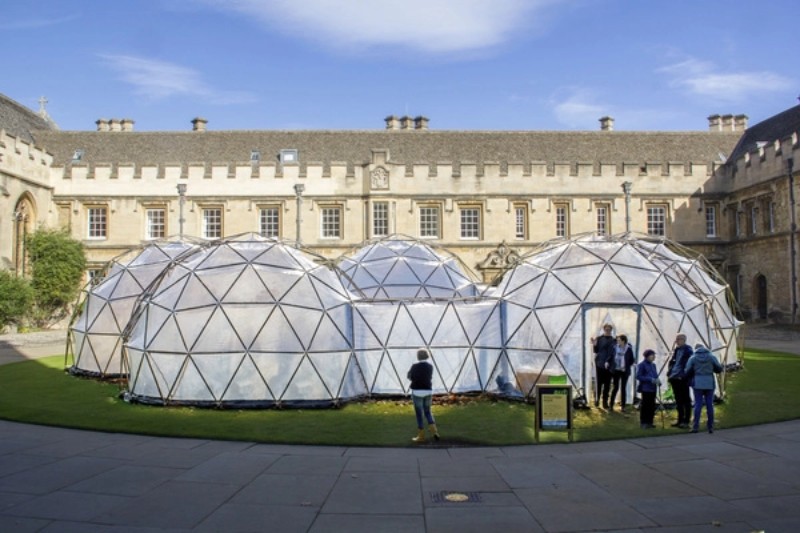 St John's College, the Oxford Cultural Programme, and the University Environmental Sustainability team recently collaborated to create an art project called Pollution Pods. The Pods, which have already attracted over 750 visitors, depict the levels of pollution in various environments. It aims to bring attention to pollution and extend an invitation to the larger Oxford community to participate in the discourse regarding the significance of air quality.
Michael Pinsky's immersive sensory piece, "Everything Is Connected," is part of a larger series that lets viewers enter five geodesic domes. They each depict a different place, "recreating the distinctive atmospheres found in highly polluted areas like Beijing, London, São Paulo, and New Delhi," beginning with "the clean air of Tautra in Norway."
Since the pods "utilise advanced air filtration systems and chemicals to mimic the specific composition and odours of polluted air," there is an immediate physical reaction. Jamie Wright, the project manager, claims that the installation is totally safe even though Beijing's air climate is being replicated.
There are monitors spanning the five pods that provide information on the Plume Air Quality Index value (AQI) for each city's air pollution levels. As they emerged from the installation, a fresher exclaimed, "I can breathe again," while another visitor described the experience inside the New Delhi dome as "vile" and said she felt "very uncomfortable and dirty."
Jamie Wright responded to Cherwell, who inquired about the Pollutions Pods installation, saying, "It's been an interesting project, I think this is one of the first times that a piece like this has been displayed in a university. It's quite a unique collaboration for the first time between the Cultural Programme at Oxford – which is relatively new – St John's College, and the Environmental Sustainability team at the University."
He added: "It's been brilliant working with St John's College and the University, I'm a freelance Arts and Culture project manager. The work I do brings lots of artworks to people for free that wouldn't necessarily be seen in other places, so it's brilliant to have it here at St John's."
Two John's students find the installation a positive addition to the college: "Personally, I think it's a very creative idea, it's a very immersive way to get people involved and actively thinking about climate issues and the environment. In light of a recent, not very good and destructive way of putting forward climate protest, you know, by the Rad-Cam, I think this is possibly a better way of doing it and getting people involved and actively thinking about things since it's an environment they step into. I think it's cool, and free – it's fun."
"It's nice seeing external people come into college to see it – it's lovely and it's only for a short period, so it's good to experience it while it's here."
The Pollution Pods installation at St. John's College is on display through November 5th.