Step into a Slowed-Down Dreamland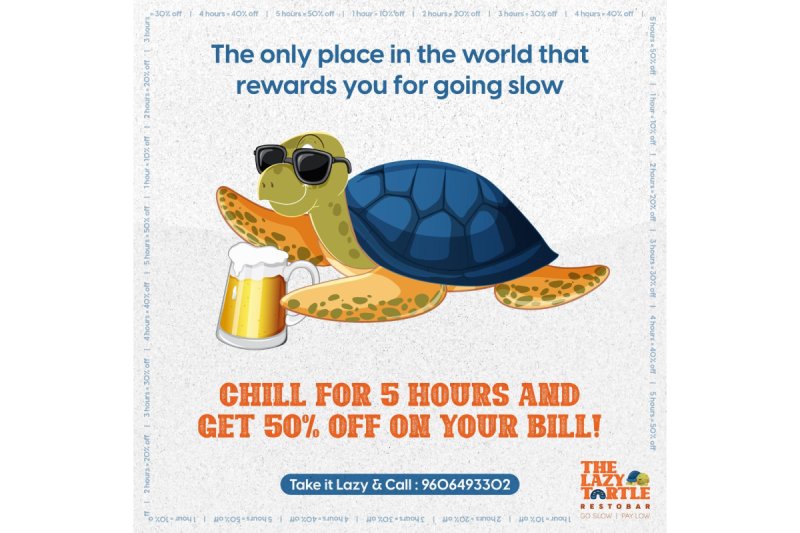 Lazy Turtle Redefines the Art of Chilling!
Lazy Turtle introduces a revolutionary concept where time slows down, and guests are rewarded for embracing the art of chilling. This groundbreaking idea has taken the lazy scene by storm, offering a unique experience that challenges the conventional notions of time and rewards relaxation. 
Lazy Turtle is not just a resto-pub or a hangout spot; it's a haven where time takes a stroll, and patrons can escape the fast-paced demands of everyday life. The concept revolves around the philosophy that time is the ultimate luxury, and by embracing a slower pace, one can truly savor life's pleasures without breaking the bank.
What sets Lazy Turtle apart is the incredible value it offers for every hour spent. As you relax and enjoy the delightful menu crafted with passion and creativity, the clock works in your favor. With each passing hour, your bill becomes lighter, with a range of discounts that increase the longer you stay. From a generous 10% off for the first hour to an incredible 50% off for five hours, the more you indulge in leisure, the more you save.
The concept of time slowing down is not just a fancy idea at Lazy Turtle; but something you'll feel from the moment you step through our doors. From attentive service to carefully curated activities and events, everything is designed to encourage you to embrace a slower pace of life and relish each moment.
Lazy Turtle invites you to step into a world where time becomes your best friend. You can unwind, savor delectable flavors, sip on refreshing drinks, and immerse yourself in activities that ignite your passions. Whether you're seeking a soothing escape, a lively gathering with friends, or a place to indulge in solitude, Lazy Turtle offers an oasis where time takes on a whole new meaning.
Discover the joy of slowing down and the art of rewarding laziness at Lazy Turtle. Join Lazy Turtle on this incredible journey where time stretches, experiences unfold, and you can truly make the most of every precious moment.