The King of Staten Island: Semi-autobiographical film for Pete Davidson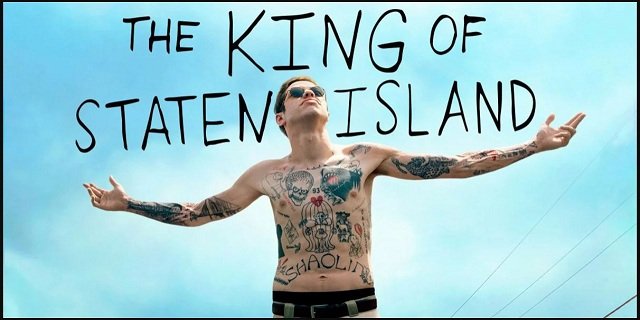 The King of Staten Island is a semi-autobiographical film for Pete Davidson. He plays Scott, a man whose firefighter father passed on in a blast when he was seven on 11 September 2001. Pete Davidson says working on his most recent movie, The King Of Staten Island, helped him process the death of his dad 19 years back. The loss of his dad is something Davidson has battled with and discussed in his standup comedy. He said making the film showed him reality with regards to his father.
Pete Davidson was a visitor on NPR's Fresh Air Podcast on June 11 talking about The King of Staten Island. The film is presently accessible for lease on all major VOD services.
Pete Davidson met his father's partners making 'The King of Staten Island'
Davidson said a considerable lot of his father's firefighter associates counseled on The King of Staten Island. He got the opportunity to see an alternate side of his dad, similarly as Scott finds in the film.
"We got to be in the firehouse," Pete Davidson told Fresh Air host Terry Gross. "I just got to see the camaraderie and just the friendships and the bonds that these people had with each other. They were brothers and they were going into battle together."
Pete Davidson's father cast a shadow over his life
Davidson had a lot to process growing up without a dad. He uncovered that the legend of his father was hard to satisfy.
"When I grew up, I felt this tremendous amount of pressure because I was told from seven, 'Your dad's a hero. He's the greatest. He made the ultimate sacrifice.' That's a lot to live up to when you're young and trying to find yourself. So I always felt a tremendous amount of pressure to match that or top that. How am I ever going to do that?"
Pete Davidson's real father died on 9/11
In The King of Staten Island, Scott comically uncovers to a new colleague that he regularly discusses the demise of his late father, a firefighter. He additionally infers that getting tattoos helps adapt to mental stress, and has mixed feelings about his mom dating a man with a similar occupation as her deceased husband.
By suppressing emotions about the past, Scott fails to develop as a grown-up and sticks excessively near his mom. In any case, when he gets to know a group of firefighters and gets familiar with his dad, Scott advances from a worrywart to a positive thinker.
Pete Davidson's real father, Scott, was to be sure a firefighter, and sadly died on 9/11 while entering the World Trade Center. For The King of Staten Island, Davidson and his co-writers marginally changed the genuine story by evacuating 9/11 from the story.
It's uncovered that Scott's father died during the "Paramount Hotel Fire." as of late, Davidson has been candid about the depression he encountered after his dad's passing, and how it influenced his formative encounters while developing into a grown-up.
In Pete Davidson's 2020 Netflix stand-up special Alive from New York, he talks about meeting with his dad's companions from Staten Island, and how they amazed him by telling R-rated stories from the past. This is consolidated into The King of Staten Island.
'The King of Staten Island' uncovered his father was just human as well
While making The King of Staten Island, Pete Davidson got the chance to invest more time with his father's companions and partners as consultants and costars. In the end, Davidson got a more full image of his father.
I talked to his friends in-depth about him and found out he had his issues, just like everybody else. He was a bit of a party guy and it was the reason my parents got divorced. It really alleviated a lot of that stress off me and it made me realize that even though he is a hero, he does have his faults just like everyone else. It kind of in a weird way was comforting because it made me feel okay with my faults.

Pete Davidson on Fresh Air, 6/11/2020
Pete Davidson still loves and admires his dad. He's only somewhat kinder to himself since making The King of Staten Island.
"I just always wanted to make him proud and make my mom and sister proud of me," Pete Davidson said. "So being told your dad is this almost untouchable person, it definitely put a lot of stress on me and it made me feel like I could never amount to anything. When I talked to his friends it really helped me feel better about myself and my dad. It's nice to know that he was human. It's nice to know that he was a real person."