Trishla Group Of Companies (TGC): The market leader in event planning, growing each day offering various other services.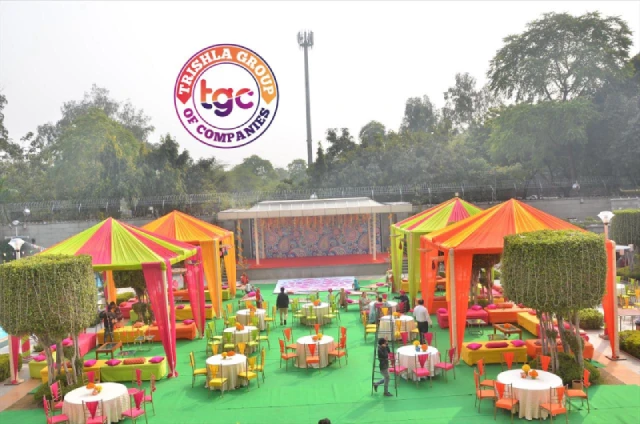 TGC empowers its client's lives by providing them with state-of-the-art services.
When it comes to managing or organizing events or making it a success, it is definitely not a cakewalk. Initially, people used to themselves take care of the multiple responsibilities that came along with putting together an event. As the world & we as individuals evolved through the years, people realised that certain things in life require specialized individuals & teams to make it a success. Slowly & steadily, the era of event management took over & people realized the importance of experts in the industry. These companies take the responsibility on their shoulders & make it their aim to make your event one of the best & the one you can cherish all your life.
One such extraordinary company we know of from Delhi is "TRISHLA GROUP OF COMPANIES", owned by Mridul Singhal. This company which started its operations in India in 2013, has already carved its name as one of the best event management companies in India & now is even making name globally. TGC works day & night with a team of trained professionals to make your celebrations the best without any loopholes & help in creating memories for you. This is an events management & wedding planner company that strives to make your dreams a reality.
Whether it is themed or personalized weddings or any other wedding functions, they provide you with all the services including the planning, organising & management at the most pocket-friendly rates. Right from the beginning till the end, they help you make your occasions are grand event with their experienced & trained professionals.
Catering to the wedding services you need they offer a variety of them including décor planning & execution, event flow management, guests' management, food and beverage management, services from vendors, decor planning and execution, entertainment design and choreography & transport and logistics. They also offer services like providing wedding stationery, styling, on-site support staff & a personal shopper, event rentals & a list of other things as well. TGC is pro at planning diverse types of events its clients.
Today, the company has spread its wings in several industries & is creating a revolution is many verticals like events, studios, security management, tent house, catering services, digital marketing, production, consultancy, real estate associates, tour & travel, import & export, trading & many other areas. If you check their success story on their website (http://trishlagroup.com/), you will find why they are the no.1 in creating stronger bonds with clients by serving them in the best possible manner. TGC is a strong family consisting of a robust team that has worked for 538 clients & dipped their hands on 440 projects till now. And, most importantly, have turned each of their projects into a grand success.
TRISHLA GROUP OF COMPANIES work towards keeping the communication transparent & open between them & their clients to serve them best depending on their requirements as timely delivery of services & utmost customer satisfaction is their ultimate motto. Further TGC also promises to serve their customers with expertise in their services along with 24X7 assistance from their experienced professionals.
There are no points for guessing why the company is considered one of the best in our country. What keeps them ahead are also the visionary strategies they follow to stand out from the rest in the industry. This has helped them build a vigorous foundation of their company that is helping them to flourish each day, carving a name for themselves globally as well.
To have a look at the incredible work & services they have been providing, check them out on their social media handles below –
Instagram: https://www.instagram.com/weddings_events_planner
Facebook: https://m.facebook.com/Trishlaevents/
Twitter: https://mobile.twitter.com/trishlaevents
Pinterest: https://in.pinterest.com/trishlagroup/
LinkedIn: https://www.linkedin.com/in/trishla-group-of-companies-b80966153/
YouTube: https://www.youtube.com/channel/UCchugPS9895IJYMfkkpUBhw