Business
Vikas Trivedi, director (DAIC), Ministry of Social Justice & Empowerment meets ace politician and businessman Shrayam Bhargava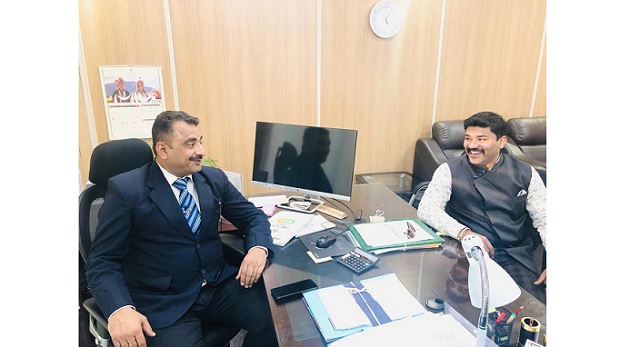 Both the well-known personalities of the political arena were seen sharing a laugh in the recent picture of them together.
As days pass by and with the changing times, we come to know about many new meetings that take place between prominent personalities of the political arena. People are assuming that since pandemic has changed many things for many people and businesses, these politicians are leaving no stone unturned to come up and develop new strategies and ways through which they can help people and societies. Recently, we caught two such eminent political personalities together; one is Shrayam Bhargava, from Prayagraj. He is a young politician from BJP, Uttar Pradesh and the other is Vikas Trivedi, who is the notable director (DAIC), Minister of Social Justice and Empowerment, Government of India.
Looking at the picture that was clicked of the two recently, one can notice their happy smiles greeting each other and sharing a laugh together. Speaking about the Social Justice department of our country, it is working extremely hard for the upliftment of marginalized groups and it is trying its best to provide justice to the victimized. This department works to successfully implement the various social welfare schemes of the State government and also the different welfare schemes of the Government of India.
Shrayam Bhargava's expressions also spill some excitement on his face which shows that both of them were more than happy to meet each other and hold this small meeting together. The young politician was enthralled to meet a caliber of a person like Vikas Trivedi and the same can be seen through the picture. Shrayam Bhargava even said that he was all excited and appreciated Vikas Trivedi for taking out time for the quick meet.