2023 BWF Sudirman Cup: All Team Groupwise Squads and Players to Watch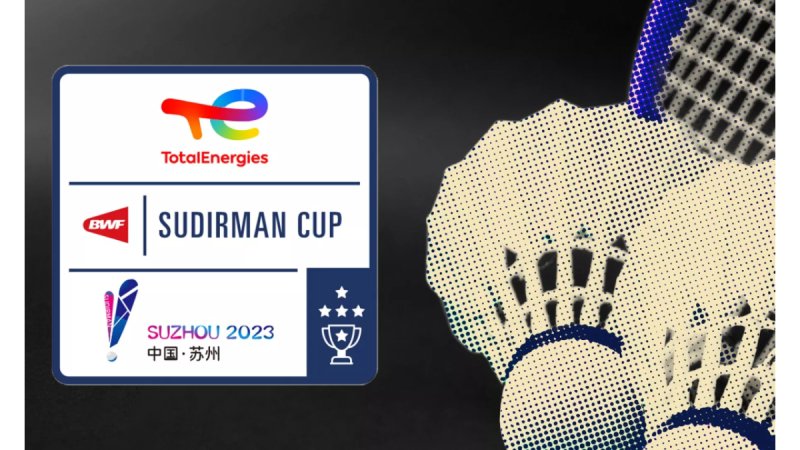 The 18th Sudirman Cup (officially known as the TotalEnergies BWF Sudirman Cup Finals 2023 for sponsorship reasons) is the biennial international badminton championship contested by the mixed national teams of the member associations of Badminton World Federation (BWF) since its inception in 1989. The competition will take place in Suzhou, China, from May 14 to May 21, 2023.
The People's Republic of China team will compete in the world mixed team championships again from 14 to 21 May in Suzhou, China.
The Sudirman Cup 2023 will take place in Suzhou, China, from May 14 to May 21, 2023. The mixed team championship's 18th edition will see participation from 16 countries. The 16 teams are separated into four groups and each group comprises four teams. From each group, two teams will progress to the quarter-finals.
Sudirman Cup 2023: Draw
The draw for the tournament took place on March 25, 2023, at Suzhou City in Suzhou, China, at 15:00 CST. There were four groups of four drawn from the 16 teams.
The World Team Rankings for the 21st of February 2023 were used to divide the teams into four pots. China, ranked first (position A1), Japan, ranked second (position D1), and Indonesia and Malaysia, ranked third and fourth, respectively, were in Pot 1. Pot 2 contained the next best four teams and Pot 3 contained the ninth to sixteenth seeds.
Pot 1
Pot 2
Pot 3
Pot 4
 China
 Japan
 Indonesia
 Malaysia
 Thailand
 South Korea
 Denmark
 Chinese Taipei
 India
 Singapore
 Germany
 France
 Canada
 England
 Egypt
 Australia
Teams and players to watch at the 2023 BWF Sudirman Cup Finals
China, the tournament's hosts, are the overwhelming favorite in Group A, having reached every final since 1995 and won 12 of the previous 17 editions of the tournament. Shi Yuqi, Olympic champion Chen Yufei, Zheng Siwei / Huang Yaqiong, and Chen Qingchen / Jia Yifan are among the players on their team, and they have every right to anticipate making a strong run in the tournament.
Read More: Sudirman Cup 2023: Full Schedule, Dates, Venues, Groups, How to Watch, and More
African champions Egypt are probably not going to create a stir in the group, leaving Denmark – with the world and Olympic champion Viktor Axelsen in their ranks – and Singapore, led by Axelsen's predecessor as world champion Loh Kean Yew, to duke it out for the second quarter-final spot.
In Group B, Indonesia's Marcus Gideon and Kevin Sukamuljo, the "Minions" who missed the first half of the year due to injury (for Gideon) and illness (for Sukamuljo), may make a comeback. They join any semblance of new Asian champion Anthony Ginting, Jonatan Christie, and Gregoria Mariska Tunjung in a strong squad.
The other seeded team in the group is Thailand, whose vital participants for the most part skipped the Southeast Asian Games competition to focus on the Sudirman Cup. That implies the likes of Kunlavut Vitidsarn and Ratchanok Intanon are all around rested for the challenge in Suzhou.
Group C gives off an impression of being the "Group of Death" in Suzhou, with Malaysia, Chinese Taipei, and India all part of a group that likewise incorporates Australia.
India will fancy their possibilities, with around 50% of their squad having lifted the men's team world title – the Thomas Cup – last year. Kidambi Srikanth, HS Prannoy, and Satwiksairaj Rankireddy/Chirag Shetty are among the men names who will combine efforts with any semblance of PV Sindhu to mount the Indian challenge.
They will run into a Lee Zii Jia-led Malaysia, with their standard capability in the doubles events too. However, their women's singles lineup may be lacking, as their top-ranked player is world number 30 Goh Jin Wei.
Additionally, Chinese Taipei has its usual stable of singles stars, Chou Tien-Chen and Tai Tzu-Ying, who can contribute where necessary.
Japan, the top seed in Group D, have surprisingly left out Momota Kento, the former world number one, from the team. Over the past three years, Momota has struggled to find form and consistency, so world number five Naraoka Kodai will now lead the Japanese men. Women's world number 1 Yamaguchi Akane will likewise be at the forefront of Japan's challenge.
Japan's old opponents the Republic of Korea, four-time winners of the Sudirman Cup (most recently in 2017), are led by women's singles world number 2 An Seyoung. They are in a tricky group with heavyweights from Europe like England and France.
However, in contrast to the other teams, which have sent specialized singles players and doubles pairings, many of the European teams' players will double up in both singles and doubles. This could put the European teams behind.
BWF Sudirman Cup 2023: All Team Groupwise Squads
GROUP A
1. 2023 BWF Sudirman Cup: China Team Squads
Men: Feng Yanzhe, Li Shifeng, Liang Weikeng, Liu Yuchen, Lu Guangzu, Ou Xuanyi, Shi Yuqi, Wang Chang, Zheng Siwei
Women: Chen Qingchen, Chen Yufei, He Bingjiao, Huang Dongping, Huang Yaqiong, Jia Yifan, Liu Shengshu, Tan Ning, Wang Zhiyi, Zhang Shuxian, Zheng Yu
2. 2023 BWF Sudirman Cup: Denmark Team Squads
Men: Anders Antonsen, Kim Astrup, Viktor Axelsen, Mathias Christiansen, Rasmus Gemke, Anders Skaarup Rasmussen, Frederik Søgaard, Mathias Thyrri
Women: Mia Blichfeldt, Alexandra Bøje, Line Christophersen, Maiken Fruergaard, Amalie Magelund, Sara Thygesen
Reserve: Jeppe Bay, Line Kjærsfeldt, Lasse Mølhede
3. 2023 BWF Sudirman Cup: Singapore Team Squads
Men: Terry Hee Yong Kai, Andy Kwek Jun Liang, Loh Kean Yew, Loh Kean Hean, Jason Teh Jia Heng
Women: Grace Chua, Jin Yujia, Jessica Tan Wei Han, Crystal Wong Jia Ying, Yeo Jia Min
4. 2023 BWF Sudirman Cup: Egypt Team Squads
Men: Adham Hatem Elgamal, Kareem Ezzat, Mahmoud Montaser, Ahmed Salah.
Women: Nour Ahmed Youssri, Rahma El Adawy, Doha Hany, Hana Tarek.
GROUP B
1. 2023 BWF Sudirman Cup: Indonesia Team Squads
Men: Fajar Alfian, Muhammad Rian Ardianto, Leo Rolly Carnando, Jonatan Christie, Dejan Ferdinansyah, Marcus Fernaldi Gideon, Anthony Sinisuka Ginting, Daniel Marthin, Adnan Maulana, Rinov Rivaldy, Kevin Sanjaya Sukamuljo
Women: Nita Violina Marwah, Lanny Tria Mayasari, Pitha Haningtyas Mentari, Apriyani Rahayu, Siti Fadia Silva Ramadhanti, Ribka Sugiarto, Gregoria Mariska Tunjung, Putri Kusuma Wardani, Gloria Emanuelle Widjaja
2. 2023 BWF Sudirman Cup: Thailand Team Squads
Men: Supak Jomkoh, Pharanyu Kaosamaang, Kittinupong Kedren, Dechapol Puavaranukroh, Sitthikom Thammasin, Worrapol Thongsa-nga, Kunlavut Vitidsarn
Women: Benyapa Aimsaard, Nuntakarn Aimsaard, Pornpawee Chochuwong, Ratchanok Intanon, Jongkolphan Kititharakul, Supissara Paewsampran, Rawinda Prajongjai, Sapsiree Taerattanachai
Reserve: Busanan Ongbamrungphan, Puttita Supajirakul, Kantaphon Wangcharoen
3. 2023 BWF Sudirman Cup: Germany Team Squads
Men: Malik Bourakkadi, Jones Ralfy Jansen, Mark Lamsfuß, Fabian Roth, Kai Schäfer, Marvin Seidel
Women: Linda Efler, Stine Küspert, Yvonne Li, Isabel Lohau, Emma Moszczynski, Antonia Schaller, Miranda Wilson
4. 2023 BWF Sudirman Cup: Canada Team Squads
Men: Adam Dong (Xingyu), Kevin Lee, Ty Alexander Lindeman, Nyl Yakura, Brian Yang
Women: Catherine Choi, Michelle Li, Talia Ng, Josephine Wu
GROUP C
1. 2023 BWF Sudirman Cup: Malaysia Team Squads
Men: Chen Tang Jie, Aaron Chia, Goh Soon Huat, Hoo Pang Ron, Lee Zii Jia, Ng Tze Yong, Ong Yew Sin, Soh Wooi Yik, Tan Kian Meng, Teo Ee Yi
Women: Go Pei Kee, Goh Jin Wei, Lai Pei Jing, Shevon Jamie Lai, Letshanaa Karupathevan, Thinaah Muralitharan, Valeree Siow, Pearly Tan, Teoh Mei Xing, Toh Ee Wei
2. 2023 BWF Sudirman Cup: Chinese Taipei Team Squads
Men: Chou Tien-Chen, Lee Yang, Lu Ching-yao, Wang Chi-lin, Wang Tzu-wei, Yang Po-han, Yang Po-hsuan, Ye Hongwei
Women: Hsu Wen-chi, Hsu Ya-ching, Hu Ling-fang, Lee Chia-Hsin, Lin Wan-ching, Tai Tzu-Ying, Teng Chun-hsun
3. 2023 BWF Sudirman Cup: India Team Squads
Men: Dhruv Kapila, Srikanth Kidambi, K. Sai Pratheek, Arjun M. R., Satwiksairaj Rankireddy, Prannoy H. S., Chirag Shetty
Women: Tanisha Crasto, Pullela Gayatri Gopichand, Treesa Jolly, Ashwini Ponnappa, P. V. Sindhu, Anupama Upadhyaya
Reserve: Aakarshi Kashyap, Lakshya Sen
4. 2023 BWF Sudirman Cup: Australia Team Squads
Men: Kenneth Choo Zhe Hooi, Nathan Tang, Ricky Tang, Rayne Wang, Jack Yu
Women: Kaitlyn Ea, Sydney Go, Tiffany Ho, Gronya Somerville, Angela Yu
GROUP D
1. 2023 BWF Sudirman Cup: Japan Team Squads
Men: Takuro Hoki, Yugo Kobayashi, Akira Koga, Kodai Naraoka, Kenta Nishimoto, Taichi Saito, Kanta Tsuneyama, Yuta Watanabe, Kyohei Yamashita
Women: Yuki Fukushima, Arisa Higashino, Sayaka Hirota, Saena Kawakami, Mayu Matsumoto, Nami Matsuyama, Wakana Nagahara, Chiharu Shida, Naru Shinoya, Akane Yamaguchi
2. 2023 BWF Sudirman Cup: Korea Team Squads
Men: Choi Sol-gyu, Jeon Hyeok-jin, Kang Min-hyuk, Kim Won-ho, Lee Yun-gyu, Na Sung-seung, Seo Seung-jae
Women: An Se-young, Baek Ha-na, Chae Yoo-jung, Jeong Na-eun, Kim Ga-eun, Kim Hye-jeong, Kim So-yeong, Kong Hee-yong, Lee So-hee
3. 2023 BWF Sudirman Cup: France Team Squads
Men: Lucas Corvée, Thom Gicquel, Ronan Labar, Alex Lanier, Christo Popov, Toma Junior Popov
Women: Delphine Delrue, Léonice Huet, Margot Lambert, Qi Xuefei, Anne Tran
4. 2023 BWF Sudirman Cup: England Team Squads
Men: Nadeem Dalvi, Marcus Ellis, Cholan Kayan, Ben Lane, Sean Vendy
Women: Chloe Birch, Lisa Curtin, Freya Redfearn, Lauren Smith, Estelle van Leeuwen
How to watch the 2023 BWF Sudirman Cup Finals live online
Through Olympics.com, you can watch the BWF Sudirman Cup on Olympic Channel (there may be territorial restrictions).
It will likewise be available on the BWF TV YouTube channel and on different domestic TV broadcasters.