Interesting Facts about British Sculptor Dame Barbara Hepworth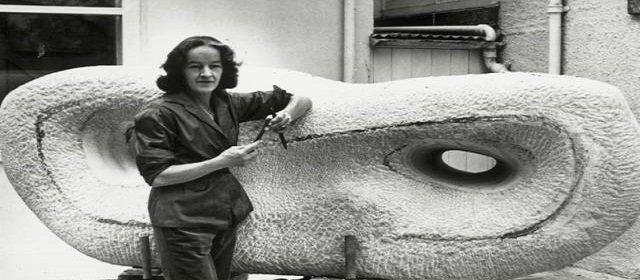 Google Doodle celebrates the life and work of British sculptor and artist Dame Barbara Hepworth with animated artwork on August 25, 2020.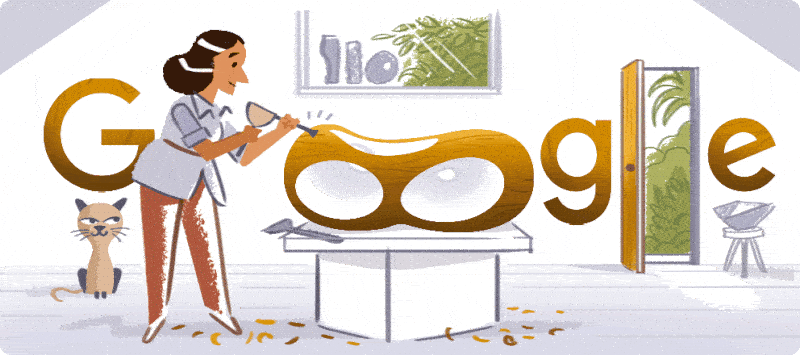 Here's a glance at the life and work of British sculptor Dame Barbara Hepworth.
Personal
Birth name: Jocelyn Barbara Hepworth
Birthdate: 10 January 1903
Birthplace: Wakefield, West Riding of Yorkshire, England
Died: 20 May 1975 (aged 72)
Death place: St Ives, Cornwall, England
Father name: Herbert Hepworth (Civil Engineer)
Mother name: Gertrude Hepworth
Marriages: John Skeaping (Divorced in 1933), Ben Nicholson (Divorced in 1951)
Nationality: British
Education:

Leeds College of Art
Wakefield Girls' High School

Movement: Modernism, Abstract art
Known for: Artist, Sculptor, Miscellaneous
Notable awards:

Dame Commander of the Order of the British Empire.

Grand Prix at the 1959 São Paulo Art Biennial.
Read More: Barbara Hepworth: Google celebrates English artist and modernist sculptor with animated Doodle
Interesting Facts about Dame Barbara Hepworth
Jocelyn Barbara Hepworth was born on January 10, 1903, in Wakefield, West Riding of Yorkshire in England, UK, to Herbert Hepworth, a civil engineer who later became County Surveyor, and his wife, Gertrude.
English sculptor Dame Barbara Hepworth whose work is said to epitomize Modernism. She sculpted Family of Man, situated in Yorkshire Sculpture Park.
She got her primary education from the Wakefield Girls' High School and later earned a scholarship to the Leeds School of Art.
Barbara Hepworth met Henry Moore at the Leeds School of Art in the mid-1920s. They became good friends and through their work of art assisted with advancing modernism in sculpture.
She won a county scholarship to the Royal College of Art (RCA) in London and studied there from 1921 and earned a diploma in 1924.
In 1924, in the wake of finishing her studies at the RCA, Hepworth traveled to Florence, Italy on a West Riding Travel Scholarship with the sculptor John Skeaping. In Italy, she learned how to carve marble from the master sculptor, Giovanni Ardini.
Barbara Hepworth and John Skeaping got married on 13 May 1925.
In 1926, she came back to London with her husband, where both of them exhibited their works together from their flat.
Dame Barbara Hepworth studied under the master sculptor, Giovanni Ardini, and learned to carve marble.
In 1933, she traveled to France, met Piet Mondrian and Georges Braque, and visited the studio of Pablo Picasso.
In 1933, Barbara Hepworth got one of the founders of the Unit One art movement; different organizers of the movement were artists, Paul Nash and Ben Nicholson. The movement looked to join oddity and abstraction in British art.
In 1935, Dame Barbara Hepworth produced 'Three Forms', an abstract sculpture consisting of a sphere and two almost oval shapes, which as indicated by pundits represented the birth of her triplets.
In 1937, she designed the design for 'Circle: An International Survey of Constructivist Art', a 300-page book that studied Constructivist artists.
In 1938, after the breakdown of her first marriage, she wedded abstract painter, Ben Nicholson.
Barbara Hepworth moved to St Ives in Cornwall in 1939 and lived here for the rest of her life. She established the Penwith Society of Arts and lived in Trewyn Studios.
Dame Barbara Hepworth was celebrated with her colony of artists who lived during World War II. Different artists who lived in this period included Naum Gabo and Ben Nicholson. Every one of them was lived in St Ives.
During the Second World War, she moved with her kids to Cornwall in southwestern England and later produced works, for example, 'Tides' (1946).
In 1949, Barbara Hepworth and her second husband Nicholson co-founded the Penwith Society of Arts at the Castle Inn alongside numerous different artists including Peter Lanyon and Bernard Leach.
In 1950, Dame Barbara Hepworth started to work with bronze. The next year, she was authorized by the Arts Council to make a piece for the Festival of Britain. The resulting work highlighted two Irish limestone figures named 'Contrapuntal Forms' which was shown on London's South Bank.
During the 1950s, she introduced 'Groups', an experimental series that comprised groups of small anthropomorphic forms in marble so slim that their translucence makes a magical sense of inner life.
In 1960, Barbara Hepworth purchased the Palais de Danse (a cinema building) and changed over it into a large-scale studio
During the 1960s, Dame Barbara Hepworth got various commissions for genuinely tremendous sculptures, a case of which is 'Four-Square Walk Through' in 1966, an immense geometrical piece.
Barbara Hepworth was appointed CBE in 1958 and DBE in 1965.
Later in her career, she additionally explored different avenues regarding lithography and created two lithographic suites. The last one named 'The Aegean Suite' in 1971 was motivated by Hepworth's trip to Greece in 1954 with Margaret Gardiner.
One of her most popular sculpture works is the 'Single Form', which is made in the memory of her companion and collector of her works, the previous UN Secretary-General Dag Hammarskjöld. The sculpture presently remains in the plaza of the United Nations working in New York City.
Dame Barbara Hepworth was awarded the Grand Prix at the 1959 São Paulo Art Biennial.
In 1968, Barbara Hepworth was given the Freedom of St. Ives award in acknowledgment of her huge contributions to the town.
She was awarded honorary degrees from the universities of Birmingham (1960), Leeds (1961), Exeter (1966), Oxford (1968), London (1970), and Manchester (1971).
Dame Barbara Hepworth died in an accidental fire on May 20, 1975, at 72 years old, at her Trewyn Studios, St. Ives, Cornwall.
Hepworth created sculptures in brass, bronze, stone, and wood, and she likewise produced a series of prints and some pencil and oil pieces.
A £35 million museum dedicated to her opened in Britain in May 2011.
In 2015 Tate Britain organized a major London show of Hepworth's work, including over 70 pieces of her artwork.
Some of her renowned works included: Pierced Form (1932), Mother and Child (1934), Pelagos (1946), Squares and Two Circles (1963) and Curved Forms (1956).
Some of Dame Barbara Hepworth's soonest memories included family car journies through the countryside. She was interested in the shapes formed by the hills and fields and streets.
Her soonest work is regularly depicted as naturalistic with simplified features, while the majority of her work from 1930 was abstract.
On August 25, 2020, Google respected Dame Barbara Hepworth with a Google animated Doodle.