A flurry of activity led by 'Pioneer of Indian bio hacking' Dr. Sajeev Nair marks 'World Health Day' at Vieroots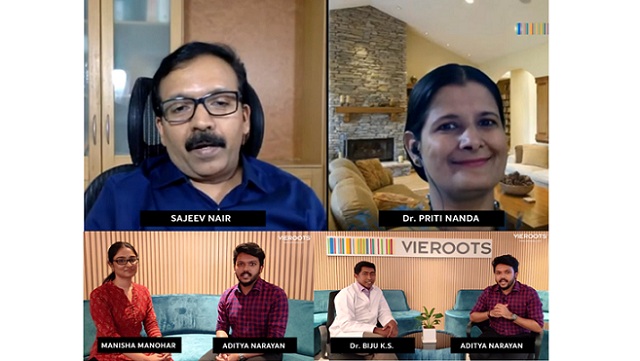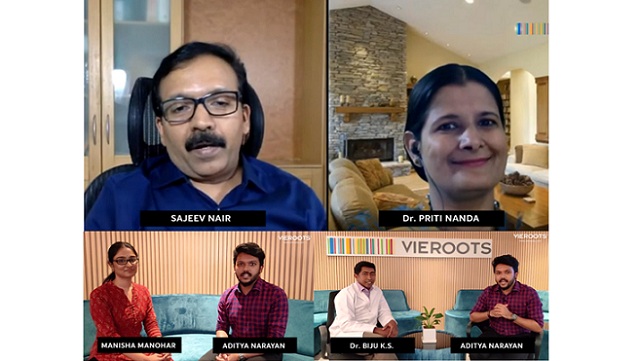 As a health-tech startup, World Health Day is one of the most important days for Vieroots Wellness Solutions. A young but fast-growing hub of innovation, Vieroots celebrated World Health Day with elan, especially by educating the public on the importance of taking charge of their health. Vieroots also has done deep research into Health in Covid times and found out that Covid has made 84% of people highly conscious about health and 'Personalization of Health' skyrocketed amidst the crisis.
The flagship Vieroots' event of the day was a live video interaction that Vieroots Founder & Chairman Sajeev Nair had with Dr. Priti Nanda who is one of India's leading functional medicine experts. The well-attended interaction focused on the topic – 'Personalization is the Key to Health'.
Personalization is at the core of the healthcare mission of Sajeev Nair-led Vieroots, and Dr. Priti Nanda is not only a rare practitioner of this but an eloquent advocate. Sajeev gently probed Dr.Priti about the need for personalization, for the benefit of his viewers.
And Dr.Priti opened up not only informatively but jovially, digging into her wealth of experience in not only treating thousands of patients using the principles of functional medicine in reversing diabetes, obesity, and such lifestyle diseases but from her own experience in reversing her diabetes by a slew of measures including losing 23 kg.
Sajeev Nair allowed the fielding of a few key questions from the audience, and Dr. Priti explained further the importance of key genes like methylation genes and the detoxification genes, and how testing for them enables breakthrough interventions for reversing diabetes and obesity.
Dr. Priti then appreciated Sajeev Nair for the exemplary work he has been doing at Vieroots to further the cause of preventing diseases before they happen through Personalized Epigenetic Lifestyle Modifications. Vieroots' EPLIMO is the first smartphone-based app in India to offer Geno-Metabolic Assessment and high-power lifestyle modifications to keep over 200 diseases at bay.
The live interaction between these two experts became highly informative for viewers as they delved into specialized antioxidants and the importance of nutrient supplementation in functional medicine. Vieroots is home to a select family of high-efficacy supplements based on time-tested Ayurvedic herbs which are validated by modern research.
Thoughtbiotics, a family of three supplements – Intuit, Focuz, & Relax – have been bestsellers at Vieroots, as they are unique with absolutely no competition in India or abroad. They work by the unique concept of restoration of the health of our Gut Microbiome and thus the Gut-Brain Axis, to promote physical wellness, concentration, memory power & sound sleep.
When Sajeev Nair finally wound up the session with Dr. Priti's permission, viewers were left wanting for more, and the Vieroots Chairman promised his viewers that Dr. Priti Nanda would be collaborating intimately with Vierooters, especially its healthcare professionals, lifestyle consultants & customers through the Superhuman Tribe.
In other noted events from Vieroots on World Health Day 2021, the company's Co-Founder & CEO, Aditya Narayan, conducted two very informative video interactions with two senior health professionals of the company.
The first interaction was with Dr. Biju KS, Senior Medical Officer at Vieroots. This young but uniquely experienced doctor spoke a powerful personal testimony among other things. Dr. Biju's grandfather, father& uncles had died early due to complications of diabetes and cardiovascular diseases.
Dr. Biju too had these genetic traits and was on the verge of developing diabetes in his late 20s, but he beat it with lifestyle changes. CEO Aditya Narayan then queried Dr. Biju about why exercises should be personalized and Dr. Biju had a wealth of information to share with their viewers.
The last and final video interaction for the day was with Vieroots' Nutritionist & Personalized Diet Consultant Manisha Manohar. CEO Aditya Narayan masterfully interacted with her for the benefit of the public to deliver some very important lessons in formulating the ideal diet.
Then he probed her about a buzzword in diets these days – the Keto Diet. Manisha Manohar had some key observations to make about the controversial Keto. From her eloquent words, viewers came to understand that Keto Diet is not the monster it is made out to be, but that it is definitely not for everyone.
For instance, those with impaired fat metabolism should never attempt the keto diet. Manisha Manohar also added that Vieroots' core product, EPLIMO can easily find out whether one has such faulty fat metabolism. to help them decide on whether they should do keto dieting or not.
The interaction between the Vieroots CEO and their Nutritionist also shed light on how autoimmune diseases like lupus, rheumatoid arthritis, multiple sclerosis, etc can be kept at bay with EPLIMO's lifestyle modifications.