Actor Anusheel Chakrabarty, Inspired by Akshay Kumar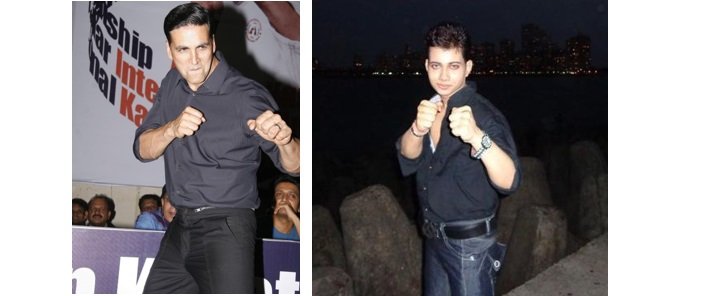 Some special things about Actor Anusheel Chakrabarty : Be it education or any other field,there is some inspirational person in the life of a person,seeing whom he changes his life and moves towards the goal. Actor Anusheel Chakrabarty told about a similar story.
Anusheel says that when he used to watch Akshay Kumar's Movies in his childhood,he was very much impressed by his acting,action and fighting moves in the Khiladi Series.As we all know Akshay Kumar is a martial arts enthusiast and is trained in Karate, k'd', taekwondo and Muay Thai among various other martial art forms,he earned the title of "Shihan" & has also been given a 6th Degree Black Belt in Karate for his contribution towards this art.For this reason,by seeing his form moving towards Karate,Anusheel left his mark not only in his region,country but in the whole world by winning several Karate championships and titles nationally and internationally.Let us tell you that Anusheel Chakrabarty has won Silver Medal in Akshay's Karate Championship "Akshay Kumar International Invitational Karate-do Championship" held at Mumbai,in the year 2011,this was the time Anusheel fulfilled his dream of seeing his childhood action hero Akshay Kumar in real life at the closing ceremony of his championship.
His favourite Akshay Kumar Movies other than the Khiladi series would be Mohra,Suhaag,Hera Pheri & Airlift.According to Anusheel Chakrabarty,he not only watched Akshay Kumar's films but also a seven-part television mini-series "Seven Deadly Arts with Akshay Kumar" that aired on the National Geographic Channel in 2004. It was hosted by Akshay Kumar.Kumar donated his time and talents to the show.The same year 2004 Anusheel started his Karate journey all the way becoming an International Champion in this Martial Art form.Moreover he learned how to live a healthy lifestyle by watching his interviews on the Internet.Anusheel follows almost everything of Akshay Kumar which includes martial arts, balanced diet,acting etc.
Chakrabarty says that not only an actor but also an ordinary person can get to learn a lot from Akshay Kumar. Although he ain't got an opportunity so far to work with Akshay Kumar But working with Akshay Kumar in movies is Anusheel's biggest desire,he said.