Google Doodle celebrates the 175th birthday of Mexican operatic soprano and composer Ángela Peralta, an operatic soprano of international fame and a leading figure in the operatic life of 19th-century Mexico, on July 6, 2021.
Who was Ángela Peralta?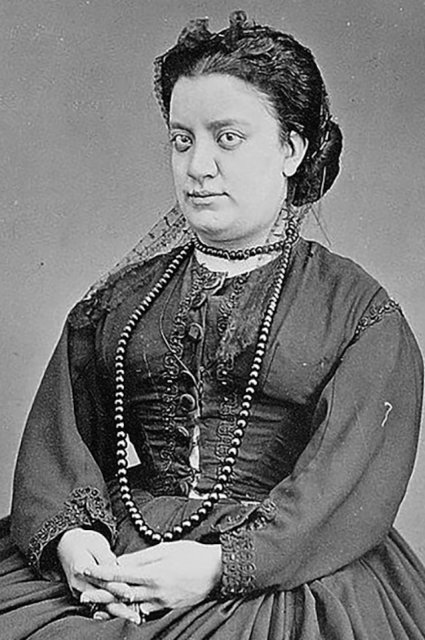 Ángela Peralta (baptised María de los Ángeles Manuela Tranquilina Cirila Efrena Peralta Castera) was born on July 6, 1845 in Mexico City. Called the "Mexican Nightingale" in Europe, she had effectively sung to approval in significant European opera houses by the age of 20. Albeit essentially known for her singing, she was a composer as well as a proficient pianist and harpist.
Ángela Peralta showed an early ability for singing and music. At 8 years old, she sang a cavatina from Belisario by Gaetano Donizetti with extraordinary achievement and proceeded to learn at the Conservatorio Nacional de Música in Mexico City. At 15 she made her operatic debut as Leonora in Giuseppe Verdi's Il trovatore at the Teatro Nacional in Mexico City.
Peralta showed a natural gift for singing; she should have impressed the great German soprano, Henrietta Sontag, in 1854. From that point, she became a student of Agustín Balderas, who sponsored her debut at fifteen in Verdi's Il Trovatore and afterward took her to Europe, where she established a prominent impression.
Joined by her dad, and financed by an affluent supporter, Santiago de la Vega, she then, at that point proceeded to study singing in Italy under Leopardi. On 13 May 1862, she made her debut at La Scala in Milan with an acclaimed performance of Donizetti's Lucia di Lammermoor.
Ángela Peralta went back to Mexico during the Second Empire and became a favorite of Maximilian and Carlotta, showing up in the debut of Melesio Morales' Ildegonda.
She sang Bellini's La sonnambula before King Victor Emmanuel II of Italy at the Teatro Regio in Turin where she got 32 curtain calls. Somewhere in the range of 1863 and 1864, she sang in the opera houses of Rome, Florence, Bologna, Genoa, Naples, Lisbon, Madrid, Barcelona, St. Petersburg, Alexandria, and Cairo.
The Second Mexican Empire invited her to get back to her nation to sing in the National Imperial Theater, and in 1865 she acknowledged the invitation. In 1866 she sang before Maximilian I of Mexico and Charlotte of Belgium and was named "Chamber singer of the Empire".
In December 1866 with the downfall of the Second Mexican Empire imminent, Ángela Peralta got back to Europe, acting in New York City and Havana en route. In Madrid, she married her cousin, Eugenio Castera, and for a while retired from singing, even though she kept on composing songs and piano pieces.
Her most notable work is Álbum Musical de Ángela Peralta. Her marriage was an unhappy one because of her husband's mental illness which showed itself in the first year of their marriage. (Castera was subsequently dedicated to a mental hospital in Paris where he died in 1876.)
On a visit to Mexico in 1871, Ángela Peralta set up her own touring opera company for which she much of the time sang her signature roles – Amina in La sonnambula and Lucia in Lucia di Lammermoor. (In her lifetime, she sang Amina 122 times and Lucia 166 times.)
During the 1870s, Ángela Peralta started an affair with the Mexican lawyer and entrepreneur Julián Montiel y Duarte, which caused a scandal in Mexico City. The city's social elite boycotted her performances and hired hecklers to badger her during performances. Her reputation recuperated following her presentation in Linda di Chamounix, yet she kept her pledge never to sing in Mexico City again.
The decade 1865–1875 was the period of Ángela Peralta's greatest activity. She toured Mexico and Europe, with performances in Havana and New York. A celebrated season followed her homecoming in 1871 because she carried with her the renowned tenor Enrico Tamberlick and sang with him in another Mexican opera, Guatimotzín, by Aniceto Ortega del Villar.
Ángela Peralta formed her own opera organization and acted as the impresario. Albeit most popular for her bel canto singing, Peralta received a more dramatic style when she played the lead in her organization's first Mexican production of Verdi's Aida, a role firmly related to her. Another aspect of her later career was the composition of popular songs.
Ángela Peralta's husband, Eugenio Castera, died in 1877; Peralta consequently formed a scandalous liaison with her manager, Julián Montiel y Duarte. Ostracized in Mexico City, she took her organization to distant towns, including Mazatlán, where she contracted yellow fever and passed on at age 38. In 1937 her remains were moved to the Panteón in Mexico City.
Ángela Peralta died in the Hotel Iturbide in Mazatlán at 38 years old on 30 August 1883.
Ángela Peralta's wide-ranging repertoire included: Leonora in Il poet, Violetta in La traviata; Elvira in I puritani; Marie in La fille du régiment; Amina in La sonnambula; Adina in L'elisir d'amore; and the lead roles in Aida, Dinorah, Linda di Chamounix, Maria di Rohan, Lucia di Lammermoor, and Norma.
She additionally made the leading female roles in three operas by Mexican composers: Ildegonda (1866) and Gino Corsini (1877) by Melesio Morales, and Guatimotzin (1871) by Aniceto Ortega del Villar.
Soon after, Ángela Peralta used this successful momentum to establish her own opera organization. On their final tour in 1883, Peralta's troupe traveled to the coastal Mexican city of Mazatlán. Here, her legacy is protected in an opera house named in her honor: the Ángela Peralta Theater.
On July 6, 2021, Google featured Doodle for celebrating Ángela Peralta's 175th Birthday.