ApkaInterior.com Goes Live With Its Ganesh Chaturthi Sale: Get Discounts Up To 40%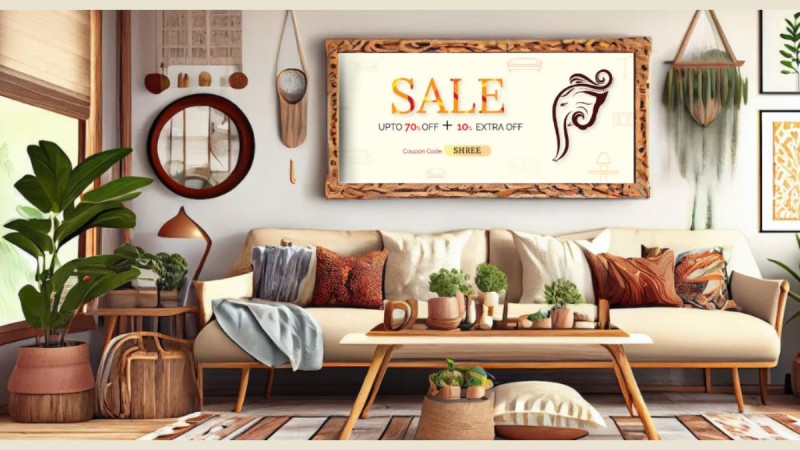 With ApkaInterior.com's Ganesh Chaturthi sale, customers can get up to 40% off on furniture and home décor products
Jaipur (Rajasthan) [India], September 18: Ganesh Chaturthi is a time of celebration and renewal, and ApkaInterior.com has launched an exclusive sale offering a discount of 40% to ensure your home is ready for the festivities. ApkaInterior.com offers a wide range of high-quality and stylish furniture and home decor products that cater to various themes, from classic to modern.
Along with discounts of up to 40%, you can use the coupon code 'SHREE' on the website to get up to 80% (70% + 10%) off on furniture. Here's a sneak peek at what's on offer during the Ganesh Chaturthi Sale:
Sofa Collection: Elevate your seating experience with our range of sofas that seamlessly blend form and function. Velvet loungers, wooden sofa sets, Dublin foldable sofas, and king-size sofas are just some of the many options.
Bed Collection: Improve comfort, longevity of products, and aesthetics of your bedroom with our range of beds. Choose from long-lasting termite-resistant beds for worry-free sleeping solutions to a king-sized luxury bed or a single bed for your kid's room.
Chair Collection: An eye-catching armchair style can be the centre point of your living area, adding to your house's aesthetic appeal. Choose from mid-century modern to minimalistic and boho, including leather armchairs with cushions.
LED Mirror: Illuminate your house with our range of LED mirrors that add a touch of elegance to your bathroom or vanity area. You can choose from a wide range of options, including hexa, round, and rectangle LED mirrors.
ApkaInterior.com is committed to providing its customers with a comprehensive range of products at affordable prices. To make it possible, ApkaInterior.com has also partnered with various Buy Now, Pay Later (BNPL) platforms such as Bajaj Finserv, Mobikwik, and Snapmint. This allows customers to easily buy expensive items by spreading bills over a year at zero interest rate.
About ApkaInterior.com
Apkainterior.com offers everything from Furniture such as Sofas and Dining Furniture to home decor items like statement showpieces and home furnishings. This Jaipur-based, government-recognized startup was co-founded by Shivang Tiwari, Gaurav Tiwari, and Anuj Tiwari to offer affordable home décor and furniture solutions. Today, more than 8000 products spread Pan India with free delivery.