Argentina vs Australia, 2022 FIFA World Cup Qatar – Preview, Prediction, Predicted Lineups, and More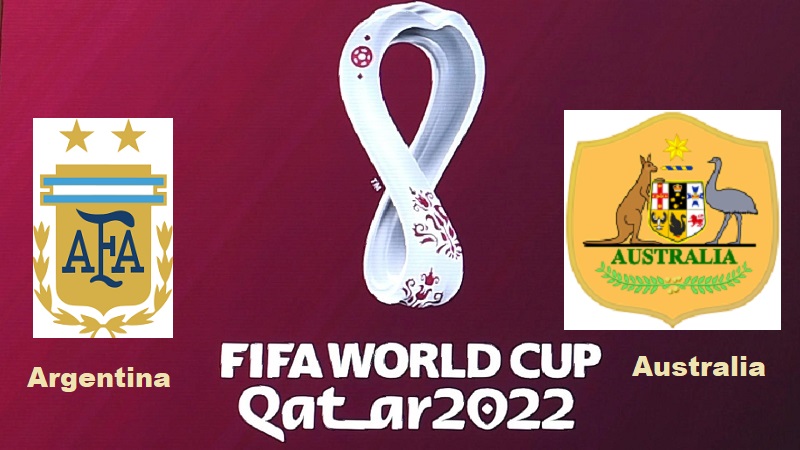 Argentina and Australia will play for a place in the FIFA World Cup 2022 quarterfinals at the Ahmad bin Ali Stadium on Saturday. As thrilling as Matchday 3 was, the Qatar 2022 World Cup round of 16 promises to be. Argentina will face Australia to compete for a spot in the top 8. In a match at Ahmad bin Ali Stadium, Argentina will face Australia in the round of 16 of the Qatar 2022 World Cup.
Argentina has had a strange World Cup tournament. After losing to Saudi Arabia 2-1, they received a fair amount of criticism. After that, they won the group by defeating Poland and Mexico. For a spot in the quarterfinals, they now face off against Australia, a surprise qualifier. The chances of Argentina reaching at least the semi-finals are good, as the winner of this tie will face either the Netherlands or the USA in the last eight. Even if they aren't quite on fire, they are heavily favored to win this match. However, this won't be easy because Australia has won both of their previous matches. In the group stage, France beat them by four goals, but they've tightened up a lot since then.
The FIFA World Cup 2022 group stage comes to an end on Friday, and Brazil vs Cameroon and Serbia vs Switzerland are both scheduled to take place at the same time. In addition, the second game of the Round of 16 will be played on Saturday at the Ahmad bin Ali Stadium between Argentina and Australia.
Argentina had to work hard to make it to the FIFA World Cup 2022 knockout stages. In Qatar, La Albiceleste began the campaign by losing to Saudi Arabia 2-1. However, Australia's hard-fought victories over Mexico and Poland helped them win Group C.
On the other hand, no one could have predicted that Australia would reach the Round of 16 of the FIFA World Cup in 2022. However, the Socceroos have emerged as one of the tournament's surprises. Graham Arnold's team, like Argentina, started their campaign by losing to France. However, Australia defeated Denmark and Tunisia despite all odds to finish level on points with Les Bleus in Group D. Argentina defeated Australia 1-0 in 2007 friendly, with Martin Demichelis scoring the only goal.
On Matchday 1 in Qatar, Argentina was the main character. However, their surprise defeat to Saudi Arabia cast doubt on their viability here. Although it wasn't easy, they were able to wake up on time for his round. They reached this point after a strong performance against the Polish because of consecutive victories over Mexico and Poland.
Australia was likewise a stunning group in the principal half of the competition. Despite the fact that they got going with a 4-1 loss vs France, they likewise finished with two triumphs in succession over Tunisia and Denmark to get a notable capability. They made it all the way to Qatar in a game against Peru that had to be decided by penalty kicks, so if that happens, they will be ready to use their "dancing goalkeeper."
After Argentina's loss to Saudi Arabia in the first round, everyone who followed the World Cup in Qatar, whether they were knowledgeable about football or not, was baffled. At that point, the Middle Easterner determination had a vastly improved possibility of progressing to the following phase of the opposition. Despite this, Messi, Di Maria, and the others improved their preparedness, played flawless games against Mexico and Poland, and even won the competition, finishing in last place.
In the 1/8 finals, Australia became the Argentines' easier rival than France because of that position. By defeating Denmark in the third round of the group stage, the "Kangaroos" advanced to the knockout stage, where they caused a small sensation. Australia answered splendidly strategically to the top choices. Mat Leckie scored the game-winning goal for a significant 1-0 victory.
2022 FIFA World Cup Qatar – Argentina vs Australia Team News
ARGENTINA Team News
Despite their shocking loss to Saudi Arabia in their opening match, Argentina prevailed against Poland to earn the victory they needed to advance to the Round of 16. They were even able to rise to the top of Group C.
The Argentines are coming off consecutive victories, both of which they won without conceding, and they will be hoping to carry that momentum into this game, in which they won't make many changes but Lisandro Martinez might play again in the middle of the defense.
Despite Argentina's defeat to Saudi Arabia, the mood was definitely altered. The group stage could have been much easier for Argentina than it was. Despite Argentina's 2:0 victory over Mexico, the second match was also disappointing. They did not produce anything significant, and the game was weak. The match against Poland was different—complete dominance and the genuine Argentina we are all familiar with.
It turned out that for the game to be more peaceful and harmonious, Mac Allister had to be on this Argentina team. Even against Poland, he scored a goal. Despite missing the penalty, Messi continues to improve at leading this team. It is much safer to defend. In comparison to the team that will face Poland, we do not anticipate any significant changes.
Australia Team News
Australia stunned Denmark to finish second place in Group D. It was the first time in their history that they had won consecutive FIFA World Cup games, so they will be buoyed going into this matchup with Argentina.
The Socceroos performed admirably against the Danes and, in the end, earned their victory because they prevented their opponents from making many chances, and they may choose the same starting lineup for this match.
Australia was the underdog in Group D going into this tournament. The loss to France was expected, but the wins over Tunisia and Denmark were surprising. The truth is that Australia is a very good defensive team, but they aren't very good at attacking. They were fortunate to score in both games, and we do not anticipate that they will do so again when they play Argentina.
In Australia's defense against Denmark, Milos Degenek was refreshing. With a powerful motivational speech delivered in the locker room, this Serbian-born player who played for Crvena Zvezda also helped boost morale. Against Argentina, a slightly more defensive strategy is anticipated.
2022 FIFA World Cup Qatar – Argentina vs Australia Head-to-Head (h2h)
Australia has drawn one of its three competitive matches, giving Argentina a 2-0 advantage over Australia.
Even though these nations are very far apart geographically, there are a number of matches that feature them. They haven't played each other in 15 years, but the majority of them have been in the 1990s. In a friendly international match that took place in September of 2007, Argentina defeated Australia 1-0.
They haven't played in this tournament, but their participation in the playoffs to qualify for USA 1994 provides a significant precedent. These matches began with a 1-1 tie in Australia and were very close. Argentina won the rematch by a narrow margin of 1-0 at home, qualifying them for the World Cup. The Argentines' 4-2 victory over the Australians in the 2005 Confederations Cup is another noteworthy score.
When and at what time will Argentina take on the Australia match start?
The match between Argentina and Australia will take place on December 3, 2022, at 19:00 (UK time).
Argentina vs Australia: Time by State in the US
ET: 2 PM
CT: 1 PM
MT: 12 PM
PT: 11 AM
Where will Argentina vs Australia match take place?
The match between Argentina and Australia will take place at Ahmad bin Ali Stadium in Al Rayyan, Qatar.
In the UK, which channel broadcasts Argentina vs. Australia?
The BBC will broadcast Argentina vs Australia live, and ITV will broadcast Argentina vs. Australia live.
Where can I watch Argentina vs. Australia live stream in the UK?
The match between Argentina and Australia can be watched live on BBC iPlayer, the BBC Sport website and app, and the ITV Hub.
How can watch Argentina vs Australia in the US?
This Saturday, December 3, Argentina will face Australia in the round of 16 of the Qatar 2022 World Cup. In the United States, the game will be accessible through Peacock (limited-time offer for 0.99/m) and FuboTV (free trial).
Other options: UFORIA App, SiriusXM FC, Futbol de Primera Radio, Telemundo Deportes En Vivo, FOX Sports App, Sling, FOX Network, Foxsports.com, and Telemundo are additional options.
2022 FIFA World Cup Qatar – Argentina v Australia Prediction
Argentina won easily against a weak Poland team to advance to the next round of the 2022 FIFA World Cup. With back-to-back victories, they will feel like they are getting back into form. Australia's opponents have also won their last two matches, defeating Denmark and Tunisia to advance to the Round of 16—a major surprise. They will not be intimidated by the Argentines, but the Socceroos will face a significant challenge in this matchup, with Argentina likely to keep them at bay.
Saturday's match between Argentina and Australia is difficult to predict. The team led by Lionel Scaloni has not performed to its full potential and has not even come close to being favored. The Socceroos, on the other hand, have increased in intensity with each game.
Graham Arnold has created a tough unit that can compete with the best teams. So Argentina won't have it simple at the Ahmad canister Ali Arena on Saturday. However, Lionel Messi will be eager to score his first World Cup goal in the knockout stages. What's more, the Argentina captain ought to eventually have the effect on seal a hard-battled success for La Albiceleste.
On paper, this is a huge mismatch, and we think it will show on Saturday's football field as well. The Asian Handicap -1.5 win for Argentina in this World Cup round of 16 ties is a good bet based on how the defense shut down Mexico and Poland.
However, in all three Argentina World Cup 2022 matches, our tipsters are backing over 1.5 goals in the second half with the same payout.
At Al Rayyan, Lionel Messi will always be the first to score.
The humiliation suffered by Saudi Arabia has undoubtedly diminished Argentina's preeminence going into the tournament. Nevertheless, Scaloni's side has improved with each desert excursion.
Australia have roused inspired riotous celebration back home through a hounded approach however they have profited from some strangely proficient getting done – Craig Goodwin and Mat Leckie (the match-winner against Denmark) have both scored with their only shots of the competition.
The World Cup is a fertile ground for shocks because it is impossible to predict whether their luck will improve this weekend. However, the Socceroos will, without a shadow of a doubt, need a good deal of luck to defeat an Argentinian team that is tentatively rediscovering the slick edge that has defined their commanding form over the past three years.
2022 FIFA World Cup Qatar – Argentina vs Australia predicted lineups
Argentina predicted lineup vs Australia
Argentina Starting 11 (4-3-3): E Martinez; Molina, Romero, Otamendi, Acuna; De Paul, Fernandez, Mac Allister; Di Maria, Messi, Alvarez.
Bench: Armani, Rulli, Li Martinez, Pezzella, Tagliafico, Foyth, Montiel, Paredes, Rodriguez, Palacios, Almada, Gomez, Correa, Dybala, La Martinez.
Australia predicted lineup vs Argentina
Australia Starting 11 (4-4-2): Ryan; Degenek, Souttar, Rowles, Behich; Leckie, Irvine, Mooy, Goodwin; Duke, McGree.
Bench: Vukovic, Wright, Devlin, Cummings, King, Redmayne, Tilio, Deng, Kuol, Baccus, Hrustic, Karacic, Maclaren, Mabil, Atkinson.