Asia's top teams are beginning to qualify for the 2026 FIFA World Cup, with Son Heung-min called up for South Korea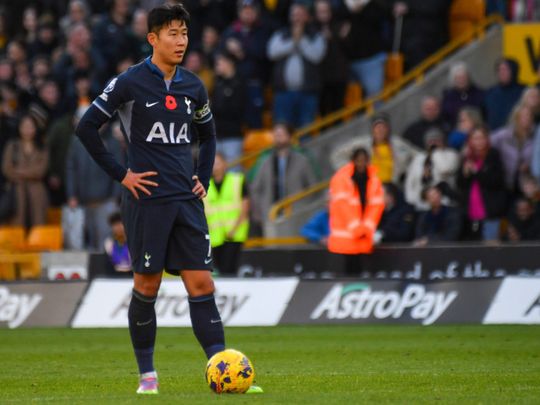 November 16 is the start of the Koreans' and Asia's five other 2022 World Cup competitors' qualifying campaigns to compete in the 2026 FIFA World Cup competition.
As head coach Jurgen Klinsmann looks to get his team off to a strong start in the Asian competition phase, Son Heung-min will travel with South Korea for their first World Cup qualifying match.
Commencing on Thursday are the qualifications for the 2026 tournament for the Koreans and the five other Asian nations that qualified for the 2022 World Cup.
With European-based stars like Son, Kaoru Mitoma, and Mehdi Taremi selected for their national teams to face some of the continent's lower-ranked opponents, none of the continental heavyweights are taking this opportunity lightly.
Hwang Hee-chan of Wolves and Son, a star player for Tottenham, will spearhead South Korea's offensive against Singapore in Seoul. In the Premier League, both have been playing at a high level.
Although Singapore is ranked No. 155, Klinsmann is prepared to field his best team as he starts South Korea's quest to qualify for the World Cup for the eleventh time in a row.
"You have to take them very seriously," Klinsmann, who was appointed in February, told a news conference in Seoul. "Your mind has to be in the right place. We have to be very sharp from the first moment."
Countries like Australia, Saudi Arabia, Qatar, Japan, and Iran are also adopting that strategy.
The top two finishers from each of the nine four-team groups advance to the Asian qualifying round, where they will face off for one of the eight automatic World Cup spots—double the amount of continental quota that will be available in 2022.
The notion that this will make it any simpler to qualify for the 2026 World Cup in the United States, Mexico and Canada was rejected by Klinsmann.
"All the teams that fight for a spot in the World Cup will fight even harder now," the former U.S. coach said. "It will still be very difficult."
Japan, ranked No. 18, is Asia's best team and has participated in every World Cup since 1998. In its last six games, Japan has won six times, including 4-1 against Germany and 4-2 against Turkey.
Hajime Moriyasu, the head coach, hopes to build on this momentum to start the season with a bang in Osaka against Myanmar, which is ranked 158th, 140 spots below, and then five days later in Jeddah, on neutral ground, against Syria.
"We want to take six points from these two games," Moriyasu, voted Asia's men's coach of the year, said. "We want to win and we want to give a performance that will allow us to build for the future."
In the 2022 World Cup, Australia advanced to the knockout stage as well, challenging eventual champion Argentina throughout the second round. The Socceroos have drawn 2-2 with Mexico, lost 1-0 to England in London, and triumphed 2-0 over New Zealand in the past two months.
"We've had the opportunity to test ourselves against some of world football's best in the last six months, and our performances have shown just how effective we can be, learning a lot along the way," coach Graham Arnold said.
In Melbourne, Arnold will coach the Socceroos against Bangladesh for a record-tying 59th time. "Three points is all I care about," he stated, "but it'll be a fantastic honor."
In its opening match, Qatar, which is still getting over its three-game loss as the 2022 World Cup host nation, faces Afghanistan. In February, Carlos Queiroz was appointed. He successfully guided South Africa, Portugal, and Iran through World Cup qualifying.
Amir Ghalenoei, whose second stint with Iran begins against Hong Kong in what is arguably the toughest test that any of the so-called big six face this week, will replace Queiroz in Tehran.
After being appointed in August, Roberto Mancini will play his first competitive match with Saudi Arabia. Since their unexpected 2-1 victory over eventual champion Argentina 2-1 in November at the World Cup, the Green Falcons have only won one of their last 11 games.
But, facing Pakistan at home should provide the Saudi squad with a much-needed win as it gets ready for more difficult matches to come.
Pakistan is participating at this level for the first time, having defeated Cambodia in the first qualifying round last month.
In the other group openers, the United Arab Emirates will play Nepal at home on the same night as the Palestinian team plays Lebanon in Sharjah. The Palestinian team must prepare remotely due to the ongoing Israel-Hamas conflict.
Group A comprises India's trip to Kuwait, while Group C includes China's trip to Thailand.