Celebrity Race Across the World Winners are Announced; Broadcaster Alex Beresford and His Father Noel Reach the Final Checkpoint First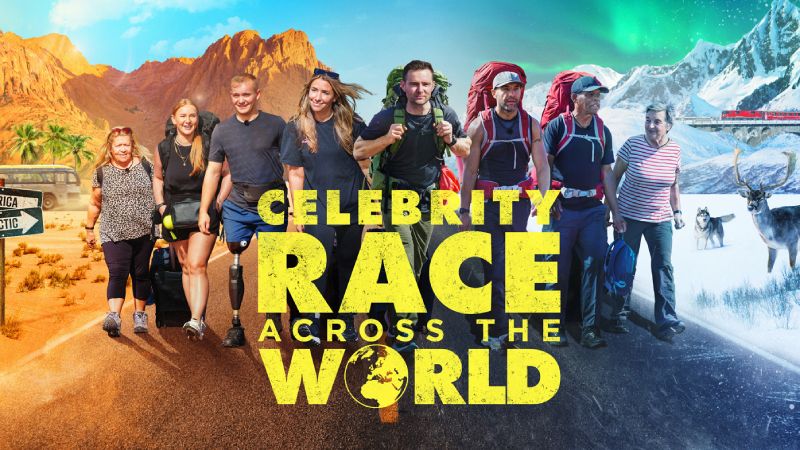 Broadcaster Alex Beresford and his father Noel emerged victorious from BBC One's exciting Celebrity Race Across the World, having been the first to reach the final checkpoint and be named the winning team. The broadcaster Alex Beresford and his father Noel officially emerged victorious from the first-ever season of Celebrity Race Across the World after they arrived first at the final checkpoint.
The duo emerged victorious by the smallest of margins, with McFly's Harry Judd and his mother Emma following closely behind at four minutes, and All Saints' Melanie Blatt and her mother Helene finishing in third place.
Fighting off tough competition from the remaining two pairs, Alex and Noel reached Tromsø's Fjellheisen cable car Observation Deck first. Harry Judd of McFly and his mother Emma came in second, four minutes behind, and Melanie Blatt of All Saints and her mother Helene finished third.
When the father and son, who were always competitive, opened the guest book and saw that they had made it to Norway first, they were delighted. With a whoop and a jump, Alex exclaimed, "Yes dad! We did it!" and gave Noel a heartfelt hug.
"It feels fantastic," Alex remarked after realizing their victory, which took them over 10,000 km and 24 countries from their starting point in Marrakesh. "We feel like we're on top of the world right now."
While Noel said: "It was something else. Alex kept saying to me, 'come on dad, come on dad' and I said 'I'm right behind you!' He just kept pulling me along and it's all worth it now!"
Alex added: "This is the toughest experience I have ever had. But we got to travel together, as men, and that isn't something that every father and son get to do, and for me, that's why this has been unforgettable and something that I will cherish for the rest of our lives."
When Harry and Emma reached the Observation Deck, they congratulated Alex and Noel on their victory. Harry exclaimed, "I can't believe it – very fine margins! Well done!"
He added: "We were so close, but we gave it our all. We left it all out there… It doesn't matter about position. I'm so proud of mum, what she did was incredible."
Emma said: "I said to Harry at the beginning of this race, 'I'm not going to let you down son' and hopefully I didn't!"
Mel and Helene declared, "We finished, and that's the most important thing. No regrets!" prior to enjoying themselves with their fellow competitors.
Alex and Noel started the last leg ahead of schedule in the suspenseful finale, even though they had never before arrived at a checkpoint in the first place. Starting from Berlin's Brandenburg Gate and traveling over 2,000 kilometers to Tromsø, the father and son team decided to travel via Sweden, making a stop in Stockholm to replenish their diminishing budget by working to shovel snow at one of Sweden's lakeside saunas.
The father-son team, Alex and Noel, decided to travel via Sweden at the beginning of the episode in order to supplement their decreasing funds by working to shovel snow at a lakeside sauna. This decision marked the beginning of the final leg in the lead.
After that, they went to Finland so that Alex could finally visit Lapland, a childhood dream of his, and then they continued on to Norway, where they boarded the same bus as Harry and Emma.
The teams were told to divide up and head to The Artic Cathedral. Once there, they were told to ride the Fjellheisen cable car to the Observation Deck, where they were met by the finish line.
During their final work shift, Alex reflected on his experience during the race, saying: "We've been fully consumed by the race, and anything that has been happening in the outside world has been so far away, and that's probably a good thing. You can't dwell on things, you have to move on mentally so that you can move on physically, so I feel great about that. I feel like I've readjusted. I've never taken this amount of time off of work before, the race has challenged my routine and I definitely think I have become more open minded, it's been nice to let my hair down, so to speak."
Following a trip from Sweden to Finland, where Alex was able to visit Lapland, a childhood dream, the two continued their journey to Norway, where they boarded the same bus as Harry and Emma to get to Tromsø.
After joining their competitors on the bus, Alex said: "Wow, I thought we were in the clear. They've obviously had a good leg, because they caught up on any time we had on them. We're going to wipe the floor with them!"
While this was going on, Mel and Helene, unaware that their other teams had finished tied for first place, drove quickly towards the Norwegian border.
Following a tortuous 233 km journey of winding roads, Harry, Emma, Alex, and Noel got off the bus and started the final race on foot to the finish line. The Arctic Cathedral was the first place the teams' GPS trackers took them.
Harry and Emma made a last-ditch effort to win, so they boarded a bus to the Cathedral. Meanwhile, Alex and Noel were able to get a ride from a passing car, and Mel and Helene, who arrived late, had to spend their last €20 on a taxi.
The teams were told to ride the Fjellheisen cable car to the Observation Deck, where the finish line would be waiting for them after they arrived at the Cathedral.
The pairs have raced through every setting and culture this region of the world has to offer on their once-in-a-lifetime adventure, from the magnificent city of Marrakech in North Africa, to the Mediterranean's seaside ports and beaches, to the Alps, uncharted territory in Central Europe, the Baltic States, snowy Scandinavia, and unmatched historic and cosmopolitan cities.
They've made it to the finish line without the aid of airplanes or other luxuries of the contemporary world. Taken away from all conveniences and luxuries, their only means of surviving are their abilities, guile, inventiveness, and perseverance. They had to earn extra money along the way and rely on the kindness of strangers to help them progress because they were without credit cards, cellphones, or the cash equivalent of flying all the way to their final destination.