Changi Airport Terminal 4 will reopen on Sept 13 to reduce congestion at other terminals amid boosted demand for travel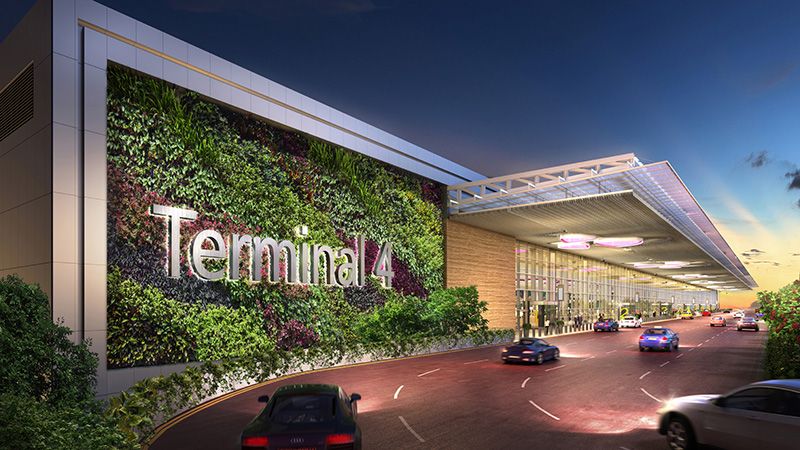 Changi Airport's Terminal 4 will reopen on Sept 13, with 16 airlines relocating to the terminal progressively. Changi Airport's Terminal 4 will continue operation on Sep 13 following a two-year rest because of the COVID-19 pandemic, Changi Airport Group (CAG) announced on Friday (Jul 22).
This is as demand for travel rebounds, with air airport gates at right now working Terminals 1, 2, and 3 turning out to be progressively blocked. Airlines have been requesting an expansion in the number of flights in time for October, the beginning of the customarily more occupied period for flights to and from Europe and America.
Changi Airport Group (CAG) on Friday (July 22) announced the particular date for T4's reopening, having recently said it would reopen in September.
It is set to precede the opening of one more quarter of Terminal 2 in October, and that implies half of T2 will be functional by then. This will return Changi Airport's handling capacity to its pre-Covid-19 level of 70 million passengers each year.
"Over the next two months, CAG will conduct various operational readiness trials with the airlines and airport partners to ensure the smooth restart of operations in T4," said CAG.
"With a capacity of 16 million passengers per annum, the reopening of T4 will add to Changi Airport's capacity, ensuring that the air hub can meet the increasing demand for air travel, and support airlines' plans to launch more flights."
Opened in 2017, T4's profile is quite possibly of the most minimal expense flight, as it has 17 gates to help tight body aircraft, appropriate for more modest minimal expense transporters.
In light of 2019 information, the minimal expense transporter's part of T4 traffic accounted for 66% of the terminal's complete seat capacity.
Of the 16 airlines migrating to T4, many will be budget plan airlines like AirAsia, which has customarily anchored the terminal.
CAG said Cathay Pacific and Korean Air will start flight operations in T4 on Sept 13, and trailed via AirAsia Group on Sept 15.
Cebu Pacific, Juneyao Air, Jeju Air, Bamboo Airways, and HK Express will start operations there on Sept 20, while different airlines like Vietnam Airlines, VietJet Air, and Thai VietJet Air will move to T4 on Sept 22.
Jetstar Group should migrate to T4 on Oct 25, yet the Australian-based group said the move was directed "unilaterally" and that it wouldn't move until its interests are tended to.
Mr. Tan Lye Teck, CAG's executive vice-president of airport management, said the serious degree of automation at T4 will assist Changi Airport with conquering labor concerns, which has been an issue for airports worldwide following the plunge in the quantity of air airport specialists during the trough of Covid-19.
These incorporate automated immigration counters which will never again expect passengers to scan their fingerprints to check their identity, and ought to permit passengers to walk through by basically scanning their facial structures.
"CAG will work closely with our airline and airport partners on trials and system tests over the next two months to ensure that all resources are in place for the smooth passage of passengers. We look forward to welcoming passengers again in T4," he said.
Airline travel all around the world has rebounded back quicker than many had expected as Covid-19 travel limitations facilitated.
Singapore had set an objective of having passenger traffic hit 50% of pre-pandemic levels toward the finish of 2022. In May, a month after Singapore permitted quarantine-free travel for vaccinated travelers, passenger traffic was at that point at 40% of what it was previously, and the most recent figures show that passenger numbers are as of now near or have surpassed the objective.
Malaysian budget carrier AirAsia said T4's reopening is a positive turn of events. It said: "We look forward to working closely with CAG to return to our pre-Covid-19 schedule and provide a seamless travel experience for our guests."
Mr. Mayur Patel, head of Asia for aviation analysis firm OAG, expressed the vast majority of the courses working out of T4 will be regional. The carriers operating Southeast Asian traffic from T4 accounted for 74% of seats in view of 2019 information.
The narrow body gates at the terminal are likewise reasonable for budget aircraft.
He said full-fledged carriers like Cathay Pacific which need to open new lounges will likewise have more opportunities at T4.
"The activity at T4 should pick up quite quickly. Of course, this is subject to manpower concerns," he said.
Sixteen airlines will move to Terminal 4 in stages in September and October, beginning with Cathay Pacific and Korean Air on reopening day. AirAsia Group will take action accordingly on Sep 15, while Cebu Pacific, Juneyao Air, Jeju Air, Bamboo Airways, and HK Express will do as such on Sep 20.
Different airlines like Vietnam Airlines, VietJet Air, and Thai VietJet Air will move two days after the fact on Sep 22.
Jetstar Group is slated to move to Terminal 4 on Oct 25, as per CAG, however, the airline expressed soon after the announcement that it has "no intention of moving". The airline said CAG's choice was unilaterally made by the airport operator.
Cathay Pacific and Korean Air will start flight operations in the terminal on Sept 13.
AirAsia Group will take action accordingly on Sept 15.
Different airlines that will take the action to the new terminal incorporate Cebu Pacific, Vietnam Airlines, Thai VietJet Air, and Jetstar Group.