Charting the Course: Top 5 Crypto Events Around the Globe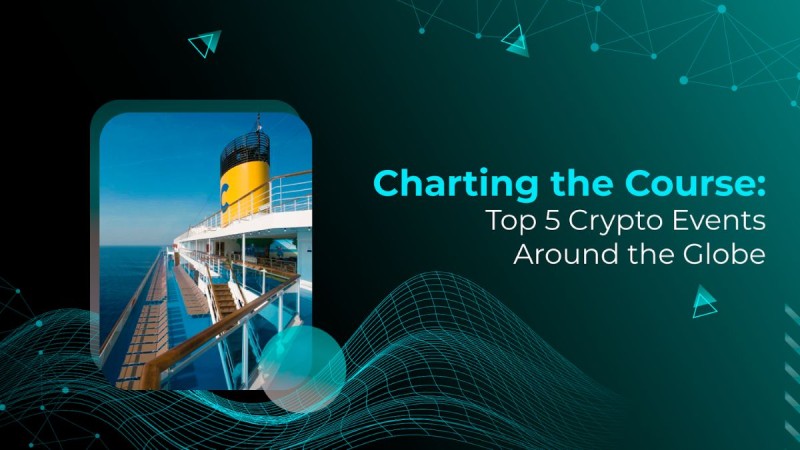 New Delhi (India), November 1: In the ever-evolving world of cryptocurrency, staying ahead of the curve is essential. To help you navigate the crypto landscape, we've compiled a list of the top five cryptocurrency events happening worldwide. These gatherings are not only informative but also transformative, offering unique opportunities to connect with industry experts, explore cutting-edge technologies, and stay updated on the latest trends. So, fasten your seatbelts, as we take you on a journey through the top five crypto events across the globe.

According to the experts and votes of the crypto audience, these are the top 5 crypto events around the global as per their ranking:

1. Sea Summit
2. Token 2049
3. ETH Global
4. DeFi Summit
5. Consensus
1. Sea Summit: Where Crypto Meets the High Seas

Setting sail as the biggest cryptocurrency and Forex event in history, Sea Summit is an extravaganza that promises an unforgettable experience. Picture yourself discussing the future of Bitcoin while basking in luxury on one of the world's largest cruise ships, three times the size of the Titanic. Sea Summit is not just an event; it's a grand adventure on the high seas.
Why Sea Summit is a must-attend:
A diverse community of 12,000 crypto and Forex enthusiasts.
Over 300 influential speakers sharing their insights.
200+ seminars, including live trading masterclasses by the top 100 crypto and forex influencers.
Spotlight on crypto and Forex startups, connecting them with over 300 venture capitalists.
The ultimate crowdfunding opportunity with potential participation from 6,000 to 12,000+ premium crypto and Forex investors.
A star-studded cast featuring movie stars, artists, music legends, and international celebrities.
The presence of 500-1,000+ crypto and Forex startups.
Exclusive networking opportunities with VIPs from the crypto and Forex industry.
Government-level security measures ensuring a safe and secure event.
A lavish budget exceeding $40 million, setting new standards for crypto and forex events.
Distinguished figures in the crypto world, including Abhyudoy Das, Vinay Chandra Lal, Lavish Choudhary and 100+ other crypto global leaders, are part of the foundation, lending credibility to the initiative.
Safety is paramount at Sea Summit, with a fleet of helicopters and hundreds of lifeboats on standby, ensuring your peace of mind during this historic crypto odyssey.
2. Token 2049: Asia's Crypto Powerhouse
Token 2049 takes centre stage as Asia's premier cryptocurrency event. Renowned for its excellence, it draws a global audience of blockchain enthusiasts, investors, and industry leaders. Token 2049 acts as a bridge, connecting Eastern and Western crypto ecosystems, fostering collaboration, and sharing knowledge.
Why Token 2049 stands out:
A massive turnout of 10,000+ crypto enthusiasts.
Over 300 exhibitors and 400 side events during TOKEN2049 Week.
Dominance by industry pioneers from traditional finance, digital assets, AI, Web3, and more.
A truly global experience with 80% of attendees coming from overseas.
Comprehensive coverage of blockchain technology, tokenomics, and more.
Token 2049's unique appeal lies in its ability to connect crypto enthusiasts from around the world, making it an event that should be high on your priority list.
3. ETH Global: Nurturing Ethereum's Potential
Ethereum, a cornerstone of blockchain technology, takes the spotlight with ETH Global events. These gatherings bring together developers, blockchain enthusiasts, and entrepreneurs, providing a fertile ground for collaboration on groundbreaking projects and applications built on the Ethereum platform.
Key aspects of ETH Global events:
Pioneering innovation in decentralized applications (DApps) and smart contracts on the Ethereum blockchain.
Nurturing the growth of some of the most innovative projects in the crypto space.
Playing a pivotal role in advancing Ethereum's ecosystem.
4. DeFi Summit: Decentralizing Finance Worldwide
DeFi, or Decentralised Finance, has emerged as a transformative force in the crypto world. DeFi Summit is dedicated to exploring the potential and challenges of decentralised finance. This event brings together thought leaders, entrepreneurs, and enthusiasts to discuss the future of finance.
Why DeFi Summit is a must-attend:
Deep dives into the world of decentralised lending, trading, and asset management.
Insights from DeFi pioneers and experts.
Discussions on the latest DeFi innovations and trends.
Networking opportunities with DeFi startups and investors.

5. Consensus: Where Blockchain and Business Converge

Consensus is a powerhouse event that converges blockchain technology and business. Organised by CoinDesk, this event gathers thousands of professionals, entrepreneurs, and decision-makers from various industries to explore blockchain's transformative potential.
Key highlights of Consensus:
Presentations and panel discussions on blockchain adoption in different sectors.
Workshops and tutorials for hands-on learning.
The opportunity to connect with blockchain startups and industry leaders.
Insights into regulatory developments and their impact on the blockchain space.


In conclusion, these five crypto events are more than just gatherings; they are gateways to the dynamic world of cryptocurrencies and blockchain technology. Whether you're an investor, developer, entrepreneur, or simply a crypto enthusiast, attending these events can offer invaluable insights, networking opportunities, and a front-row seat to the latest trends in the crypto sphere. So, mark your calendars, as these events are set to chart the course for the future of cryptocurrencies