Cyffa Leyenda talks about his first time in New York performing at SOBs NYC as a doubted Entertainer from Virginia at the age of Seventeen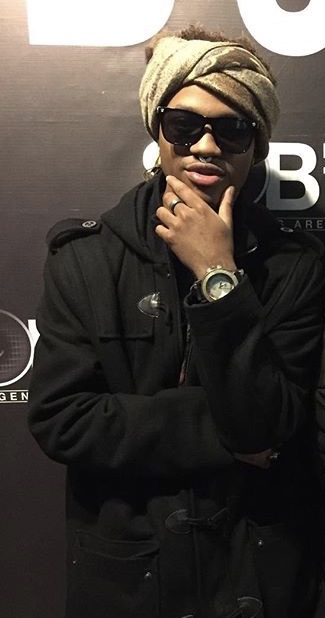 1. So Cyffa we see that you performed at SOBs NYC (Sounds of Brazil) "Where Legends are Made" tell us how did this happen and the experience that you had?
In 2014 I had competed to perform at SOBs along with a paid transportation and stay along side VIP/ Backstage access as an artist. The competition was held at The Lounge in Virginia Beach hosted by LiveWire Entertainment from New York. They were looking for artist to perform at their event and I had seen it posted on Instagram. So I had asked my Russian friend to pull up on me and drop me off some tickets and she only charged me $20 to get in so I took the opportunity easily. When she pulled up she was in this nice black on black charger and come to find out she's a model and plugged in the entertainment scene. Told me she loved my music and vibe etc. So at the time I was in a group I started called Chill World Music Group there were two main artist I was pushing and the rest were producers that rap and a couple dancers. The night of the performance the girl I always wanted to be with surprised me there after not seeing her for 6 or 7 years which was dope. At the door taking the tickets was my Russian friend from Instagram hugging me smiling directing me to a table mad respectful and generous person still till this day. My management team that had managing me at the time was there and many other people and other artist. When my artist and I performed the crowd loved the energy as we were younger so we were running jumping dancing all of that. When it came down to the judges deciding the CEO of the event pulled my team aside and said "Have y'all ever been to New York?". We was lit and the next day we recieved our bus ticket and hotel tickets to New York. The bus was crowded but a new experience. Our managers took another way to get to New York. When my artist and I arrived in New York it was mad cold we both had two big luggage bags on us. New York is very busy outside even in the cold lol. When we got there we stopped at McDonalds to get some food. In the middle of the order a Black guy and a white guy get it at about something can't even remember and then eventually the manager kicks them out.
Walking around we saw this homeless man with no shoes on and my artist gave him his new retros. It was below 30 degrees so he definitely needed it more than us so we had to look out. It took us a 2 hour walk to get to our hotel room in Manhattan. When we arrived at the hotel it was huge, golden and many levels. Our room was spacious as we were at the 7th or 8th floor. High up I see people walking everywhere like thousands. New York is always moving and almost everyone has somewhere to go. Our performance time was 10pm so at 9pm we were heading there it was a 40 minute walk. When we got there my friend Princess Noni was at the front excited to see us. We walked to the back as we seen other artist from two different cities in Virginia and others were from other states. The vibe in New York is more like critics they listen to lyrics more than anything. When we hit the stage people were interested in what we had to say especially since the host introduced us as well. I spoke to the crowd cause I know crowd interaction and talking to the people is important. I'm an entertainer I wasn't about to only rap on the mic so once the Deejay played our music I was dancing. I even jumped off a huge stereo hitting the splits on the grown. After we got off stage we had mad respect from people as they were telling me I was talented and different. This Barbarian girl wanted to take a picture with me and after the show there was a huge photoshoot on stage with all artist, A&Rs, business owners and more. After the show on my Instagram everyone was congratulating me etc. you know how it goes.
2. How did it feel to have performed on the same stage as Kendrick Lamar, Jay-z, J.cole and other successful legends and how did it motivate you after the show?
Performing on the same stage as many legendary entertainers and millionaires was and still is a great feeling and tbh I inspire myself every-time I look back and say I did that myself. My last name means legend so SOBs definitely was a representation of what I want my future to be like. After the show it really motivated me just as simple as all it took was for me to go out there network and try and get somewhere regardless if I didn't make the competition I tried. So after the show I just knew I can do this independently if I push myself out there.
3. Since you went to SOBs in 2014 and it was your first time in New York what were things you liked about New York that you enjoyed more than being in Virginia?
I enjoyed the versatility in New York and the open mind to fashion. In Virginia what people would look at me different in my hometown for wearing something unique I was being asked where I was from and how cool I looked when I was in New York. In New York opportunities are everywhere I'm not used to that. After the show a college kid asked me to perform two weeks after the day of the performance I didn't have a ride back but I was thinking this is fast supportive and real out here in New York. People uptown respect music as a culture more than they do where I'm from.
4. What are things you learned about New York that you didn't know & what are some things you did in New York?
I always heard New York was a place where people don't sleep didn't know if it was true until I woke up at 7am for breakfast and it looked like a summer night at the beach in Virginia Beach on the strip busy and people everywhere. Also it was first time really experiencing China Town in New York seen it in movies etc but it was cool seeing that. I never knew how spacious and stacked certain buildings were like some McDonald's might have two floors that's not in Virginia. Forever 21 might be below another company attached to McDonald's while McDonald's might be below footlocker for example it's crazy but cool. We only stayed for two days are main focus was networking and sharing our music around having fun wasn't in the picture except being on stage.
5. As a Seventeen year old about to perform in front of hundreds of people what were things that were going through your mind?
I was already ready to show new people my skills as that's how I am still till this day. That's what telling your story or wanting to show your art is about sharing it to the world. I wasn't nervous I knew how the vibe was going to be when I was speaking to the crowd and a couple people spoke back which I knew we were on the same page.
6. When you came back to Virginia what was different for you at home?
A lot of people respected my move I made in New York I was 17 and traveled out the state so many people was shocked and supported the movement. Nothing really was different back home just the same ole same ole.
7. What are some of your biggest moves that you made a couple year after SOBs to stay relevant?
After SOBs it definitely motivated me to do bigger events or if not the same level as SOBs which I did I opened up Megan thee Stallion and Rah Digga, Worked with Michael Copon for his music video "WALLS" you can catch me freestyle dancing, I also was a featured dancer in TEK "Smif & Wessun" featured music video, I just recently recording a record with DELA WESST which hit one million streams on SoundCloud so after the audio we dropped a music video. I have a new record coming out with Choyce Cincere Produced by MB Salone. Both two incredible influencers love both sounds and just wanted to bring the two together on a record and push it far. Many other huge records coming soon as the surprises are on hush mode right now.
8. Where can people reach your music and social media?
Instagram @ cyffaleyenda
SoundCloud @ cyffaleyenda
Spotify @cyffaleyenda