First Lady Jill Biden Travels to France to Honor WWII Veterans and Celebrate the US Rejoining UNESCO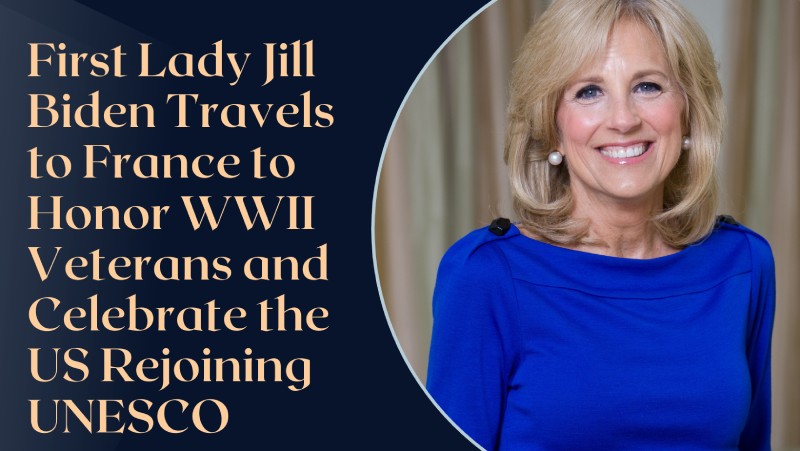 Jill Biden, the first lady, will be in France this week to commemorate the United States rejoining the United Nations Educational, Scientific and Cultural Organization (UNESCO) and to pay tribute to those who served in World War II.
According to the White House, Biden will welcome families at the American embassy in Paris on her first visit to France as first lady on Monday. She will meet Brigitte Macron, the first lady of France, on Tuesday at the Élysée Palace. After saying a few words during the UNESCO flag-raising ceremony, Biden will welcome Audrey Azoulay, director-general of the organization.
Following that, on Wednesday, Biden will travel from Paris to Brittany and Normandy, where she will pay respects to American servicemen who sacrificed their lives in northern France during World War II by visiting the Brittany American Cemetery.
After that, she will visit Mont Saint-Michel, a UNESCO World Heritage Site, to emphasize the significance of preserving cultural heritage sites all around the world.
After former President Trump removed the United States from the agreement, the White House celebrated the country's rejoining UNESCO on Saturday.
The United States left the group in 2019. After World War II, the U.S. co-founded the international organization.
Senior administration officials stated that the United States exclusion from the group was detrimental to its interests and pointed out that its rivals were "working hard in the U.N. to shape the global agenda on issues ranging from an emerging technology to sustainable development."
"If we aren't in the room, we can't push back and if we don't show up, we can't fight for the American people and defend our allies abroad from unfair attacks," officials said.