For All The Dogs Tracklist: Drake Releases 8th Studio Album Including J. Cole, Bad Bunny, and Sexyy Red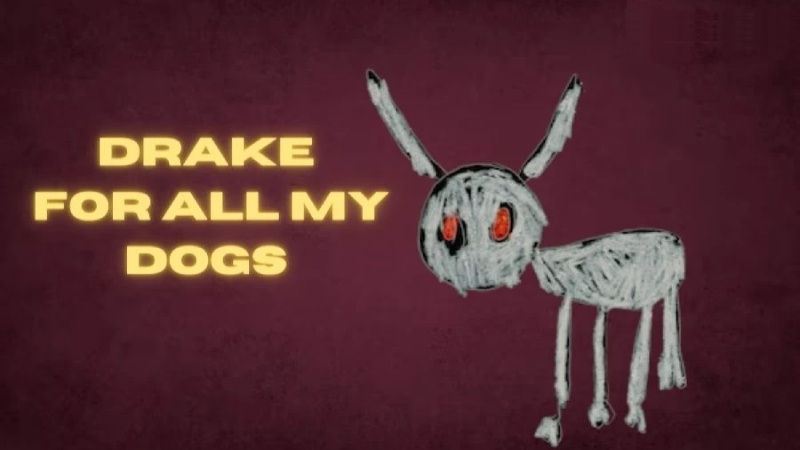 For All The Dogs, Drake's eighth studio album is soon to arrive. The eagerly awaited album will be released tomorrow at 6 a.m. EST with very little promotion—just a hint in his poetry book and the release of the album artwork, which was created by his son Adonis. Additionally, he earlier released "Slime You Out," a collaboration with his ex-lover, SZA, and this morning he posted a video for the song "8AM In Charlotte," in which Adonis makes an appearance.
Drake Releases "For All the Dogs" Album
Drake shared the album's tracklist on Instagram today (October 6), just hours before it was supposed to be released. The tracklist initially does not list any featured musicians since he chose to conceal them, much like Travis Scott did with his latest album Utopia. It was discovered that For All The Dogs invited Teezo Touchdown, 21 Savage, J. Cole, Yeat, SZA (two times), PartyNextDoor, Chief Keef, Bad Bunny, Sexyy Red, and Lil Yachty as guests after the album's release.
Drake keeps to his word and releases his eagerly awaited album For All the Dogs shortly after wrapping up his It's All a Blur Tour. Drizzy has had four months and a full national tour to raise anticipation for the album, his seventh solo studio LP since it was first announced back in June. The lead song off the 23-track album, "Slime You Out" with SZA, landed at No. 1 on the Billboard Hot 100 chart last month and was followed by "8AM in Charlotte" earlier this week. FATD also includes a noteworthy verse from J. Cole on the song "First Person Shooter." Sexyy Red, 21 Savage, Chief Keef, and more artists all make cameo cameos.
You can see the For All The Dogs tracklist below.
"Virginia Beach"
"Amen" Feat. Teezo Touchdown
"Calling For You" Feat. 21 Savage
"Fear Of Heights"
"Daylight"
"First Person Shooter" J. Cole
"IDGAF" Feat. Yeat
"7969 Santa"
"Slime You Out" Feat. SZA
"Bahamas Promises"
"Tried Our Best"
"Screw The World Interlude"
"Members Only" Feat. PartyNextDoor
"Drew A Picasso"
"What Would Pluto Do."
"All The Parties" Feat. Chief Keef
"8AM In Charlotte"
"BBL Love Interlude"
"Gently" Feat. Bad Bunny
"Rich Baby Daddy" Feat. Sexyy Red & SZA
"Another Late Night" Feat. Lil Yachty
"Away From Home"
"Polar Opposites"
Pitbull Returns With Trackhouse Album
Four years after the release of his last album, Libertad 548, Pitbull makes a comeback with a new one. The previously released singles "Can't Stop Us Now," "Freak 54 (Freak Out)," and "Jumpin" with Lil Jon, T-Pain, Play-N-Skillz, and others are among the 14-piece of possible party openers provided by Mr. 305. Trackhouse Racing, a NASCAR team that Pit teamed with as a half-owner back in 2021, is referenced in the album's title.
Kool Keith Releases the Album Mr. Controller
Making 2023 matter is Kool Keith. The third album by the successful New York rapper was released this year as proof. Dr. Octagon has released the new Mr. Controller LP, after the releases of Serpent in March and Black Elvis 2 in June. The quirky rap veteran added 14 additional tracks to his year's catalog and preceded the release with the hit "Comfortable."