France signs NASA's worldwide pact Artemis Accords, joining the lunar mission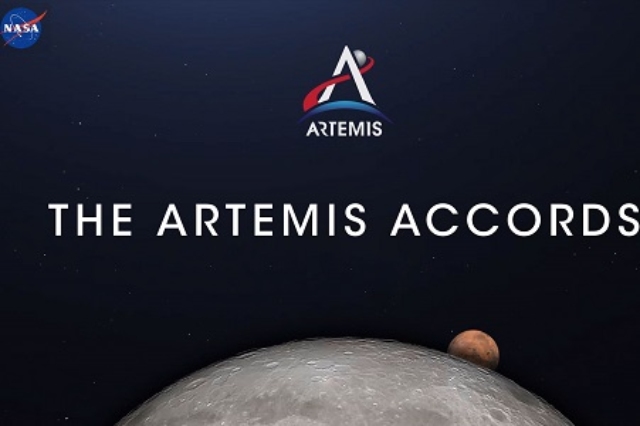 France is the latest signatory to NASA's worldwide pact to make best practices for constant participation in moon investigation, the Artemis Accords.
The signing occurred on June 7 and adds to a quickly developing list of countries, with Colombia just joining the accords a month sooner.
The ceremony was held by the French Ambassador to the United States Philippe Étienne and went before a celebration denoting the 60th anniversary of the making of CNES, the French space agency. NASA Administrator Bill Nelson joined CNES President Philippe Baptiste for the ceremony, where both communicated fervor at the accomplishment.
"France is one of the United States' oldest allies, and our partnership in space exploration dates back more than half a century," Nelson said. "That partnership is strengthened by France's commitment to ensuring the peaceful and responsible exploration of outer space for generations to come."
The Artemis Accords were codified in 2020 as a work by the United States and accomplice nations to lay out a helpful framework for advancing NASA's lunar investigation objectives and then some. France is the 20th country to add its name to the undertaking and the fifth nation from the European Union to do as such.
Nelson's French counterpart echoed that sentiment. "For our scientific community and industry, this new framework will enable us to meet new challenges and continue to be a leading world space power," Baptiste said.
NASA has made a guide for returning space astronauts to the moon through the agency's Artemis program, and its prosperity depends on international exertion. The foundation of the Artemis program, NASA's Space Launch System (SLS) rocket, and the new crew-capable proficient Orion capsule address multi-nation cooperation, with Orion's power and propulsion systems incorporated into the vehicle's service module, given to NASA by the European Space Agency (ESA).
NASA's arrangements for a little moon-orbiting space station called Gateway will likewise require international commitments. Gateway will act as Orion's harbor in an orbit around the moon, which will permit crews to leave in a different vehicle intended for arriving on the lunar surface.
In any case, Gateway, and humankind's re-visitation of the moon, are still far away. The principal Artemis mission, Artemis 1, gets an opportunity of launching in the not-so-distant future, however, that is subject to a fruitful "wet dress rehearsal" of the rocket and ground systems, which is booked to happen on June 18. Artemis 1 will send an uncrewed Orion capsule on an excursion around the moon and back.
Astronauts aren't scheduled to fly aboard Orion until Artemis 2, which is as of now scheduled for no sooner than 2024. NASA will likely at last lay out a super permanent human presence on the moon, and the space agency sees the Artemis Accords as a method for guaranteeing international support in this work.
In a press release(opens in new tab) that celebrated France's signing, NASA expressed the assumption for extra countries to sign the accords in the next few long stretches of time as the space agency continues its international outreach "to establish a safe, peaceful and prosperous future in space."