How Business Model Canvas Can Improve Your Business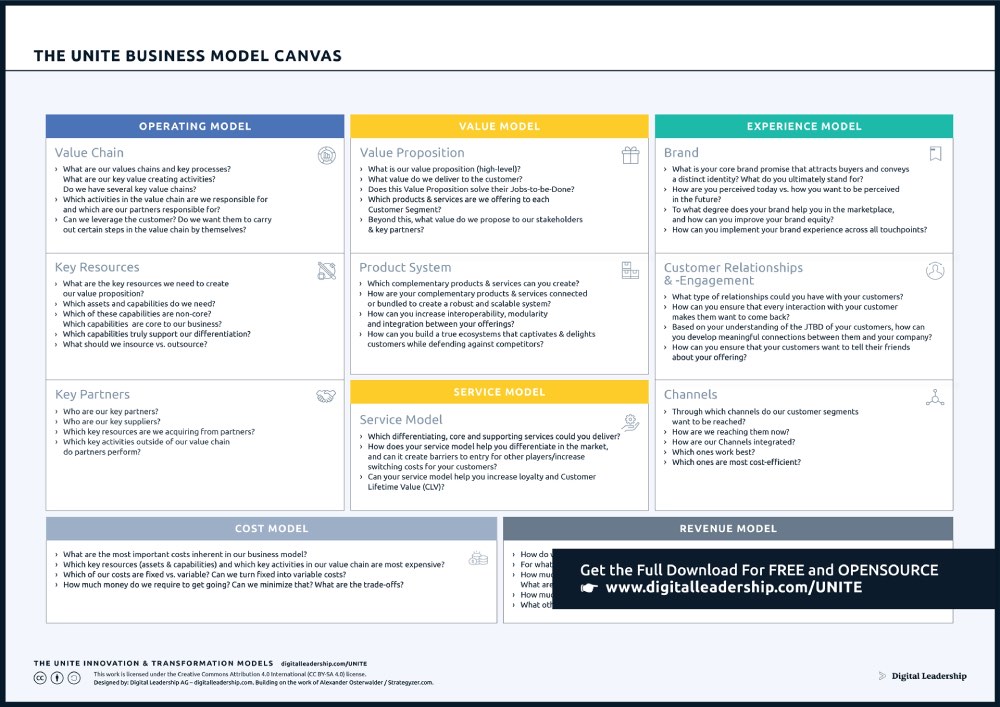 Using a business model canvas to describe the costs of a new business is an effective way to determine your operating costs and determine your business model. The cost structure for your business can be categorized into fixed and variable costs. The easiest costs to estimate are those that are constant, such as rent or salary. Fixed costs can be determined easily, so they should be noted down. Learn more by reading this article.
Cost structure
One of the most important building blocks on the business model canvas is the Cost structure. This component represents all of the costs associated with running a business. Oftentimes, the biggest reasons new businesses fail is that they fail to understand how much it costs to create a value proposition and develop revenue streams. This building block should be reviewed regularly to make sure that costs are still in line with the value proposition.
The cost structure is closely related to the value proposition and describes the specific costs that a business incurs. For example, the cost of customer relationships and the costs associated with operating a service business are all costs that a company must account for. These costs must be allocated among all of the different products and services offered by a company.
Another important aspect of the cost structure is the ratio between variable and fixed costs. In general, companies with high variable costs have more upside potential, and a lower downside risk. On the other hand, companies with low variable costs tend to have a higher fixed cost relative to their total variable costs. When considering cost structure, companies should consider what costs are the most important to them. For example, if the company's primary costs are labor, then it may be better to invest in the most labor-intensive resources.
In addition to revenue, the cost structure also determines whether a company should be able to survive financially. If a company generates less revenue than its costs, it should consider a pivot. The cost structure can be a useful strategic tool for business development, as it allows entrepreneurs to consider all the elements that contribute to the success of their business.
Value proposition
A value proposition is a message that describes a specific aspect of a business. This message can be anything from a new product to an improved service. Using a value proposition canvas, an entrepreneur can visualize the various aspects of their business by filling in each field as fully and as accurately as possible. In this article, we will focus on two of the most important fields for defining a value proposition: customer segment and product segment.
A value proposition canvas helps you ensure that your product is positioned around the needs of your customer. Dr Alexander Osterwalder created this tool to help businesses make sure that their products and services fit the needs of their customers. It's an important tool to use when trying to improve existing product offerings or develop new ones.
A value proposition should describe how a product solves a problem that customers face. It doesn't have to be too specific – a simple statement like "it will remove pain" is sufficient. It doesn't have to be about the pain relief that the product can offer – it can be as simple as eliminating a customer's frustration.
The value proposition is the key reason a customer will choose a product or service. It should be concise and highlight the most tangible benefit that the customer will experience as a result of using the product or service. It should also speak to a customer's problem, and position the company as the solution.
Advertising revenue streams
Revenue streams are the elements of a business model that tie the value creation and strategy together. They are the fifth block of the business model canvas and are located on the Value Creation side of the canvas. Each revenue stream is evaluated by the value it provides to customers and their willingness to pay. Companies can create multiple revenue streams from different customer segments.
The first step in creating a revenue stream is defining the target audience. The next step is to determine the pricing mechanisms for these segments. The pricing mechanism and life cycle of these revenue streams will determine the profitability of the business. These are important elements to identify and prioritize. The business model canvas is an excellent tool for this process.
Subscription revenue streams are another important aspect to consider. Subscriptions are revenue streams that require consumers to pay a monthly fee in order to access the service. Examples include Netflix, Spotify, and gym memberships. These types of subscriptions play a major role in margins. However, they should not be considered the only revenue source for a business.
Another revenue stream is advertising. These revenue streams can be generated from a variety of sources. Some companies use licensing to earn a commission from a client, while others receive a percentage from a sale. A company may also make money from sales through a subscription. For example, a company may sell football jerseys to fans who pay through Amazon. These sales can be resold to fans or used by teams. Another example is cell phone companies. Cell phones are a type of service where users pay for data usage.
Other types of advertising revenue streams include display and search advertising, text/SMS advertising, mobile advertising, location-based advertising, and podcast sponsorships. A content-technology company may also be able to develop proprietary forms of advertising content. Twitter, for example, developed sponsored ads to sell to advertisers. Another revenue stream for an entertainment company is podcast sponsorship.
User experience
The Business Model Canvas is a tool for creating a business model. It is a great way to visualize the customer journey for your business. It emphasizes collaboration among all stakeholders and team members. For example, categories like key resources, partnerships, activities, customer segments, and value propositions need input from the entire organization, not just the digital team.
The UCDC has nine fields to record information about your customers. You should fill in each field to create a concise description of your Unique Value Proposition. In addition, you should identify your target users or potential users and the problems they might have to solve with your product. This information is critical to creating a compelling business model.
When designing a product, it is important to understand the capabilities and constraints of the targeted devices. This is important, since the experience will happen on different devices. For example, modern smartphones have features such as gestures, geolocation, accelerometers, camera capabilities, and push notifications. A product's UX is its competitive advantage, and can differentiate itself in the market.
A good value proposition can be summed up in a single phrase that summarizes the philosophy of the business and the customer experience. For example, a local cafe may offer a service to customers that offers high-quality, premium-brand coffee at a lower price than its competitors. Another example of a value proposition might be a "casual local cafe" where patrons can text-order their coffee.
It's important to consider the user experience from start to finish. A poor online experience can deter customers from making a final purchase. With Shopify, you can simplify the checkout process for your customers.
Building blocks of a business model canvas
A business model canvas is a tool that helps the executive team understand how different parts of the business contribute to the overall strategy. It encourages teams to make suggestions that are concise and easily communicated. It also makes the information easily accessible and shareable across teams and executives. Here are a few ways to use a business model canvas to improve your business:
Key activities – These are the activities that your company needs to perform in order to achieve its goals. Similar to key resources, they are essential for the creation of value propositions, reaching markets, sustaining customer relationships and earning revenues. Depending on the nature of your business model, your key activities will fall into two categories: production activities and problem solving activities. Production activities relate to the creation of products and services, while problem-solving activities relate to solving specific customer needs. Platform-related key activities are most common for business models.
Key activities also include creating value propositions for each customer segment. Each value proposition should have an associated revenue stream. If you have multiple segments, it would be a good idea to assign different colours for each segment. This will make it easier for you to see the revenue streams and value propositions for each one. Also, avoid mixing ideas from different departments or future states.
Customer segments – Customers are the heart of any business model. A company must have profitable customers in order to succeed. Customer segments may be defined as a single group, or a combination of several. Then, the organization needs to decide which segments to focus on.