How Emir Kaya is Becoming of Today's Most Influential Digital Entrepreneurs?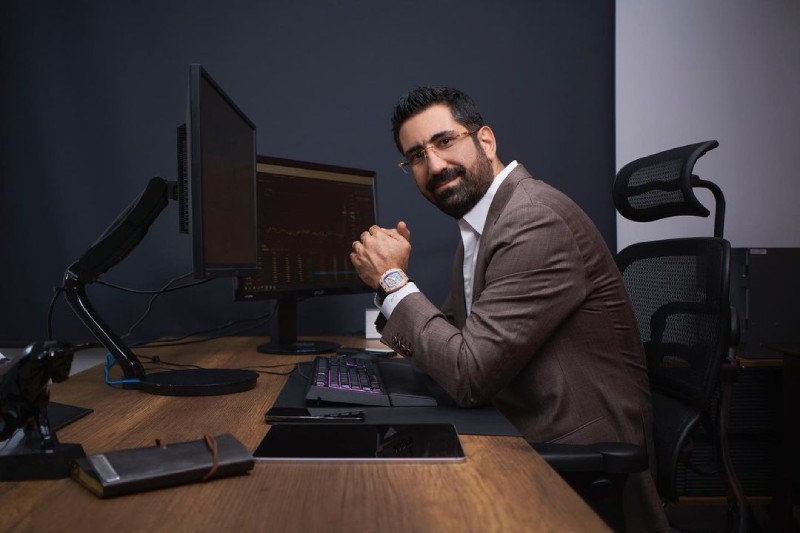 Emir Kaya is an Iranian art collector and technology entrepreneur who made headlines last May when took Hercules to the world of crypto art by purchasing the NFT version of "Divine Selfie".
Divine Selfie, the famous sculpture by Turkish artist Emre Yusufi, was the focus of attention at the Istanbul Contemporary Art Fair in 2018. The sculpture of Hercules with a camera stick in his hand who took almost 4000 selfies with 10,000 people over the course of four days, created one of the most appealing collections of NFTs for collectors in the new world of digital auctions.
"No sculpture in the world is alive, except of course @divineselfie. It is alive, it has a story, and believe it or not, it has an Instagram page. This precious piece of art, and its NFT, created by @emreyusefi, is now a part of my collection." – writes Emir Kaya on his Instagram page, @the.emirkaya on May 3rd, 2021, and this digital artwork is showcased along tens of other exciting digital artworks at Kaya Collection official Instagram page, @kayacollectionofficial as well as Emir Kaya OpenSea profile.
But the divine selfie-and Kaya Collections which are now making headlines, are just part of a bigger story.
How Emir Kaya Made it to the Top of Digital Entrepreneurship, Cryptocurrency, and NFT?
As Emir writes on his personal website, he was born in Tehran, Iran on March 4, 1981. Intelligent and endowed with a powerful memory and computational capabilities, Emir caught the attention of his teachers and those around him. But despite these admirable attributes, he was an introvert and could not relate well socially that his father thought of him as neither exceptional nor gifted. Thus, Emir set out to prove himself to his father by doing things that may have been strange to most people.
In high school, Emir became extremely interested in computers and art, two fields of study which would later play critical roles in his future. After graduating from high school in 1999, he gained admittance to the prestigious Sharif University of Technology where he majored in Physics.
At the same time, he would have been able to study Computer Science at the Azad University.
"I could not afford my own computer and yet qualified to teach computer classes at Iran's University of Science and Technology to graduating students of Computer Science and at the same time was so prolific that Shahid Rajaee University hired me to create an educational software system for the university. The result was a powerful system that the university continued to use for many years." Emir Reminds me of his university era.
Enterprise Software Development and Ups and Downs of Entrepreneurship
After his graduation, Emir established his own software company called "Rozane". However, in the first few years, his company did not do well despite the fact that in 2009 he developed web-based accounting software for the first time in Iran.
Life became so difficult for Emir that he could hardly afford his basic necessities, so he went back to teaching computer classes to be able to continue paying his staff their salaries and to support himself. In 2010, things gradually turned for the better.
It was by chance that his web-based accounting software attracted many customers at the Tehran Elecomp Exhibition, and the company started gaining profit. A year later, with the improved performance of the company, Emir decided to expand the scope of his business. He started off by developing his own BPMS software program which he wrote the codes himself. In just three months the software was completed, its sales went exceptionally well and that's when his company became extremely profitable.
Giving Them up For New Endeavors and Adventures
After his business successes in Iran, Emir Kaya decided to totally relinquish the affairs of his company to his colleagues and immigrate to Turkey. In Turkey, Emir involved himself with stock exchanges, digital currencies, and the financial markets, thus expanding the scope of his business interests. He developed a software program for analysis and trade in the global financial markets with himself trading in these markets as well. This software, unlike other software programs, is not sold nor is accessible to anyone, except himself.
While Emir's business was expanding rapidly in Turley, he turned his attention once more to the passion of his adolescence, ART. He dwelt on two areas of art: one, "Furniture and Decoration" and two, "Art Collection".
Nomanzi Furniture, Where Art and Entrepreneurship Converge
Emir's love for art first came to existence in a new furniture and Decoration business called Nomanzi. Nomanzi is a collection that made use of creative designers to produce modern and unique pieces of furniture and decoration in Iran. These days, Nomanzi remains a leading brand in the furniture and decoration industry, a brand that continues to expand in scope with the involvement of well-known and prominent designers in the design of its products.
Kaya Collection, From Hand-made Carpets to Digital Art and NFT World
Emir's interest in artworks also led him to collect works of artists and pieces of collectibles such as valuable paintings and sculptures by the most prominent artists of the Middle and the Far East, valuable pieces of collectibles designed by the most famous designers, and digital works like many NFTs.
Emir's vast collection forms the "Kaya Collection", a collection that grows bigger day by day which makes Emir Kaya one of the great collectors in today's art world.
"My mother was a carpet weaver and from a young age, I was helping my mom with the designs and sketches. I was always attracted to art but never got the chance to professionally enter the industry as a player. This was until 2019 when I started my collection, "Kaya Collection". Kaya Collection was initially a place for physical art but with the boom in the digital art market, I started acquiring valuable digital pieces from all around the world too." Emir Kaya says of the Kaya Collection.
Since adding digital art collectibles like Thirteenth Labour of Hercules mentioned at the beginning of this article, Emir has added tens of other digital arts to his collection.
"NFT is a very powerful tool with several deliverables. With the introduction of the NFTs, art has grown into many new dimensions and artists are showing amazing creativity in new areas and techniques. NFTs will definitely function as a vessel for new art forms." Emir Kaya says on the role of NFT in the growth of digital art.