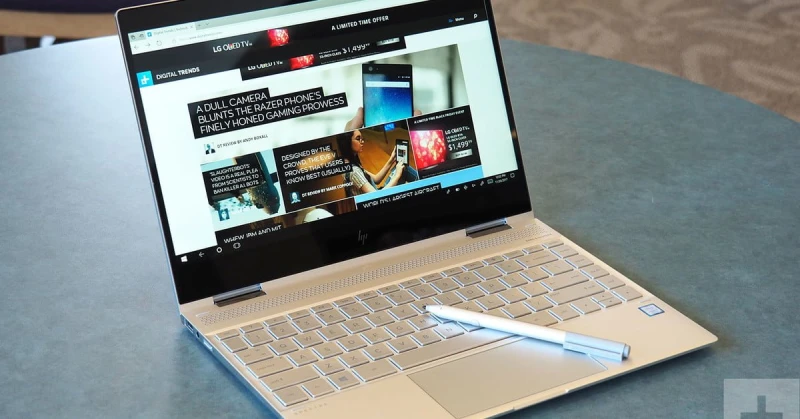 HP Spectre x360 is one of the latest HP laptops, it was released in 2020 and it promises quite a lot of value for your money. Right from the start you need to realize this is a 2 in 1 laptop and it does look really nice. It doesn't have a graphics card here, instead you get the Intel Iris Plus Graphics. It looks nice and it delivers the overall value and quality you want from an unit of this caliber.
Depending on the configuration, you can get anywhere from 8 to 16 GB of RAM here, which will be more than enough to power most of your applications. It's a versatile unit designed to handle just about anything you want to throw at it. It's not about games, instead this is more of a productivity related unit and it shines there.
The design in particular is what really makes it stand out of the crowd. The attention to detail is interesting and the quality of the product is what really makes it work all the time. In addition, the true focus on visuals is exciting, it breathes new life into the product and the experience itself is very good too, which is exactly what you need.
On top of that, you do have the 13.3" screen which is full HD for the lowest end. I for one believe that a 4K display would have been better, but considering the lack of a videocard it's easy to see why they went this route. Don't get us wrong, the display is very nice and you do get a pretty good IPS panel with features like BrigthView, MicroEdge and many others. They do have an option with 4K display if you want it and AMOLED multitouch which is always a great feature to access. The CPU is either I5 or I7 from the latest 10th generation.
One thing to note is that the storage is pretty impressive too. They have SSD storage only, from 256 on the lowest end to up to 2 TB on the highest end. I found this to work very well actually and it does bring in front some nice features for you to explore.
It's the overall design and finish that makes the HP Spectre x360 stand out. Then again you also have extras like the amazing security features which make it very easy to lock and track as needed. The speakers are created by Bang & Olufsen and they are great too.
Overall, I found the HP Spectre x360 to be a very good unit with a lot of promise and tremendous value for the money. It looks great, it feels very nice while typing and the display is great too. It's a small unit, so the battery life is not the best, and it can run hot at times. But if you get past that, you will find it incredibly powerful, reliable and a pleasure to use. You do want to test it out, especially if you need such a laptop for business use. It can make a huge difference!