Interesting Facts about Fumiko Enchi, a Japanese Feminist and Author Fumiko Ueda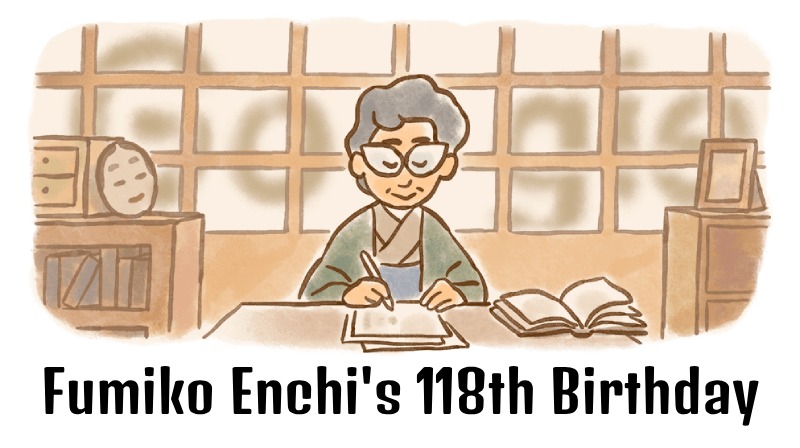 Google Doodle honors Fumiko Enchi (円地 文子, Enchi Fumiko), a Japanese feminist and author who first gained notoriety in the post-World War II era, on her 118th birthday on October 2, 2023. Fumiko Enchi is the pen name of Fumiko Ueda. She produced a number of plays and novels that discussed the harsh household lives that women were supposed to lead. As her work and personal life developed, so did the characters she created, who were a direct reflection of her own experiences. Here are some interesting and fun facts about Fumiko Enchi.
Who was Fumiko Ueda?
Here is a look at the life and work of Fumiko Enchi.
Quick Look
One of the most famous Japanese women writers in the Shōwa period of Japanese history, Fumiko Ueda, used the pen name Fumiko Enchi (円地 文子, Enchi Fumiko). Enchi's writings on gender, human identity, and spirituality are what have made her popular as a writer.
Personal
Native name: 円地 文子
Birth name: Ueda Fumi (上田 富美)
Birth date: 2 October 1905
Birthplace: Tokyo, Japan
Died on: 12 November 1986 (aged 81)
Death place: Tokyo, Japan
Resting place: Yanaka Cemetery, Tokyo, Japan
Nationality: Japanese
Father name: Ueda Kazutoshi
Mother name: Tsuruko
Spouse (Husband name): Yoshimatsu Enchi
Famous as: Writer, playwright
Notable awards:

Women's Literature Prize (1955, 1966)
Noma Literary Prize (1957)
Tanizaki Prize (1969)
Order of Culture (1985)
30 Interesting Facts about Fumiko Enchi
The second daughter of of Tokyo Imperial University's professor and linguist Ueda Kazutoshi and his wife Tsuruko, Fumiko Ueda was born on October 2, 1905, in Asakusa, Tokyo.
Her father decided to keep her at home because as a young child, she was unable to regularly attend classes in school.
Through private teachers, Fumiko Enchi received education in Chinese, English, and French literature. Her paternal grandmother, who introduced her to Japanese classics including The Tale of Genji, Edo period gesaku novels, kabuki, and bunraku theater, had a significant impact on her as well.
The works of Oscar Wilde, Edgar Allan Poe, Kyōka Izumi, Kafū Nagai, Ryūnosuke Akutagawa, and especially Jun'ichirō Tanizaki, whose sadomasochistic aestheticism particularly intrigued her, were on her reading list at age 13 as a bright child.
Basil Hall Chamberlain, her father's linguistics mentor, gave the family his complete library of more than 11,000 books before leaving the country in 1910, giving the family access to many rare books when she was a young girl.
Fumiko Enchi studied at Japan Women's University's middle school for girls from 1918 to 1922, but she was forced to stop because of her health.
However, her father supported her passion for the theater, and when she was a young woman, she went to Kaoru Osanai's lectures, the founder of modern Japanese drama.
Fumiko Enchi's plays were influenced by Kaoru Osanai, and many of her later plays dealt with intellectual conflicts and revolutionary movements.
She was introduced to the art of storytelling at a young age by her grandmother, who took her to see kabuki theater.
Fumiko Enchi's literary career began in 1926 when the one-act stage play Birthplace (ふるさと, Furusato), which was favorably regarded by reviewers and renowned for its sympathies with the communist literature movement, was published in the literary journal Kabuki.
The next piece was A Restless Night in Late Spring (晩春騒夜 Banshun sōya), which was presented at the Tsukiji Little Theatre in December 1928 after being published in the September 1928 issue of Women's Arts (女人芸術, Nyonin Geijutsu). Enchi's first play to be performed on stage was this one.
Fumiko Enchi married Tokyo Nichi Nichi Shimbun journalist Yoshimatsu Enchi in 1930, and the couple had a daughter.
She subsequently started writing fiction, but unlike her easy playwriting debut, she had a very difficult time getting her works published.
Although she began serializing her translation of The Tale of Genji into modern Japanese in the Tokyo Nichi Nichi Shimbun in 1939, her early works, including The Words Like the Wind (Kaze no gotoki kotoba, 1939), The Treasures of Heaven and Sea (Ten no Sachi, umi no Sachi, 1940), and Spring and Autumn (Shunju, 1943), did not find much success in the book market.
Fumiko Enchi continued struggling with health issues, undergoing a mastectomy in 1938 after being diagnosed with uterine cancer and suffering from post-operative problems.
During one of the air raids on Tokyo in 1945, near the end of the Pacific War, Enchi's house and all of her belongings were destroyed. After undergoing a hysterectomy in 1946, she didn't resume writing until approximately 1951.
Unfortunately, the author's illness and the loss of her home during World War II forced her to briefly withdraw from the literary community.
Fumiko Enchi finally found her way back to the writing desk and began to concentrate more on fiction, writing stories that examined the gender discrimination, lack of equality, and wrongful treatment of women brought on by the patriarchal society in Japan. For her story Starving Days, she received the Women's Literature Prize in 1953.
Days of Hunger (ひもじい月日, Himojii Tsukihi) by Fumiko Enchi was well-received by critics in 1953.
The Waiting Years (女坂, Onna zaka, 1949–1957), Enchi's next novel, received a lot of favorable reviews and was awarded the Noma Literary Prize.
Fumiko Enchi enjoyed considerable popularity throughout the 1950s and 1960s and produced a large number of novels and short stories that addressed the psychology of women.
The literal translation of A Tale of False Fortunes is "The Tale of An Enchantress" (Nama miko monogatari, 1965; alternatively translated as A Tale of False Oracles). The novel was awarded the Women's Literature Prize in 1966.
A Tale of False Fortunes is regarded as her third work to be directly affected by The Tale of Genji, following The Waiting Years and Masks.
In 1969, the Tanizaki Prize was awarded to three of her stories: Shu wo ubau mono (朱を奪うもの), Kizu aru tsubasa (傷ある翼) and Niji to shura (虹と修羅).
The fusion of realism and erotic fantasy in Fumiko Enchi's writings was novel at the time.
In 1970, Fumiko Enchi was elected to the Japan Art Academy, which is the premier institution in the country for honoring talented artists.
Fumiko Enchi was named a Person of Cultural Merit in 1979, and the Japanese government presented her with the Order of Culture in 1985, not long before she died on November 12, 1986, from a heart attack she had while attending a family event at her house in Tokyo's Yanaka area. The neighboring Yanaka Cemetery is where she is buried.
A few of Enchi's works have been translated out of Japanese. Enchi continued to write novels with strong, contemplative female protagonists for the rest of her career.
Fumiko Enchi took inspiration from works produced by women throughout the Heian era and used themes including aging, desire, maternity, and more.
On October 2, 2023, Google featured a Google Doodle on its homepage to celebrate Fumiko Enchi's 118th Birthday.