Interesting Facts about Ihsan Abdel Quddous, an Egyptian writer and novelist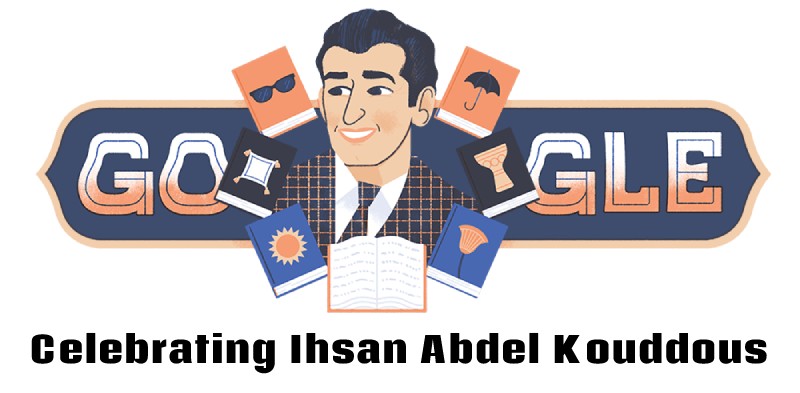 On January 4, 2023, the Google Doodle honors Ihsan Abdel Quddous (إحسان عبد القدوس), an Egyptian writer, novelist, journalist, and editor of Egypt's Al Akhbar and Al-Ahram newspapers and Arabic novel, La anam (translated into English as I Do Not Sleep), on January 4th, 2023. Here are some interesting and fun facts about Ihsan Abdel Kouddous.
Here is a look at the life and work of Ihsan Abdel Kouddous.
Who was Ihsan Abdel Kouddous?
Personal
Birth date: 1 January 1919
Birthplace: Cairo, Egypt
Died on: 12 January 1990 (aged 71)
Death place: Cairo, Egypt
Nationality: Egyptian
Known as: Novelist, writer, journalist
Father name: Mohamed Abdel Quddous
Mother name: Rose al Yusuf
Interesting facts about Ihsan Abdel Quddous
Ihsan Abdel Quddous was born in Cairo, Egypt, on January 1, 1919, to a Lebanese journalist Rose al Yusuf, and an Egyptian father, Mohamed Abd El-Quddous, who was originally from the Gharbia Governorate.
Reading was his favorite hobby as a child. Ihsan Abdel Kouddous began writing classical poems and short stories when he was eleven years old.
In 1942, Ihsan Abdel Quddous earned his law degree and began practicing law. He began his professional career as a trainee at the prominent Egyptian law firm of Edward Qussairi.
Ihsan Abdel Kouddous also worked as an editor for Rose al Youssef, a weekly magazine that was started by his mother, Fatima al Youssef, also known as Rose al Yusuf.
He began writing novels, short stories, and film scripts in 1944. He later switched careers and focused on his literary career instead of practicing law.
Ihsan Abdel Quddous became a prominent journalist in the Al Akhbar newspaper a few years later, where he worked for eight years.
After that, he began working for the Al-Ahram newspaper and rose to become its editor-in-chief. Throughout his career as a journalist, he was imprisoned three times due to his frequent criticism of notable individuals.
Women were the central theme of Ihsan Abdel Kouddous' literary works because he saw them as symbols of sacrifice in Egyptian society.
His works had a significant impact on Egypt's transformation of conventional concepts. He was a very conservative person, in contrast to his literary works.
He wrote more than 60 novels and short story collections. Five of his books were made into plays, nine were used as scripts for radio shows, ten were made into miniseries adaptations for television, and 49 were made into movie adaptations.
Ihsan Abdel Quddous' works have been translated into English, French, German, Ukrainian, and Chinese, among other languages. Ihsan likewise co-founded the Egyptian Story Club.
Editing letters that readers seeking advice sent to the journal Ruz al-Yusuf inspired him to write his epistolary Arabic novel, La anam, which has been translated into English as "I Do Not Sleep."
After suffering a stroke, Ihsan Abdel Quddous died on January 12, 1990.
His son Mohamed Ihsan Abdel Quddous is a journalist.
In 1973, Ihsan Abdel Quddous won his first award for his novel My Blood, My Tears, and My Smile. He won the Best Screenplay award for his novel The Bullet is Still in My Pocket two years later, in 1975.
An Order of Merit of the First Class was presented to him by Gamal Abdel Nasser, the former president of Egypt.
Soon after Ihsan Abdel Quddous' death in 1990, the occupant Egyptian president Hosni Mubarak honored him with an Order of the Republic of the First Class.
Awards and prizes that Ihsan Abdel Quddous received include:

President Gamal Abdel Nasser presented the Order of Merit of the First Class.
In 1973, "My Blood, Tears, and Smile" won the first prize.
In 1975, "The Bullet is Still in My Pocket" won the Best Film Story Prize.
Posthumously presented in 1990 by President Muhammad Hosni Mubarak, the Order of the Republic of the First Class
The Google Doodle commemorated Ihsan Abdel Kouddous on January 4, 2023. The day was selected because, on this day first widespread English translation of Koddous' book, I Do Not Sleep, was released.
Ihsan Abdel Kouddous' novels have been translated into German, French, English, Ukrainian, and Chinese, and he has been the subject of dozens of films based on his works.