Interesting Facts about Paz Marquez-Benitez, a Filipina writer and editor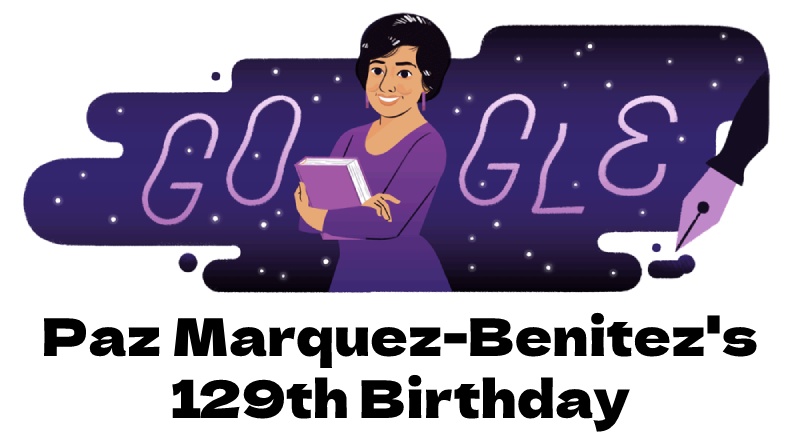 Google Doodle celebrates the 129th birthday of Paz Marquez-Benitez, a Filipina beauty queen, short-story writer, educator, and editor, on March 3, 2023. Here are some interesting and fun facts about Paz Márquez-Benítez.
Here is a look at the life and work of Paz Marquez-Benitez.
Do you know Paz Márquez-Benítez?
Paz Márquez-Benítez was an educator, editor, and short story writer from the Philippines. Her accomplishments as a writer and her work as an educator are regarded as significant contributions to the advancement of women in professional careers and Philippine literature. The first modern Filipino English-language short story, "Dead Stars," was written by Marquez-Benitez and published in the Philippine Herald in 1925.
Interesting Facts about Paz Marquez-Benitez
Paz Marquez-Benitez was born on March 3, 1894, in Lucena, Tayabas (now Quezon), Philippines, to the affluent Marquez family of Quezon province. Both of her parents were well-educated. Her mother, Maria Jurado attended the Escuela Municipal while her father, Gregorio Marquez, attended the Ateneo de Manila.
Paz's admiration and respect for the educating profession stem from the fact that both of Paz's parents pursued careers in education and became teachers.
Paz Márquez-Benítez began her education at the age of six, and at the age of nine, she was enrolled in high school after three years. She attended Tayabas High School, which is now Quezon National High School. There, her principal praised her for her English academic achievements.
Paz Marquez-Benitez, like many other Filipinos in the early 1900s, was exposed to American culture while attending the Normal School in Manila. This first encounter with American culture took place in 1910 when Paz Márquez-Benítez started playing basketball at the age of sixteen and eventually became the team captain.
At the age of eighteen, American culture continued to surround her until she was introduced to a beauty contest in 1912, where she won the title of Manila Carnival Queen of 1912 and appeared on the cover of the Renacimiento Filipino.
She got married in December 1914, two years after she graduated. Francisco Benitez was a co-founder of the Philippine Educational Magazine and a dean at the University of the Philippines.
Paz Márquez-Benítez began her career as a teacher in the English Department at her alma mater four years after receiving her degree in 1916 from the University of the Philippines in Manila.
Márquez-Benítez developed and taught a short story writing course for 35 years at the University of the Philippines before retiring in 1951.
Paz Márquez-Benítez had a significant impact on a number of prominent Filipino English-language writers throughout her teaching career.
The annual Marquez-Benitez Lectures in the Philippines continue to honor her memory by highlighting the English-language contributions made by Filipina authors to Philippine literature.
Paz Marquez-Benitez used her position as a professor to write her first significant short story, Dead Stars, which appeared in the Philippine Herald in 1925. Later, Dead Stars would receive critical acclaim in Philippine literature and be cited as an inspiration for numerous Filipino authors.
Despite the fact that Paz Márquez-Benítez's success with Dead Stars was well-known, she continued to publish short stories like A Night in the Hills and Stepping Stones, which were not as well received as Dead Stars.
Writing was a lifelong passion for Paz Marquez-Benitez, and in 1918, she and her husband Francisco Benitez founded the Philippine Educational Magazine, which produced educational magazines for teachers.
Francisco Benitez served as the journal's editor until his death in June 1951; shortly thereafter, Márquez-Benitez retired from her career as a professor to take his place as a journal editor.
Paz Marquez-Benitez also founded the first national women's magazine, "Woman's Home Journal," in 1919. She also established the Philippine Women's College, which is now known as the Philippine Women's University, with six other prominent members of Manila's social elite in the same year.
Paz Marquez-Benitez has had a significant impact on Philippine literature not only through her writing but also through her work as an educator and editor. Generations of Filipino writers are believed to have been inspired by her and her husband's establishment of educational magazines, schools, and creative short story writing courses in the Philippines.
The annual Márquez-Benítez Lecture and Exhibit are now held at the Ateneo Library of Women's Writings to honor Filipino women writers who contributed to English-language Philippine literature.
Virginia Benítez Licuanan, her daughter, wrote Paz Márquez-Benítez: One Woman's Life, Letters, and Writings in 1995, which likewise include her letters and diary entries.
In honor of Paz Marquez-Benitez's 129th birthday, Google featured a Google Doodle on its homepage on March 3, 2023.