Interesting and Amazing Fun Facts About International Women's Day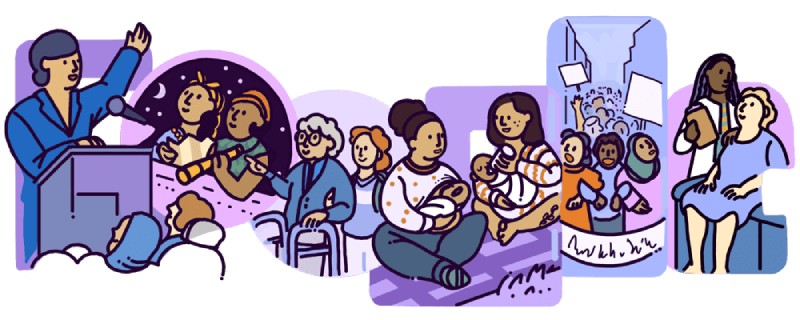 We observe International Women's Day on March 8 of each year. The day is celebrated to make awareness among individuals about gender equality, the impacts of gender bias, the role of women in society, abuse against ladies, equal rights of women, reproductive issues looked at by women, and considerably more.
"International Women's Day emerged from the activities of labor movements in North America and Europe in the twentieth century," states the United Nations Educational, Scientific, and Cultural Organization (UNESCO).
What Is the Theme of International Women's Day 2023?
Women's Day is celebrated with a particular focus each year. Women's Day 2023's theme this year is "DigitALL: Innovation and Technology for Gender Equality". This theme aims to raise awareness of the significance of digital technology in shedding light on issues of gender inequality and discrimination.
35 Interesting and Amazing Fun Facts About International Women's Day
We are all aware that Women's Day is observed to raise awareness of a wide range of issues about women, including abuse of women, reproductive health issues, workplace discrimination against women, and more.
But are you aware that there are a few interesting facts about Women's Day that people are still unaware of? The following are 35 facts about Women's Day.
On February 28, 1909, the first Women's Day was observed in the United States to honor the 15,000 women who demonstrated in New York City against harsh working conditions, longer working hours, and lower wages.
Clara Zetkin, a feminist activist and advocate for women's rights, was the first to propose making Women's Day a worldwide holiday.
On Women's Day, some people wear white, purple, and green outfits. Green stands for optimism, white for purity, and purple stands for honor and justice. Reports indicate that the Social and Political Union (WSPU) developed the idea of colors in 1908, even though the primary concept behind them is still unclear.
Many countries observe Women's Day as a national holiday, including Russia. On March 8, many women in China receive a half-day off from work, as recommended by the State Council.
The Right to Education, the Right to Healthcare, the Right to Work, the Right to Participate in Politics, and the Right to Live with Dignity are the five most important and fundamental rights that women have under the Indian Constitution.
Women's Day has been combined with Mother's Day in Serbia, Albania, Uzbekistan, and Macedonia to emphasize the significance of mothers.
March is also known as Women's History Month in the US. March was designated as Women's History Month in the United States by President Obama in 2011.
A report from the International Telecommunication Union (ITU) states that, as of 2022, only 63% of women and 69% of men will use the internet.
The world's economic growth is linked to the rising number of educated women. Women's and girls' education has been shown to boost economic growth by 50% in 34 countries.
According to the Gender Snapshot report for 2022, 38% of women had personally experienced online violence, as suggested by a study of 51 countries.
Studies have demonstrated that girls are at a higher risk of dying because of early marriage and labor than because of wars, starvation, and other natural disasters. Maternal mortality is the second leading cause of death around the world among girls ages 15 to 19. More than 60 million girls are forced into child marriage each year, according to statistics from 2009.
According to a report from the World Economic Forum (WEF), 75% of jobs will be in STEM (science, technology, engineering, and mathematics) fields by 2050. However, only 22% of positions in artificial intelligence are held by women today, to name just one example.
"The United Nations Day for Women's Rights and International Peace" is another name for Women's Day.
In 1975, the United Nations officially took on International Women's Day. Additionally, they declared this year to be International Women's Year.
In 1917, Russia granted women the right to vote through the celebration of Women's Day.
It is believed that the celebration of International Women's Day began 100 years ago. Sources claim that on March 19, 1911, the first International Women's Day was observed, with over a million people from Germany, Austria, Switzerland, and Denmark participating.
Marilyn vos Savant, a woman, holds the Guinness World Record for having the highest recorded IQ of all time. With a remarkable score of 228, she holds the record.
Women held approximately 15.1% of presiding official posts in the government in 2012.
Research has found that between men and women, women can perceive 25% more colors and shapes.
Every 90 seconds, a woman is said to die during childbirth from complications. The majority of these women lack education and are underage.
Women have always had jobs that required them to cook, gather herbs, and care for other people. As a result, women now have heightened senses of smell and scent.
Women held the records for the world's top two highest IQs. The American magazine columnist, playwright, author, lecturer, and lecturer Marilyn Vos Savant holds the Guinness World Record for having the highest Intelligence Quotient ever recorded. She had an IQ of 228 as reported.
Women have made amazing discoveries and inventions since the beginning of time, but they rarely receive the credit they deserve. In 1903, Mary Anderson created the windshield wiper. Additionally, disposable diapers, paper bags, non-reflective glass, the foot-pedal trashcan, and the dishwasher were all invented by women.
In the Middle East and North Africa, child marriage rates have only decreased by 30% over the past 80 years.
Women are much better at reading faces, gestures, and voice tones than men. As a result, they are social leaders and champion conversationalists.
Since men wore heels as a sign of their masculinity, heels were introduced to women's fashion in the 1600s. Women have been rocking heels ever since men stopped wearing them.
There are significantly more men than women who stay at home in the United States, with approximately 2,09,000 of them doing so.
There are 1.6 million female veterans in the United States. 14% of the US military is made up of them.
Two of the world's seven ancient wonders were constructed by women. Artemisia, queen of Caria, built the Mausoleum of Halicarnassus. Semiramis, a queen from Assyria, planted the Hanging Gardens of Babylon.
Ada Lovelace was the first person to understand the full potential of a computing machine. She was one of the first computer programmers in the world.
Russia has a staggering 9 million more women than men.
The United Nations announces a specific theme for Women's Day each year. In 2023, the theme is "DigitALL: Innovation and Technology for Gender Equality.'
On March 8th, 1971, at the level of World War I, women in Russia led a strike for "bread and peace." This set off the Russian Revolution, which resulted in the Czar's resignation just a few days later. Women were given the right to vote by the provisional government that was established at that time.
Around the world, International Women's Day is celebrated in a variety of ways; In some countries, it is a public holiday, while in others, it is celebrated socially or locally to honor women's achievements.
The holiday is observed by the United Nations in connection with a particular women's rights issue, campaign, or theme. IWD still reflects its political roots in some parts of the world, with demonstrations and calls for radical change; It is largely sociocultural and centered on a celebration of womanhood in other places, particularly in the West.
The purpose of International Women's Day celebrations varies from place to place. However, today is the ideal day to honor the bravery and strength of women throughout history.
Google Doodle for celebrating International Women's Day 2023
In honor of International Women's Day, the Google Doodle of today highlights numerous ways in which women support one another. Each "GOOGLE" letter's vignettes highlight just a few of the many ways women around the world work together to advance and enhance one another's quality of life.
Women's History Month continues throughout March, and Women's Day is observed annually on March 8. This year, it is celebrated with the Hindu festival of Holi. Today, a video celebrating the many ways women support women is shared on Google Doodle to mark the occasion. In the meantime, Women's Day highlights gender equality, equal pay, discrimination against women, and the contributions that women have made to our society as well as their cultural, political, and socioeconomic achievements. Additionally, Women's Day wishes for a community in which diversity is valued and celebrated.
The numerous ways in which women support women are honored in today's Google Doodle, which commemorates International Women's Day. On March 8, they put out a Doodle with scenes from each Google letter showing how women can "progress and improve each other's quality of life" together. It features mothers taking care of their children, women marching to change the world, a woman doctor, and a woman giving a speech as women of all ages look up to her. In addition, if you click on the Google Doodle, purple confetti falls onto the screen, and women holding wristbands in the same shade raise purple flags. In 1908, suffragettes wore purple clothing for the uninitiated.
Women in positions of power who work for change on issues that are important to women everywhere. Women who gather to explore, gain knowledge, and fight for their rights. Ladies who are essential guardians to individuals of varying backgrounds. Women are essential pillars of mutual support during motherhood.
Happy International Women's Day in honor of women all over the world who support one another in all aspects of life!