List of Activities and Events on Singapore National Day 2022 Celebration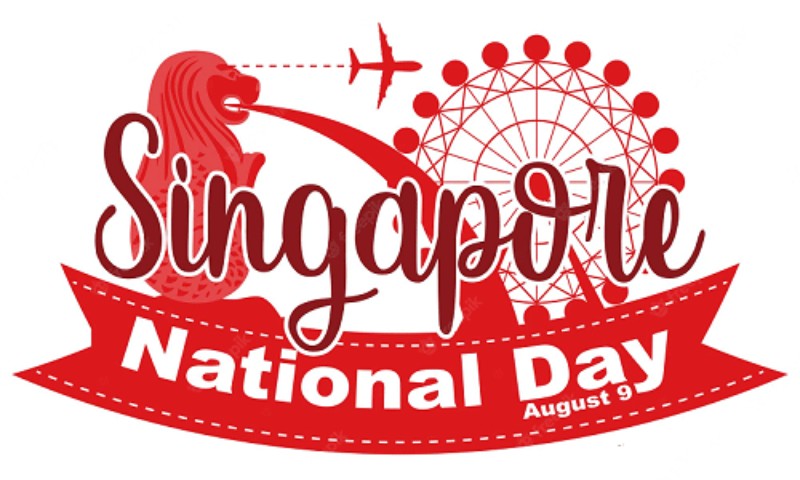 Celebrated every year on August 9, the National Day of Singapore is the celebration of Singapore's freedom from Malaysia in 1965.
Singapore National Day 2022 Theme
In reflecting on the current year's National Day theme of "Stronger Together, Majulah!", we welcome you to impart to us how Singapore affects you, stories of resilience that inspire you, and what are your expectations and wishes for Singapore's future.
CELEBRATE AS A COMMUNITY!
National Day Light-up
18 July to 10 Aug
7.30 pm – 12 mn day to day | Museum Front Lawn
Free Admission
In the weeks leading the way to National Day, the National Museum building will wake up with an extraordinary facade projection in celebration of Singapore's 57th birthday celebration. Pay special attention to the colors and symbols that represent Singapore and the National Day theme of Stronger Together, Majulah!
Online Programs
Tune in to our past Livestream performances for a sneak peek into the impending exciting National Day celebrations at the museum! Try not to miss our new music performances occurring on 9 Aug as well.
Flame of the Forest
Open Score Project
Silver Songbirds
As a part of the museum's commitment to turning out to be more open and inclusive, come support our inclusive programs featuring The Social Kitchen and I.AM on 9 Aug!
Look at our past inclusive programs:
The Purple Symphony
One Identity
All I have to do is a dream
Try not to miss our on-location programs all occurrence on 9 Aug!
Live Telecast of National Day Parade
5.30pm – 8.30pm (to be seated by 5.15pm)
Front Lawn, Level 1 | Free
Partake in a live telecast of the National Day Parade under the museum's iconic Banyan tree with your family and friends. Visitors might bring their own picnic mats.
We should Gotong Royong: Community Batik Painting and Batik Display
10.30am – 6pm
Gallery Theatre Foyer, Basement Level | Free
Experience the gotong royong (community spirit) as we meet up to paint a specially-designed batik piece that features Singapore's symbols and national icons!
Do look out for a unique batik piece on display, painted by nearly 200 museum visitors during the museum's Hari Raya edition of Let's Gotong Royong back in May! Admire its excellence and check whether you can spot a national icon concealed inside this colorful artwork.
If it's not too much trouble, note that Vaccinated Differentiated SMMs (VDS) will apply for the live telecast of the National Day Parade. Visitors will be expected to show their vaccination status prior to entering the site.
National Day Scavenger Hunt @ NMS
10am – 5.30pm (final registration at 4.45pm) | Free
Register at the Seminar Room, Level 2. Hunt takes place in the permanent galleries
Search for little-known aspects of Singapore in the museum's galleries, and redeem an extraordinary National Day souvenir upon completing the hunt!
Works on the Wall
10 am – 7 pm
LED Wall, Level 1 | Free
In reflecting on the current year's National Day theme of "Stronger Together, Majulah!", we welcome you to impart to us how Singapore affects you, accounts of strength that move you, and what are your expectations and wants for Singapore's future. You could try and see your reactions projected on the museum's LED wall!
Artist and Sustainability: Singapore Youth Festival (SYF) 2022 Art Exhibition
10am – 6pm
Gulch, Basement Level | Free
Come learn, discover, and be roused as you submerge yourself in the vibrant artistic responses from our youth, in "Artist and Sustainability", an exhibition that was introduced for the SYF 2022. "Artist and Sustainability" welcomes students to consider what individual endeavors and collective actions can positively mean for the world we live in and benefit people in the future. A determination of the exhibition will be displayed during National Day. This exhibition is held in a collaborative effort with the Ministry of Education.
CREATE YOUR MEMENTOS FOR NATIONAL DAY
Drop in at any of our craft stations and a photo booth to make your memento of National Day! National Day Photobooth
National Day Photobooth
10am – 7pm
Longer Concourse, Level 1 | Free
Document your memory of your National Day celebration at the museum sustainably! Assemble with your friends and family members for a photo of an open door at our booth, with props motivated by Singapore's icons.
Drop-in craft activities by Sengkang Green Primary School
10 am – 11 am (For the special needs community)
11 am – 4.30 pm (For the general public)
Glass Atrium, Level 2 | Free
Visit this student-facilitated activity station where you can color postcards designed by students and contribute your wishes for Singapore or figure out how to make a paper toy from scratch!
This action is on a first-come-first-serve basis and while stocks last. Suggested for members ages 5 or more and all kids should be joined by an adult. This program is organized in a collaboration effort with Sengkang Green Primary School
Drop-in Activity: Zen Art with Singapore Icons
2pm – 4pm
The Salon, Level 1 | Free
Express your creativity with zen patterns. Pick between our iconic lion head symbol or national flower, Vanda Miss Joaquim, and make your own unique piece of our Singapore icon. Restricted spaces are accessible. Drawing materials for this program is upheld by STAEDTLER. Each slot will actually want to oblige up to 30 pax on a first-come-first-serve basis.
This program is suggested for members ages 8 or more and is supported by STAEDTLER.
My Garden City: A Drawing Workshop by MessyMsxi
3pm – 5pm
Perform Room, Level 3 | $5/pax
The 'garden city' idea was acquainted in 1967 with the aim with change Singapore into a city with a clean environment and greenery. In this program, we welcome you to imagine your expectations for Singapore'snatural landscape for future generations. You start with a presentation with artist, MessyMsxi, and from there on, walk around our Goh Seng Choo gallery to see Singapore's regular history for motivation prior to drawing and sharing your vision of our garden city.
Limited spaces are available. This program is recommended for participants ages 13 and above. The price includes drawing materials.
About the artist
MessyMsxi is the moniker for the artist, Tan Zi Xi, a London-trained Singaporean artist who accepts that the most genuine type of work springs from moments of spontaneity and motivation. Since graduating in 2009, she has cut a standing as an illustrator and was voted "Best Illustrator 2010" by JUICE Magazine Singapore. She has since collaborated with graphic designers and fashion labels. In 2013, she won the "Most Inspiring Award" by The Singapore Women's Weekly which honors the accomplishments of the nation's most moving women.
Drop-in craft activity: SG Icons Coaster Making
10 am – 11 am (For the special needs community)
11 am – 4.30 pm (For the general public)
Glass Atrium, Level 2 | Free
Unleash your creativity with colored beads to make coasters including our national symbols. A pleasant method for making coasters that will light up your coffee tables.
ENJOY A FAMILY DAY OUT WITH STORIES AND GAMES!
Families with more youthful youngsters can anticipate looking into Singapore's landmarks, sustainability through play, and Singapore's hawker food!
Public Museum Building Tour for Families
11 – 11.45am and 3 – 3.45pm
Rotunda, Level 1 (Meeting Point) | Free
Go along with us on a learning journey around the museum and discover additional fascinating gems about our kid building!
Restricted to 15 sets of parent and child on a first-come, first-served premise.
Encounters with History: Soapbox Tours by Museum Docents
11am – 12pm
Singapore History Gallery | Free
Venture through 700 years of Singapore's set of experiences with our knowledgeable and friendly docents in Encounters with History, and discover fascinating stories and significant events related to the ancient artifacts in our galleries! Search for our docents holding an extraordinary sign – there are 6 of them in our Singapore History Gallery so make certain to visit them all!
Outside Games and Activities
10 am – 4.30 pm Bus Bay, Level 2 | Free
Prepare for some fun with a choice of old-school and traditional games enjoyed across generations at carnivals or pasar malams. Have a potential for success to win prizes at a portion of these game stations!
Adventure Playground by Chapter Zero
10am – 12pm
Front Lawn, Level 1 | Free
In this intuitive action, kids are allowed to direct their own play and creations and have fun with ordinary objects and "junk". Perceive how kids' thoughts connect with open-ended materials to change a space into a pop-up adventure playground.
About the facilitators
Advocates of respectful caregiving and child-led play, the Chapter Zero team has been supporting the development of the nearby careful caregiving community beginning around 2015.
HEAR THE VOICES OF SINGAPORE
Enjoy various performances and workshops showcasing Singapore's diverse society, past and present!
Music Performances:
Open Score Project
11 am – 11.30 am
The Platform, Level 2 | Free
Get Open Score Project, a multicultural music ensemble whose sound particularly converges different ethnic and musical cultures of the world, as they present a medley of National Day songs!
Silver Songbirds
2pm – 2.30pm
The Platform, Level 2 | Free
Be serenaded by the Silver Songbirds, a group of active seniors who are passionate about singing and theater, as they perform a medley of classic National Day songs, for example, "Di Tanjong Katong" and "We Are Singapore"!
I.AM
4pm – 4.30pm
The Platform, Level 2 | Free
In this music performance, groove to National Day songs by differently-abled talents from the Inclusive Art Movement (I.AM).
I.AM aims to make an inclusive society through music and arts by making social awareness for unexpected way abled talents while furnishing them with a sustainable income. It offers these talents platform for music performances and the performing arts and promotes an inclusive atmosphere by uniting them through a common passion.