Manthan pandey the creative entrepreneur who is setting an example for the youth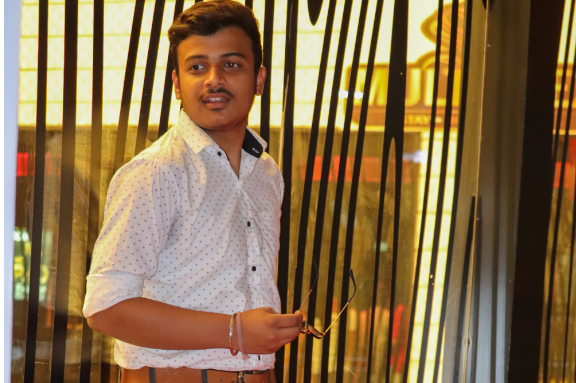 "Entrepreneurship is neither a science nor an art. It is a practice"
The above quote perfectly suits on Manthan Pandey from Ahmedabad, Gujarat.
Manthan Pandey aka themltipreneurboy is an 18-year-old entrepreneur, currently pursuing B.Tech from Ganpat University. He is a Sales and Marketing enthusiast and helped businesses and start-ups uplift their company by providing Sales & Marketing tips & tricks.
He started his entrepreneurial journey when he was 16 years old just by making websites for different businesses and start-ups. He believes that the internet is such a thing that can make or destroy a person.
Manthan currently is a co-founder of LETSBIZ-Your Business Social Network. He says that this is the second official start-up he is involved in but he is always in the learning mode. He says he learned many things from the founder of the company Mr. Harsh Sevani.
When asked about the age factor and the scenario of the current generation, Manthan shares his thought that this generation is amazing. But the only problem with this generation and the students who are my age is that they are unaware of what kind of company they should be with. He says, "I have seen many people who just because of their friends and their company, are not able to do anything." Manthan on this told about his company, his friends that he had 2 best and good friends named Janmesh Mishra and Meet Zala. They supported him in everything he wanted to do and always kept him away from bad things and bad habits. Manthan's friends say that he is somewhat mischievous but he is fully dedicated to his work.
According to Manthan, if a person wants to do something big and different then he/she should not take suggestions from parents. You should discuss about your ideas, your dreams with your parents but never directly believe what they say, because sometimes discussing ideas or asking for suggestions from them may lead to a second thought in your mind.
When he was asked about mentors, he shared his experience in a very good line, "A mentor is someone who allows you to see the hope inside yourself." He says when he joined LETSBIZ, he learned many things from the other co-founders and teammates, and on the top of this list comes, Mr. Harsh Sevani, Mr. Sunny Pal, and Mr. Keval Patel.
Manthan shares that to be an entrepreneur, a person have to take the risk, because entrepreneurship is the game of risk. it has no theory study, entrepreneurship is all about practice, patience, and experience.
Manthan is a great asset and inspiration for our Indian community. He has given words of motivation which can help many other students and youth.
If you want to get in touch with him you may by following his social media handles,
1-Instagram:-themultipreneurboy
2-Facebook:-Manthan Pandey
3-LinkedIn:-Manthan Pandey
4-Twitter:-Manthan Pandey
We wish him luck for all his future works and projects and he may achieve all that he dreamt.
Instagram Profile Link:- https://www.instagram.com/themultipreneurboy/
LinkedIn Profile Link:- https://www.linkedin.com/in/manthan-pandey-73961619b
Twitter Profile Link:- Take a look at Tweet Bug (@manthan_2102): https://twitter.com/manthan_2102?s=09
Facebook Profile Link
https://www.facebook.com/monney.pandey.7