Mathias le Fèvre Revisits The Roaring Twenties In His Latest Watch Editorial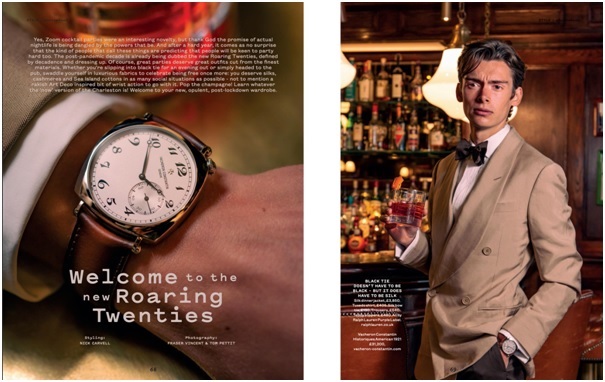 Sartorial icon Mathias le Fèvre, 25, is known for his work as a creative director and model for fashion houses including Salvatore Ferragamo, Bally and Savile Row tailor, Gieves & Hawkes, features in a new watch editorial for Oracle Time Magazine. Captured in London's exclusive Harry's Bar, Mathias welcomes us to our new, opulent, post-lockdown wardrobe, inspired by some swinging timepieces.
"Yes, Zoom cocktail parties were an interesting novelty, but thank God the promise of actual nightlife is being dangled by the powers that be. And after a hard year, the post-pandemic decade is already being dubbed the new Roaring Twenties. Pop the champagne! Learn whatever the 'now' version of the Charleston is!.⁠" – writes journalist, Sam, at Oracle Time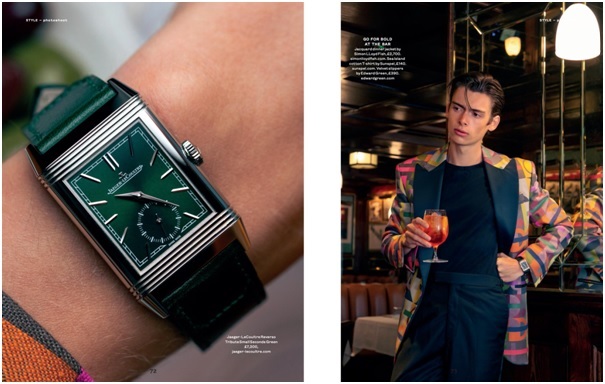 How does that translate into your choice of watches?
Answer: My taste in watches is like my dressing sense, classic with a twist. I have a weakness for vintage watches that from the period of 1930 – 1970 that a certain uniqueness to them, whether that's a fancy pair of lugs, a funky dial, or an oddly shaped case. For a sophisticated dress watch, I would always go for 36 mm or under.
Wrist check! What're you wearing today?
Answer: I'm today wearing my vintage Vacheron Constantin from 1939.
What appeals to you about that watch, specifically?
Answer: Not only is it made by the oldest watch manufacturer in the world, but it also shares its birth year with my grandfather. The watch carries a simple yet elegant dial with a small second hand at 6 o'clock. It has a domed crystal which gives it character, but what I find the most appealing is its glorious teardrop lugs.
What was your favourite outfit from the Roaring 2020s shoot?
Answer: It has to be the look featuring the jacquard silk dinner jacket by the talented bespoke tailor, Simon Lloyd Fish. I am fascinated by the jacket's bold cut and (almost) psychedelic print which was inspired by a 1970's London underground graphic. A very Art Deco look to compliment the bottle green JLC Reverso,