Mattel BTS Idol Mini Dolls Pop Up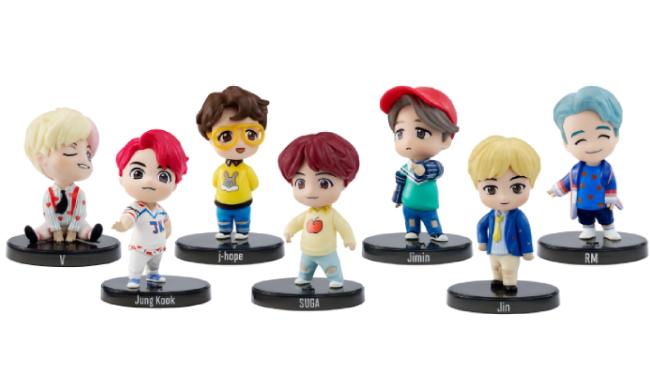 The BTS boys are depicted as their characters in the hit "Idol" music video.
The Mattel x BTS collaboration is getting even bigger with the launch of yet another line of BTS merchandise dedicated to the K-Pop band BTS's global fandom, called the BTS ARMY.
Earlier this year, Mattel released its special line of BTS dolls that closely resemble the band members. They are up for purchase on retail outlets including on Amazon.com. You can buy them separately or all of them altogether at $139.99.
Another Mattel x BTS collab is the BTS-themed UNO cards. It's no different than the original UNO card game, but instead of the traditional turn symbols, the cards show photos of BTS members. It also includes a "Dancing Wild" card, which orders the next player to either perform a BTS dance routine or draw three additional cards.
Most recently, Mattel launched its new BTS Mini Dolls featuring all the BTS boys including Jung Kook, Jin, V, RM, j-hope, SUGA and Jimin.
On Mattel's websites, the dolls are listed as "Coming Soon," but the toymaker already posted their price as $9.99 each.
Shortly after Mattel's announcement, the upcoming BTS Idol Mini Dolls instantly popped up on Amazon.com. However, Amazon has yet to reveal the price of the dolls.
All we know so far is that the BTS Idol Mini Dolls measure 3-inch tall and that their outfits are inspired by the clothes they wear on their most popular music video, "Idol."
These BTS Idol Mini Dolls have their own display base where they can stand, making for a perfect gift for any BTS fan.
Collect all seven of them once they go on sale.